ODD SHAPES
-5-
"CLASSICS"
The following decks are odd shaped, but may, each in its own way, be titled "classic" too.
| | |
| --- | --- |
| | The Standard Playing Card Company from Chicago published this deck as "New Era Concave Playing Cards" in 1929. |
| | Ca. 1940 the United States Playing Cards (USPC) published this barrel shaped or convex deck as "Contoura". |
In Finland a similar "barrel" shaped deck had also been in use for many decades. In fact this is a true barrel shape, where the top is also rounded a bit. The sample shows a modern designed, but traditional pattern from Finland. Note that the indicators on the courts are numbers too, just like in some Spanish decks. All modern designed Finish decks have English indicators.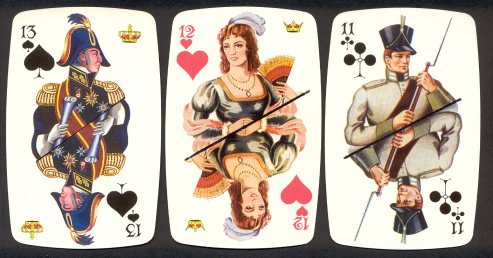 The next classic is a real novelty deck -published by A. Freed Novelty Inc.- that has amazed many Americans when it was first published in 1969 as "the Crooked Deck".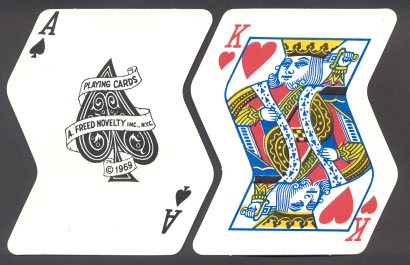 This last example has a classical design. It is in the shaped of a shield. The deck was made by Carta Mundi, Belgium, and was published as "Jacques". The backdesign shows the name and a knight. The deck has CM's standard Belgian-Genoese pattern.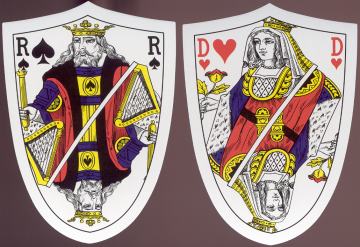 ---
-1- -2- -3- -4- -5- -6-
XPOHOME
---