ODD SHAPES
-2-
"FUNCTIONAL SHAPES"
As you shall see, China is a major player when it comes to producing odd shaped decks. Some have been commissioned by publishers from other countries. The Umbra company from Canada has published a few novelty decks in odd shapes. An extreme example here below is the dog-bone deck. It was published in 2003 and comes in a plastic box that also has a dog-bone shape.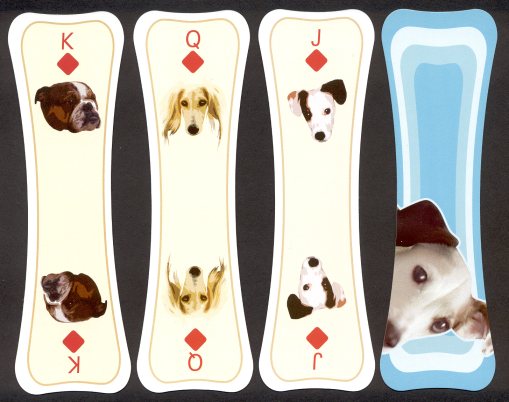 It's also a good example to illustrate what we have called the "functionality" of a special shape. Here the shape of a dogbone is used to emphasize that this deck is all about dogs. But, just like many other functional decks, shuffling these cards is not "functional" at all.
The "flag-shaped" deck was issued in China for the agricultural world exposition in 1999.
Each card shows a different scene: a landscape or a pavillion from one of the participating countries. The Netherlands (middle) was there too, can't miss that typical Dutch windmill.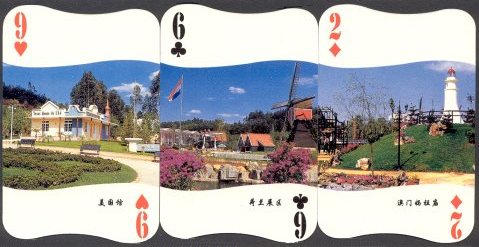 And speaking of Holland..........
This deck was printed in the Netherlands by Drukkerij Twist from Waddinxveen and published by Bergschenhoek B.V. ca. 1998. Designed by Jan de Borst.
The company produces industrial pipes and air-control systems, which is not only reflected on the Aces, but emphasized by this special shape as well.
This funtional shape is also found in the only round deck, that we'll show here..........
It's -again- a Chinese deck, that shows 54 different old chinese coins. All these coins had a square hole in the middle, probably to make it easy to string them together with a piece of rope or cupperwire. Well, one can do the same with these cards.
The deck was published ca. 2002 in a limited edition of 900 decks only.
Functionality -from an ergonomic point of view- was where the designers of the next deck aimed at. It was published by Système Création Pratique in 2000 as "Ergomia" playing cards. The deck was printed by Carta Mundi from Turnhout, Belgium. There's also a Tarot version in the same ergonomic shape.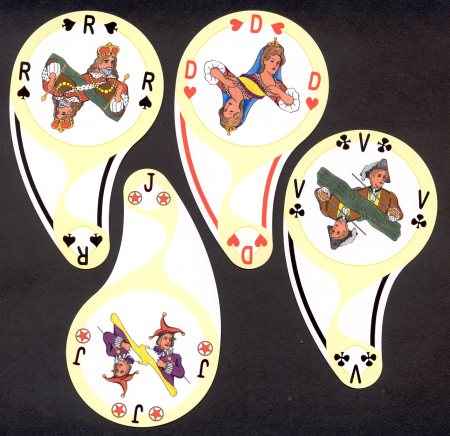 Although a special description about how to shuffle these cards is given on the box, the deck failed this part of our test too.
---

-1- -2- -3- -4- -5- -6-
XPOHOME
---