-4-
It started with the "Reichs-Spielkarte" and the "Kriegs-Spielkarte", made by the Spielkartenfabrik Altenburg S.A. Between July 1915 and by the end of that year already 300.000 copies of each of these decks had been produced. The courts show royalty, political and military leaders from Germany. By the end of the war almost a million copies of each deck had been produced.
The role of these 2 decks (and later a third one: "Deutsche Luftfahrer Karte") was obviously to create support for the war. The German leadership was presented on the courts and on the numbercards of the Kriegs Spielkarte military equipment and effort were shown.
In the spring of 1915 the Lattmann company published the "Vaterländische Spielkarten". The deck had a similar goal: to gather support for the war.
| | | |
| --- | --- | --- |
| Here below the German "Kriegs-Karte", as published in the spring of 1916. Unlike the "Reichs-Spielkarte" this deck has German suitcolours and indicators (K=König, O=Ober, U=Unter) used in traditional German patterns for games, like Euchre. | | |
| | | |
Beautiful fine and detailed chromolithography (with at least 8 stones and printruns) by the Altenburger Spielkartenfabrik S.A. gives the portraits a photographic expression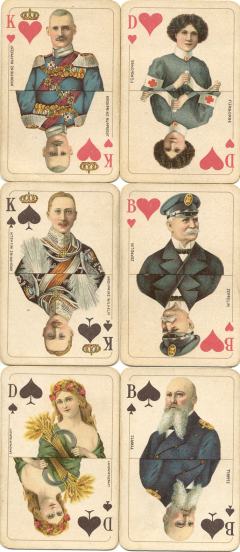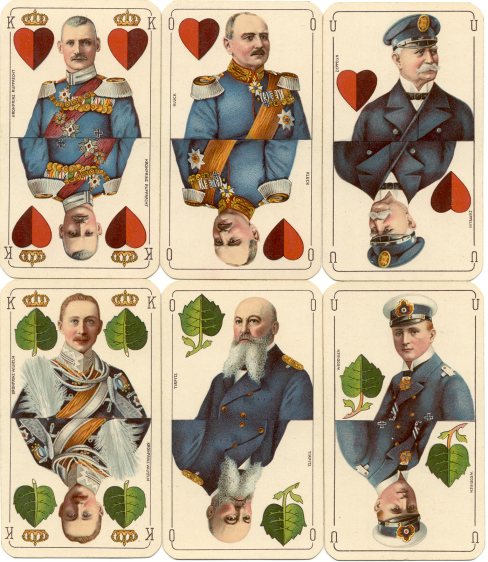 The numbercards from the Kriegs-Spielkarte show battles and events from the war. The aces of both decks present the emblems of the Kingdoms of Prussia (Acorns - Clubs), Saxon (Leaves - Spades), Württemberg (Bells - Diamonds) and Bavaria (Hearts).
The use of playing cards as a means of propaganda, like these German decks do in a very mild way, has been repeated at the next occasion: the 2nd World War. A few decks were published (or planned) during the war with no other reason than to intimidate, discourage or ridiculize the opponent.
---
-1- -2- -3- -4- -5- -6- -7- -8- -9- -10- -11- -12- -13-
XPOHOME
---