- 2 -
| | | | | |
| --- | --- | --- | --- | --- |
| The two griffons from the diptych can also be found in the coat of arms on the Ace of Spades. THANKS for signing it! | | The diptych is truly a great find by the Uusi studio. | | The name of the manufacturer is on the Ace of Diamonds, together with a small illustration, which is not the logo of the USPCC. |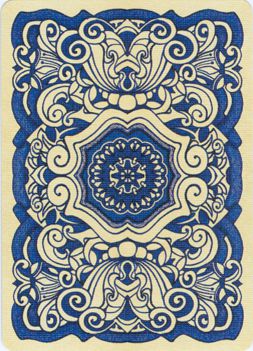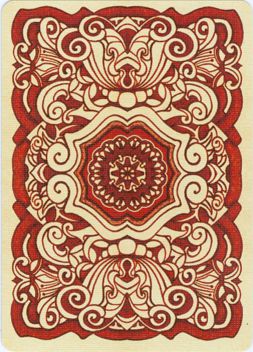 | | | |
| --- | --- | --- |
| | The back design has a "classic" look too. I doubt that it was hand painted, as it has all the looks of a computer aided design. | |
The box is illustrated with the back design on both sides, only on the back of the box the title is shown. Peter and Linnea have apparently chosen to just mention the number of regular playing cards on the longer sides and not counting the jokers, which is usually done. A special feature of the box cannot be seen on screen: all the designs have been embossed in the carton, so when feeling the box you can feel the relief.
As this is the last deck in the series of six, a conclusion can be made. First of all I must say that each and every deck has its merits. It's clear that Peter and Linnea have successfully tried to apply as many different techniques and styles as they possibly could within the limits of 6 decks. Besides the decks they have produced many spin-offs, like special designed wooden boxes, uncut sheets, T-shirts, books, posters and a gold or silver edged version of the last couple of decks. All these can be found in the shop on their website: uusi.us
However, there are a few critical remarks to be made too. All the publications seem to have a limited and an open version. It's not clear how many decks were manufactured in each of these editions. Together with the Classic deck came a note that the red "limited edition" (officially 3.500 decks) consisted of 3.348 decks. The blue deck is supposed to be an open edition and in the first run 3.456 decks were made. Although it is presented as an open edition, all the boxes in this blue edition also came with the same special "limited edition" sticker as the red edition has. Maybe there will be a second print run of the blue decks, but then with a regular USPCC sticker. A similar way of publicizing was done with the Bohemia, the Pagan and the Royal Optik deck. It all becomes a bit confusing with limited editions, first editions and special stickers.
Although it seems that all these decks are still available at the Uusi shop, we hope that they will be sold out soon. Then it will become clear if there will be new print runs and how special all our Kickstarter funded decks will be in future. Of course we have never looked at these decks as an investment, but have enjoyed them for their artistic value.
Although this series has been brought to an end, this doesn't mean that Peter and Linnea have given up on producing playing cards. Their next project is a Tarot deck called BRuTand there's an accompanying poker deck too, designed in the same modernistic style. It has already been successfully funded on Kickstarter again, but you can check it out and as soon as it's been made available in their shop.... buy it! However, Tarot decks are not our cup of tea, so we'll just try to get our hands on the poker deck and in the meantime treasure this series of decks and hope that maybe one day Peter and Linnea will go for that ultimate form of playing cards: a true transformation deck.