D "WORLD" XPO - 1
(This Nabisco Joker is still one of jopo's fav's)
---
The "world" Xpo consists of favourite jokers from visitors of this site. If you want to participate, send a scan of your favourite joker(s) in .jpg format to jopo@dxpo-playingcards.com
Of course we realise that taste and time will have changed the preference of every participant. We started this page in 1998 and assume that each collection will have grown over the years and has brought new fav's for the participating collectors. But we still think it's a nice format to put different jokers on exhibition here.
So......with a big "thanks" to all the participants.......

. .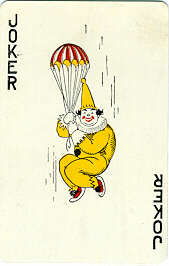 Proud owner: André Christophe, USA
---

. .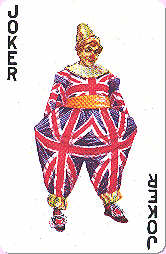 . . One of the favorites of Fred de Soet, Holland
A note by Fred: This joker is from India and mocks the UK by dressing him in an English flag.
---

. .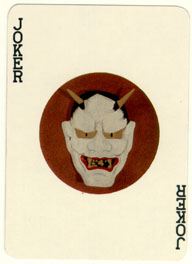 . . Here's one from the "devilish" Todd Gaul, USA
---

. .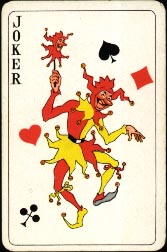 . . First in the collection of Johan Pettersson, Sweden
A note by Johan: "This was my first joker I did collect, about 15th years ago. It is drawn by Nils Melander 1970 (Esselte Öbergs AB) and the deck was called "Four Centuries".
---

. .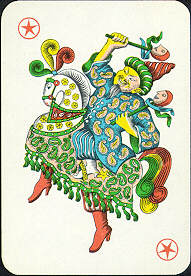 . . Proud owner: Christian Hartmann, Germany
A note from Christian: "It shows a person from Polish folklore. It represents a Mongolian rider and it's especially popular in Cracow. They are having a celebration there, to commemorate the capture of this city by the Mongols in the 13 c. 'Mongol riders' dressed up like that participate at that celebration".
---

. .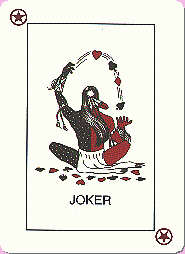 . . Another fav' from Fred de Soet, Holland
A note from Fred: A view at the backside of an Indian, playing with the cardsymbols. Figure aswell as pose are remarkable.
---
Angie Chester from the USA had a hard time deciding between these two:

. . .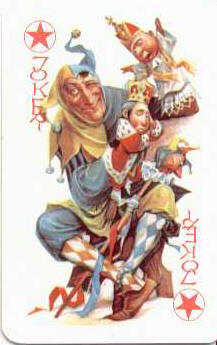 . . . . . . and/or. . .. . . .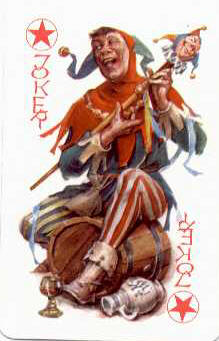 ---

. . .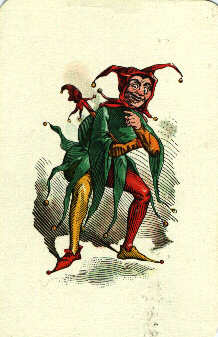 . . .The Nr. 1 joker of "Maurizio" from Italy.
---

. .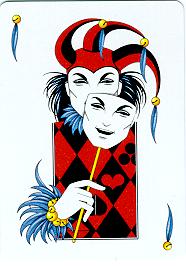 . . Favourite joker of Miriam van Houten, Holland
A note from Miriam: It was more scanning in than sending in, but I wanted to show one of my own favourites too. It is from an non-standard advertising deck for fashion by Paco Lobo.
---

. .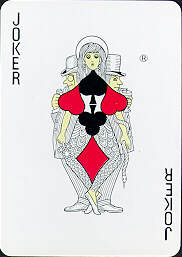 . . Second best of Christian Hartmann, Germany.
A note from Christian:"A joker from a deck with standard English pattern from Taiwan.I haven't got any idea why they put this threesome on as Joker"
---
Two favorites of Susan Tirkot, Australia

. .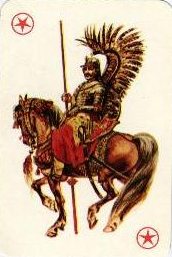 . .and with a big AND . .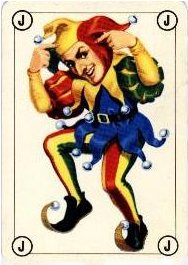 A note from Susan: "The horse one is a favorite, just because it's a horse! The other one looks like a typical joker and is rich in colors."
---
He sent a scan of 5 jokers and a note: "Let's consider the ape my favorite". So.....let's!

. .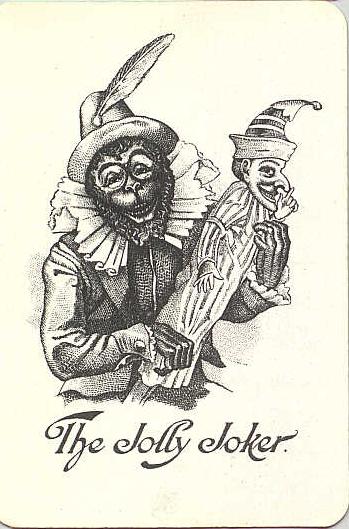 . . With a "THANKS" to.....Wouter van der Velde from Holland
Editors note: This joker is from a deck, that was made by the Speelkaartenfabriek Nederland. The ape is the standard company joker, that was used from ca 1920 until 1932 as a single joker and until ca 1950 only in the "Nieuw Neerlandia" decks to accompany a later factory joker.
If you want to see other standard company jokers by the Speelkaartenfabriek Nederland just click HERE.
---

. .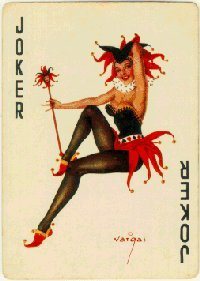 . . The most appreciated joker of Paulino Correa from Portugal
Or, as Paulino says:
I have it for some 35 years already, as a matter of fact, but I'm still sensitive to its elegance and simplicity. My daughter calls it "the little she-devil"...
---
"From Russia with love"

. .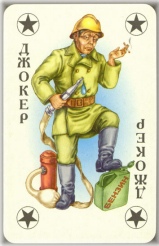 . ...... a symbolic contribution by Aleksander Sukhorukov
Or, in his words: "...It's not my favorite, but briefly expresses all our Russian mystic soul. On joker: fireman smokes over the open petrol box. And the same is in all regions of life. There is, there was and there will be..."
---
FAV'S 2 or FAV'S 3 or FAV's 4 or JOKERHOME
---