D "WORLD" XPO - 3
---
The "world" Xpo consists of favourite jokers from visitors of this site. If you want to participate, send a scan of your favourite joker(s) in .jpg format to jopo@dxpo-playingcards.com
---
With a big "thanks" to all the participants.......
This time a contribution from Aleksandr Strulevich from the city of Riga in Latvia. He has been collecting jokers for 8 years now and these old Latvian jokers have always been two of his favourites.

.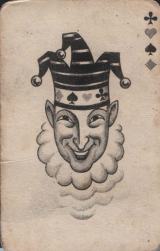 and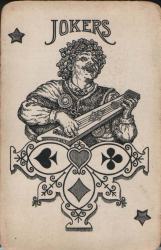 Aleksandr: "The first one is from 1917 and the second one from 1935."
---
HERE.
These two were our chosen fav's.

.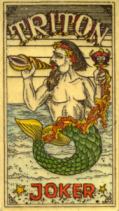 and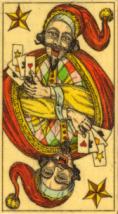 ---
We were glad to receive a contribution from a Dutch collector again. This time

Emile Kiderlen sent in this joker with a very short note: "My favorite joker." He's a collector of jokers and Coca Cola backs.
Emile gave no special comment, so we'll let the joker speak for itself...........and it does!

.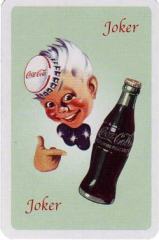 ---
This month a contribution from Belgium. Joker collector

Bob van der Velde sent in his favourite joker and described the way he got it: "one morning this joker, along with a dozen other ones, was in my mailbox. I don't know who they came from."

.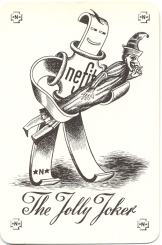 ---
Judy Dawson from Canada is the Queen/editor of the "Clear The Decks" journal by the "52+Joker" club of American playing card collectors. We appreciate her top 3 of jokers -because you won't see these very often- and her accurate info about them.
Judy says:
"Probably my very favourite is the very rare colored Bicycle Joker published c1890 by the Russell and Morgan Printing Company, later known as the United States Playing Card Co. The King riding his bike is synonymous with the Bicycle Playing cards, very collectible and revered all over the world."
"The wonderful CAT Joker - "Puss in Boots", published by the CATerson and Brotz Playing Card Company, USA, c1885. It is probably my second favourite."
"Our club logo was chosen because it was a Joker holding a Joker. What could be more appropriate for a club with the name like 52 plus Joker? It was published by the Standard Playing Card Co. USA, c1915."
And Jopo says: If you want some more information about the 52+joker club............click that joker!
---
Hennie Hofboer from Amstelveen, Holland, has contributed 2 jokers. Hennie's note was short: "please add my 2 favourite art deco jokers". And so we did........

. . ..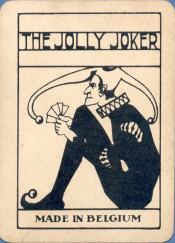 . . . .and. . . .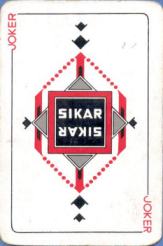 Editor's note: the first one was made by Brepols from Turnhout, Belgium, in the 1930's and the second one comes from a deck that was made by the Dutch manufacturer "Speelkaartenfabriek Nederland" from Amsterdam in 1935.
---
John Gleason from Warren, USA, has send us a scan with this great old Belgian joker. John's note was short too: "This is my favorite ace of spades and joker, and they are from the same deck", made by Van Genechten from Turnhout, Belgium, in the 1920's or 30's.

. . ..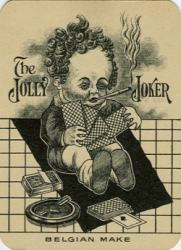 Editor's note: we don't do aces of spades here, but we're delighted with this wonderful joker.
---
Another one from Hennie Hofboer from the Netherlands. Her notes are always short. This time it just said "favourite joker". It is a very rarely seen joker, so we'll be happy to show it here.

. . ..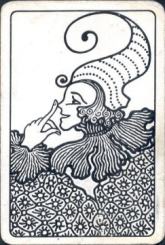 Editor's note: the joker comes from a deck that was printed by Fred. Piatnik & Sons from Vienna and published by the Wiener Waisenfond ca. 1915-1920. The deck and joker were designed by Nellie Stern, a member of the Wiener Werkstatte, famous for it's Art Deco designs.
---
Harold Cataquet from England has send us this joker with the following note: "Here's my favorite. I love the simplicity and the suggested playfulness. Not to mention the skill of the artist".
Harold is not a joker collector, but he uses them all the time.............he's a magician!

. . ..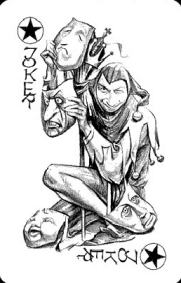 Editor's note: the joker was printed by the Altenburger Spielkartenfabrik from Altenburg, former East Germany, and first published in 1970. The artist was Walter Kraus (1908 - 1985), who has designed many decks for the Altenburger Spielkartenfabrik.
---
The following jokers were send in by

John Daniels from Melbourne, Australia: "Here are my two favourite jokers. First joker is from the USA, and sums up the Deco style perfectly; stylish and graceful and beautifully colored. It is from a 'contraband' deck issued during the prohibition era in the 1920's and features liquor bottles on the back. Second is from a UK pinup deck "What The Butler Saw" and is just a magnificent design - simple yet effective!".

. . ..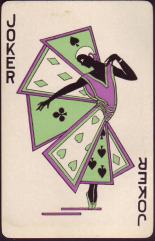 and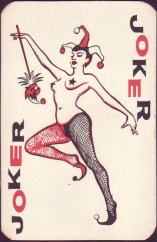 ---
This time a contribution from Japan by

Tadahiko Norieda. He writes that these jokers are probably from the 1980's. They both come from the same deck, that was manufactured by Nintendo. "Napoleon" is a registered trademark of Nintendo. The "R" is not "Roi".

. . ..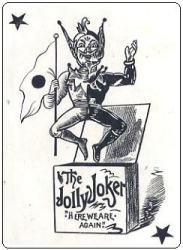 and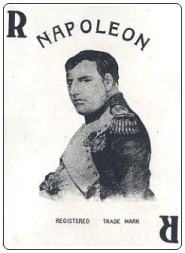 ---
The following 3 jokers were send in by

Kees Kok, a Dutch collector of jokers. His accompanying note said that the 1st joker was one of first jokers that was given to him by friends. He has not yet seen that joker again (editor: ...and neither did we). The second joker was a gift from friends from the US. The third joker comes from a Norwegian "Trolls" deck.

. . ..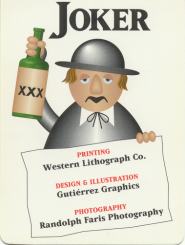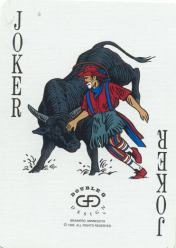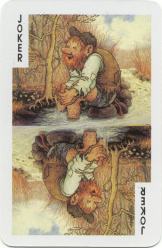 ---
Jochen Schwalfenberg, a German collector of jokers, has send in his 2 fav's. There was no accompanying note, so we can only say that he has an excellent choice in jokers.........

.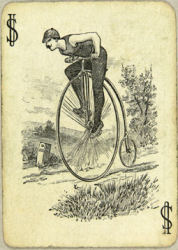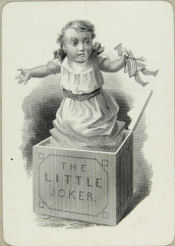 ---
FAV'S 1 or FAV'S 2 or FAV'S 4 or JOKERHOME
---