The Cassandre deck

It was some years ago that our friend and fellow-collector from the US, Joe Friedman, wrote us a note about this deck. He had seen some pillow cases on our couch and mentioned that they showed cards that were from a second version of the Cassandre deck. Of course, at the time, we checked our deck and saw that there was a difference with the cards pictured on our pillow cases. Together with his note Joe sent us some pictures of this second version. It took us 2 years to come across an actual deck of this second version and we're happy to share this info with you in full colour now. The deck is well worth showing!
The full set of courts and aces here below is from the first version of the deck, that was created by the French artist and illustrator A.M. Cassandre for Hermes in 1948.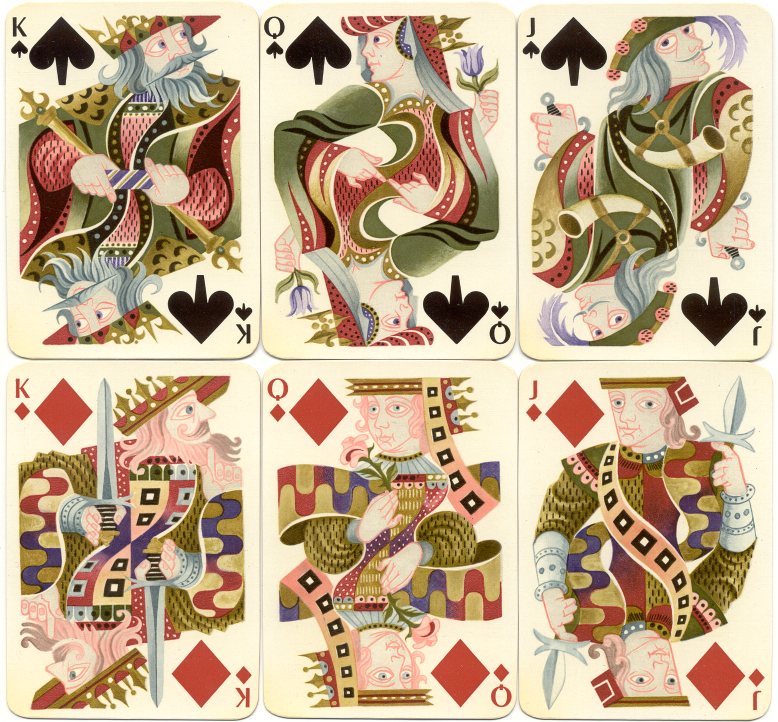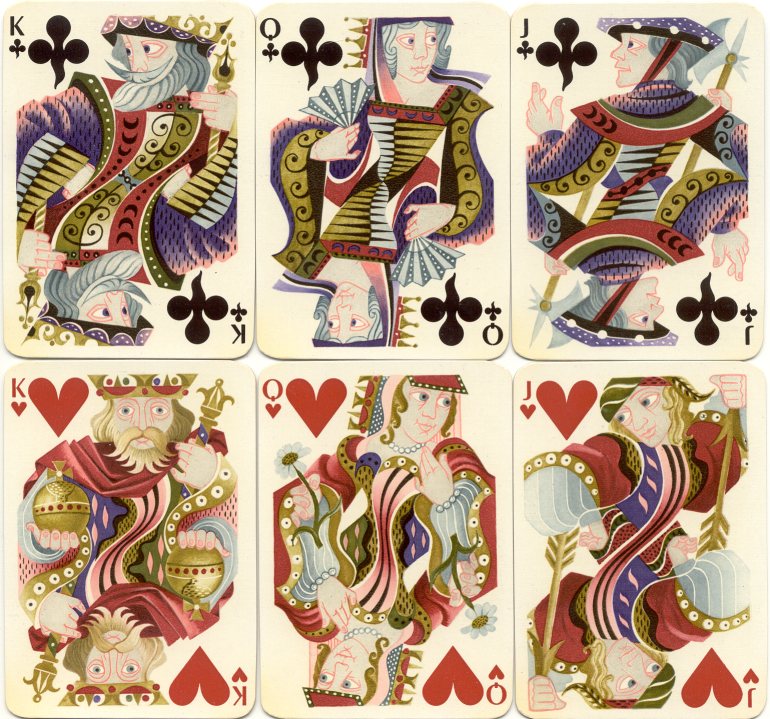 Cassandre was the alias of Adolphe Jean Marie Mouron, who was born on 24/1/1901 in Kharkow, Ukraine, and died on 17/6/1968 in Paris. He was not only a graphic artist and illustrator, but also a designer of theatre stages and French type fonts. He was mostly known for his advertising posters, like the one of the mailboat Normandie.
In 1918 he briefly studied painting at the Beaux Arts in Paris, but already in 1922 he began to work for commercial agencies. He moved to the USA and made many covers for the Harpers Bazaar magazine between 1936 and 1937.
In the early 1940's he abandoned the commercial activities and became a painter and stage designer.
Our deck came as a doubledeck. The brownish outer box is marked Hermès Paris and holds two seperate boxes with cards. The front and back of these boxes have the same design as the backs of the cards (see above). Each deck consists of 52 cards, 1 joker and 1 extra (title) card. The sides of the boxes (see page 2) mention "Hermès - Paris" and "poker 53 cartes".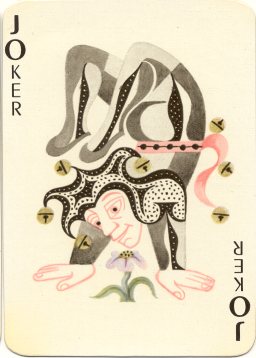 See the differences with the second version on page 2.