A TALE TO TELL
-4-
It's almost standard that a standard pattern will inspire designers and artists to adapt it to their own idea and in their own way. These are not variations, like we've shown on the previous pages, but they challenge the original pattern much more. We here at DXPO call them "anomalies". And the following deck is a great example. It was the Austrian artist Haderer, who has designed this deck for the FSG (Fraktion Sozialdemokratischer Gewerkschafterinnen) Oberösterreich. The deck was printed by Piatnik and published as "schnapskarten". Schnapsen is a popular Austrian game and is played there with only 24 cards.
Although the deck doesn't show figures from the Tell saga, but different professionals, the characteristics of the pattern can easily be found.

The seasonal scenes are in the same suits as in the original pattern. The Dauss cards (aces) represent certain professions, which seem to have nothing to do with a certain season. The hairdresser (winter), the kindergarten teacher (spring), the lawyer (summer) and the teacher (fall), it's not clear what the relation with their season is. But the scenes in the background reflect the season.

The Kings have no name here too and the overall design expresses that of the kings in the original pattern. There are no horses, but their place in the design is filled up with an object that goes with the profession. The head wear, typical for the represented profession, has been "crowned" and the scepter from the original design is replaced with a utensil, also typical for the profession: the butcher has his knife, the plumber his pipe.......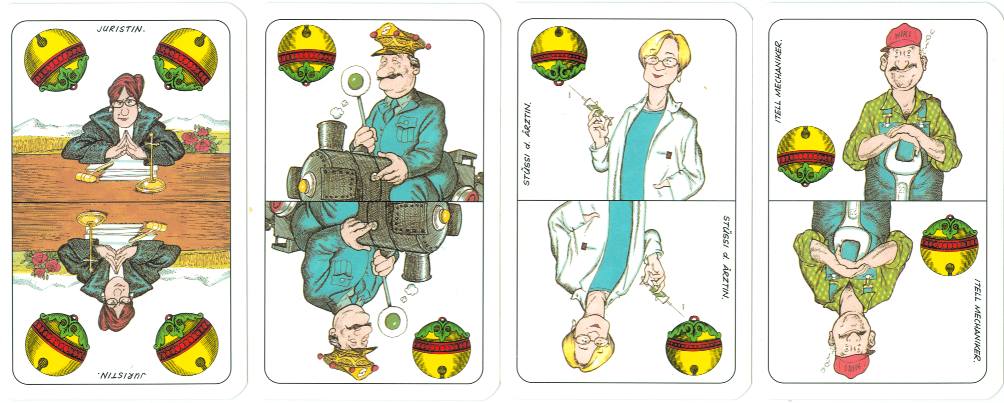 The Obers and Unters have names, just like in the original pattern, and all of them with a reference to the names from the Tell saga. On the Ober of Acorns Tell is a female bank trader and on the Unter Harras is presented as a computer expert. In the Hearts suit the Ober presents Geszler as a cleaning lady and Kuoni as a book seller. In the other suits Stüssi is a doctor, Itell a mechanic, Rudenz a waitress and Fürst a baker.

The pips in the deck have the same illustrations as in a regular standard Tell deck by Piatnik, but as the deck was published as a schnaps deck, there are only 10's and 9's in this deck. The logo and the name of Piatnik is on the X of leaves and their name is also on the IX of Leaves.