---
The
ACES SUITE
---
STANDARD FACTORY ACES
There are non-ornamented, Jugendstil-ornamented and 6 sets of scenic aces. All can be found with more than one kind of deck. These 5 sets scenic aces are: 1/ with views of Amsterdam, 2/ with views of Dutch cities, 3/ with views of international cities, 4/ with views of the (former) Dutch East Indies (nrs 3 and 4 both have a coloured and a b/w version), 5/ with views of Paris and Fontainebleau, 6/ with international views (Cairo Sphinx a.o).
Here are a few examples of standard aces that are not shown with any of the older nonstandard decks, that are on expo in other sections. The first 4 can be found with Neerlandia decks (SN01, SN10 or SN12).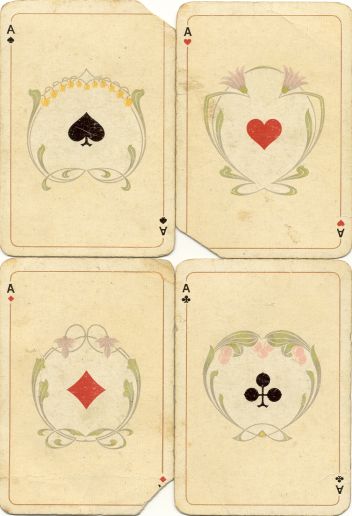 The Jugenstil ornamented aces.
---
Dutch Cities (2 versions)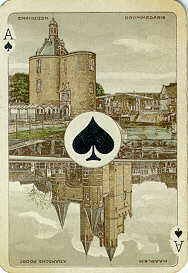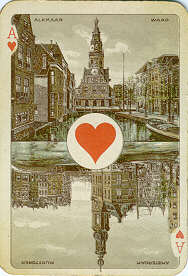 ......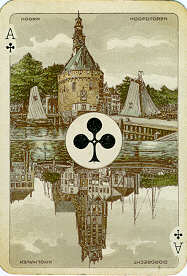 .....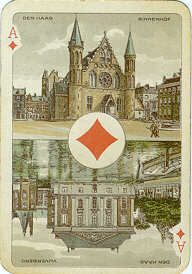 or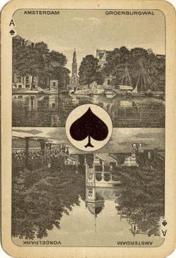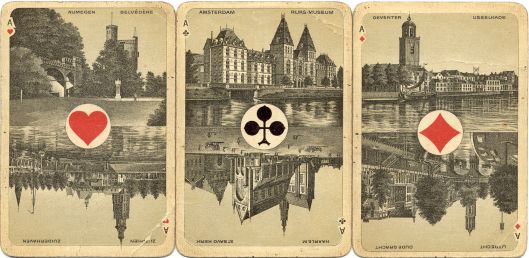 ---
The Amsterdam Aces
(note that one of the designs on the Ace of Clubs is also used in the Dutch Cities Ace of Clubs)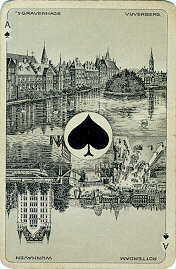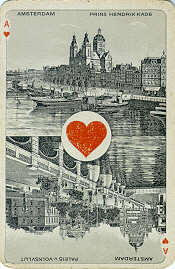 ......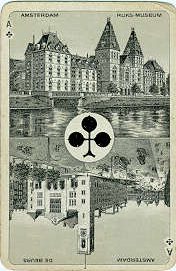 .....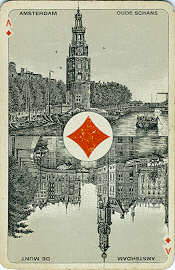 ---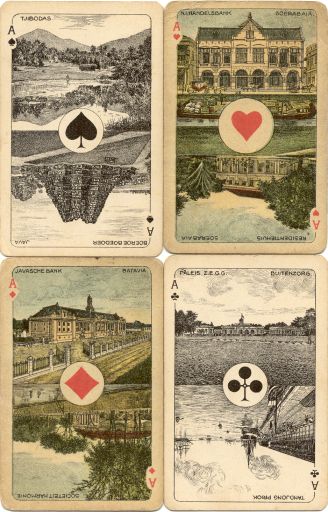 A mixed picture of the Dutch Indies Aces
Both the coloured and black/white version have the same designs on all aces, just colours were added. These aces can be found with "Export" (SN11).
---
Later standard aces come with the pattern decks (SN-S02, S03 or S06)..........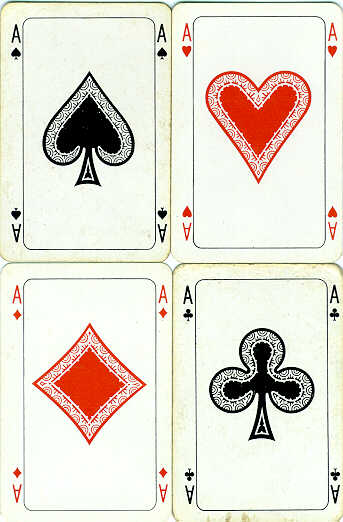 Sometimes in combination with special Aces of Spades: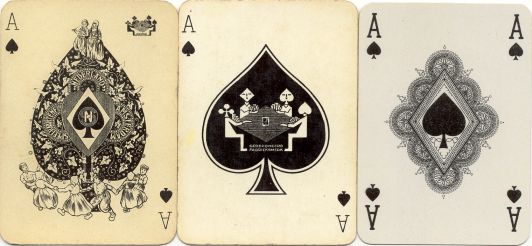 from 1924, ca.1926 and the filigree ace was in use since the early 1930's.
This Ace of Spades was often used with SN-S03 decks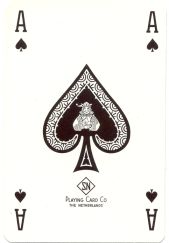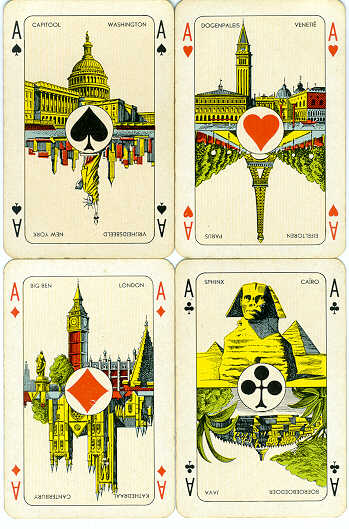 These aces were often used with SN-S06.
---

SPECIAL ACES (SN01 etc)
All the special aces on expo here were made to accompany the non-standard decks (SN01 etc.) or standard decks like SN-S02 (Anglo-American pattern) or later SN-S03 (id.) and SN-S06 (Rhineland pattern).

SPECIAL ACES with SN-S02

SPECIAL ACES with SN-S03

SPECIAL ACES with SN-S06

THE DOORS
---
BUT FIRST
A SPECIAL TREAT ?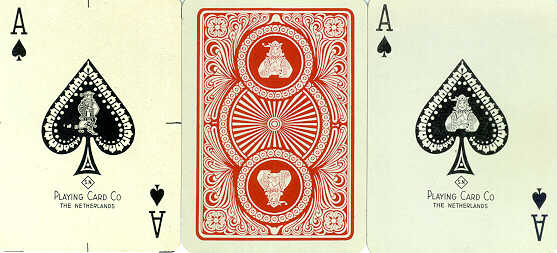 This set of aces has never been in production. Both are designs that obviously made it to a test run, but never got further than that for unknown reasons. The design above was made by Dick Hart, who also designed the Anglo-American pattern for SN-S03. The shown backside also never made it past the test run.
Two aces from a test run for the special Macintosh aces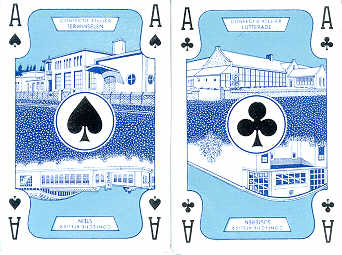 (the final designs can be seen with SN-S06)
---
there's also a nice test surprise (by Dick Hart too) in the Jokers quarters
---