"THE OLD SCHOOL"
a FRENCH DECK pre 1850
---
The inserted head here below is a good example of the crudeness of woodblock printing in the old days. Of course this head comes from a deck that was made for daily use in bars etc. so it was only necessary to recognize the cards in a short look and not to take a closer look in search for fine details. But the way in which the woodblock printing technique is used in these decks doesn't appeal to us. We enjoy the fine steel engraving or chromolithographic printing techniques much more. Take any Dondorf deck, put a magnifying glass to it and you'll still enjoy the details of the image. It's one of the reasons for not keeping these old woodblock decks in our collection, even though they are highly collectable decks because of their age.
The deck was printed and published by Dessoris from Perpignan, France, c1840.

There's not much known about this playing card maker. He is mentioned in the elaborate books by Henri René D'Allemagne from 1906 and the date 1792 is given there.

But much later playing card expert Jean Darquenne has expressed his doubts about that year and wondered if it may have been the birthday of Dessoris. He dates a similar deck as being from c1840.

The French collector and researcher Jean-Pierre Garrigue will be publishing about this playing card maker in the near future. I hope we can persuade him to publish the article on our website too.
The deck has the old Catalan pattern and was probably sold in the South of France and the Catalan area in the North of Spain.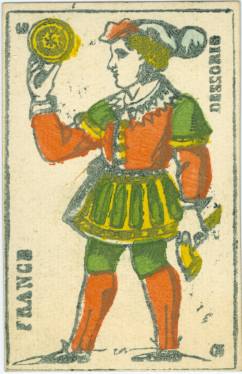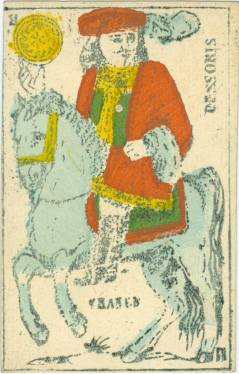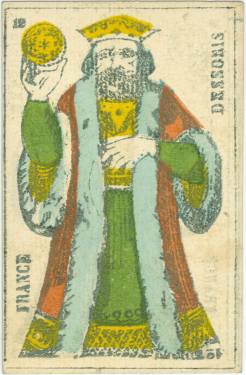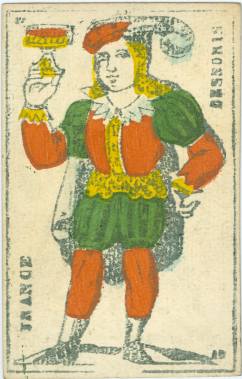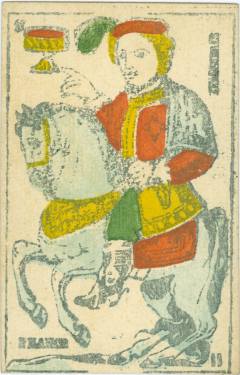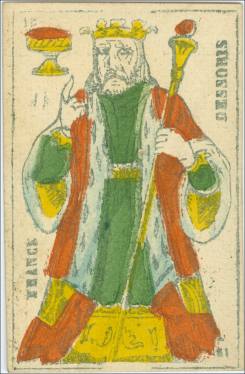 CLICK THE ACES TO SEE THE NUMBERCARDS PER SUIT..................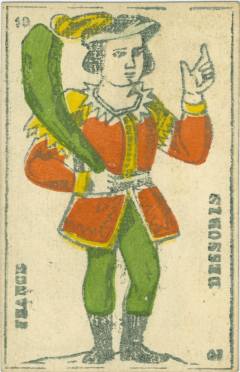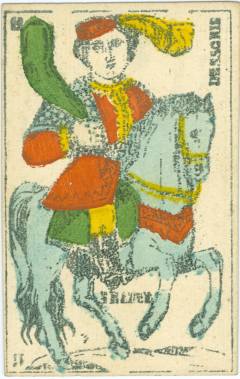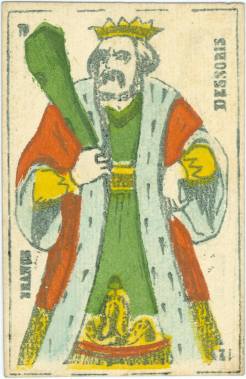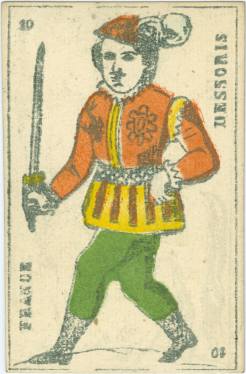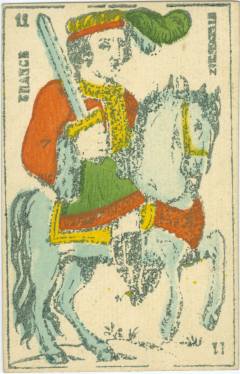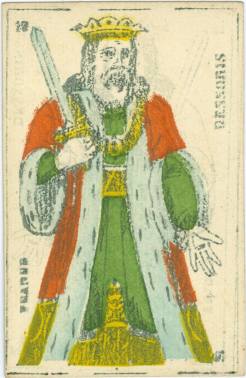 ---

back to the Old School menu
---