"THE OLD SCHOOL"
GERMAN DECKS with SCENIC ACES
---
The German cardmakers have always been known for their quality cards. Not only of the cards themselves, but also in design. It is not a surprise that these cardmakers found new markets in other countries. We assume that for these export decks special aces have been designed, showing local towns and views that would be familiar or appeal to the public in these foreign countries. But these decks were also sold in Germany, probably as a sort of early "souvenir" decks. Decks with German scenic aces were probably only sold within Germany.
*********************
Here the company logo is on the Queen of Clubs and it was used by the Vereinigte Stralsunder Spielkartenfabriken from Stralsund. The deck has a standard pattern by this maker, that was made until the 1930's. The deck has German scenic aces and was probably made ca. 1890.
---
CLICK

TO SEE THE ACCOMPANYING ACES
---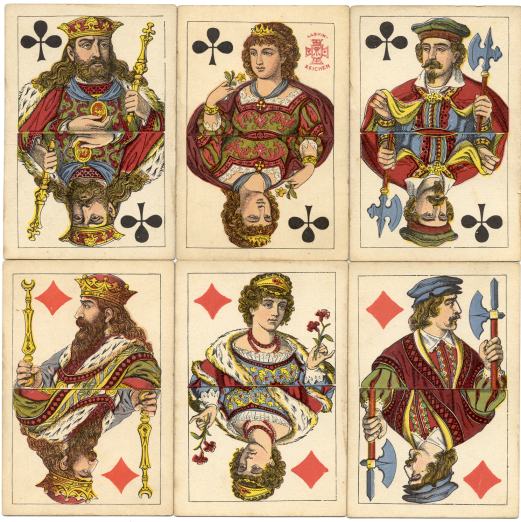 ---

back to the Old School menu
---