February 2017
| | | |
| --- | --- | --- |
| | It was some time ago that Joop had visited an antique market, but during the last weekend of this month there was one in Utrecht. Getting up very early isn't one of Joop's favorite things, but sometimes it's worth the effort. This time the surprise came in a simple wooden box, not recognizable by suit signs on the outside, but the shape was rectangular enough for a double box, so worth taking a peep. Opening the lid a bit it became clear that it held two antique decks. | |
We haven't had a bad month in terms of new decks for our collection, but both these decks went straight to poll position. They left some interesting decks in their trail, like the two Other Kingdom decks by Natalia Silva and a nice unusual designed French deck. But these are modern decks and we went for old this month. So a choice had to be made between the two antique decks and we chose this one. The other deck is a simple patterned Daveluy deck, mentioned in the Daveluy book as # 1, but it's in used condition.
This deck here is still in excellent condition, but there's no name of manufacturer to be found on any of the cards. We've only had time to look in a few of our books about playing cards, but haven't found a reference yet. However, there are still the Cary, Fournier and Cartorama catalogues to go through. For the time being we'll have to mark it as "maker unknown". Should one of our visitors recognize this deck, we'll be happy to hear about this, as it will save us turning a lot of pages.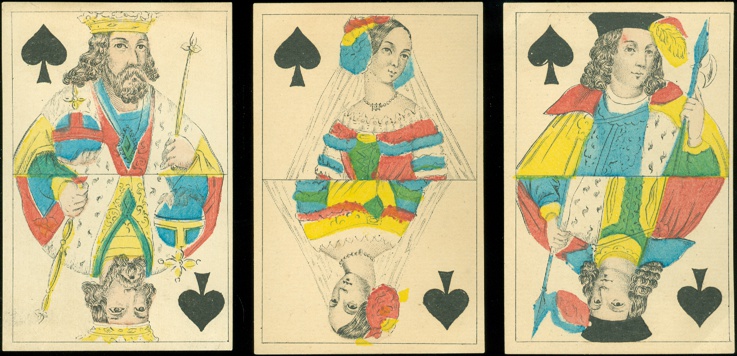 Thin card, corners not rounded and a simple pattern: the deck was probably cheap, made for (short) daily use.
Glancing through the cards, it may seem to be a simple double imaged pattern, but it's a bit more than that. Click HERE to see what we mean.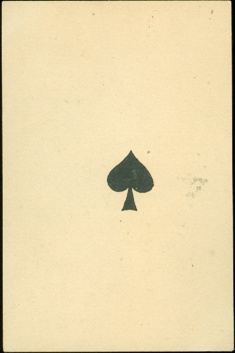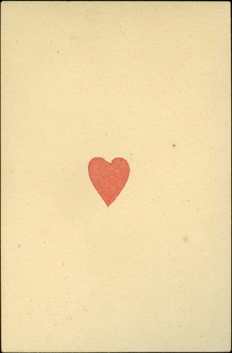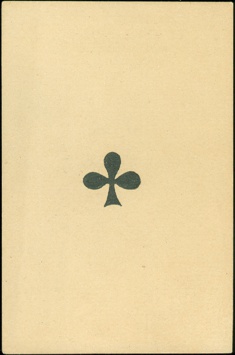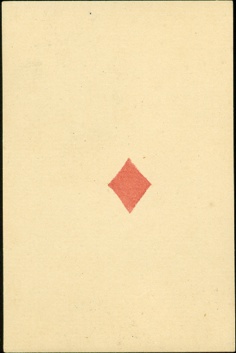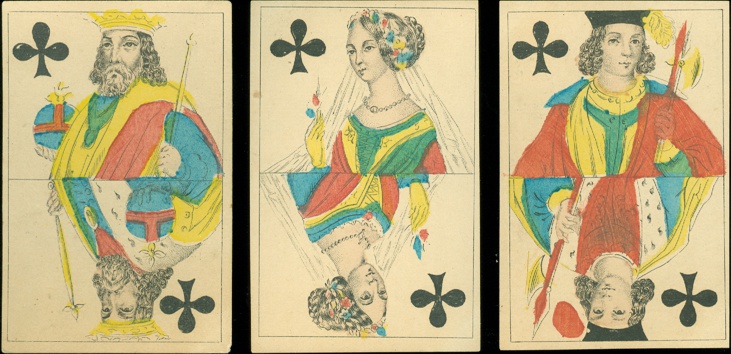 The deck was lithographically printed and stencil colored.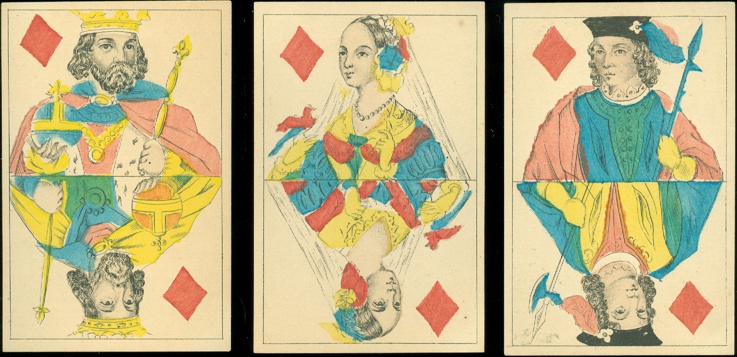 Dating the deck: no doubt 19th century, our guess.... probably 1870's.
The deck has 52 cards
(probably no joker was ever issued)
We'll post the Daveluy deck on Facebook in the Playing Card Collectors Group. If you're not a member, but interested in playing cards, do join. There's something interesting for everyone. Old and new decks, standard or non-standard, regular or tarot decks, magic, jokers, backs, paraphernalia: it's all there, often with excellent descriptions and expert discussions. See for yourself, JOIN: it's only a click away.