---
SPECIAL ADVERTISING JOKERS
---
Some advertising decks have special aces, some have special jokers too......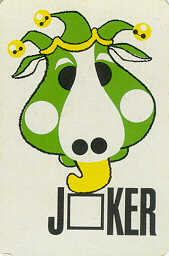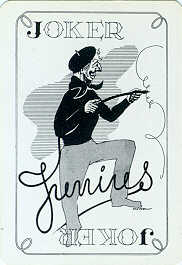 Advertising Liksteen (animal foods) and Junius (shipping )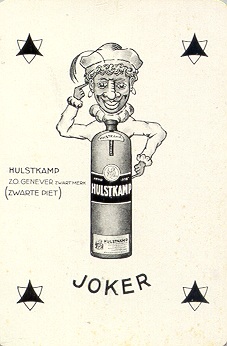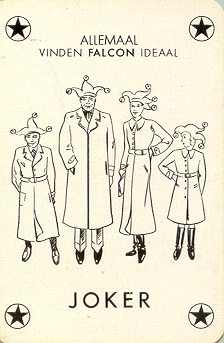 Advertising jokers for Hulstkamp Genever (Gin) and Falcon Raincoats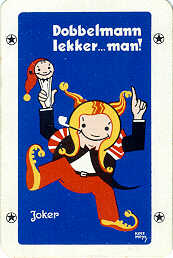 An advertising joker for Dobbelmann (Tobacco). The same joker was later also made by a Belgian manufacturer. On that joker the name of the designer (Kees Meys) is not printed, while on the SN version the signature is in the right bottom corner under the jokers foot.
An advertising joker for Mascotte (rolling paper for tobacco)
.......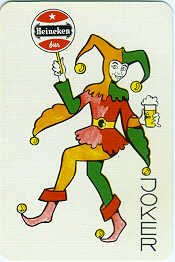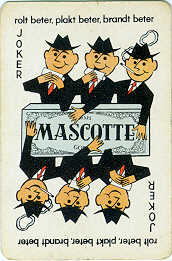 The Heineken joker too was later made by a Belgian manufacturer. Here the difference is that the letters of the word joker are a little bigger and therefor the letter "R" ends clearly below the foot next to it. In the Belgian version a smaller letter is used and the "R" ends just a little below the foot. Also the whole SN card is a little bigger. Check your collection, jokerfans!
---
standard company jokers -1-


JOKER XPO'S

standard company jokers -2-


special company jokers
---
BUT DON'T LEAVE WITHOUT LOOKING AT THESE TWO..........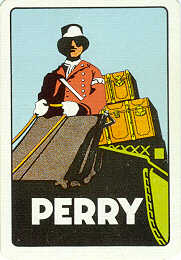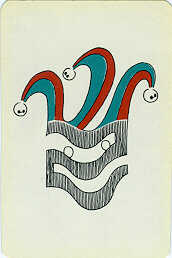 Perry (a trading firm, owned several departement stores) & the joker for the City Waterworks of Amsterdam.