OLD-FASHIONED
playing cards
-1-
| | |
| --- | --- |
| | The 3 decks that are shown in this xpo can be called " old-fashioned" for two reasons: they all come from the 1950's, but they are also about the fashion from those days. Each of these decks was published to promote a certain brand of clothing. This first deck was the deck that triggered this xpo. We got it through Ebay and were immediately taken by the way in which the fashion was represented. Not only the fashion itself, but also the models and their poses had something "old-fashioned". Of the 3 decks on xpo here this Schwarza deck is the only one that was printed in full-colour. |
We are both in our fifties, so seeing the shown fashion is a feast of recognition and brings back that happy feeling from our childhoods. We know that there are other collectors of the same age and older, so we hope this will work for them too. And if you're (much) younger, some of these advertising cards may bring a surprised smile to your face..........yes, most women actually wore those dresses!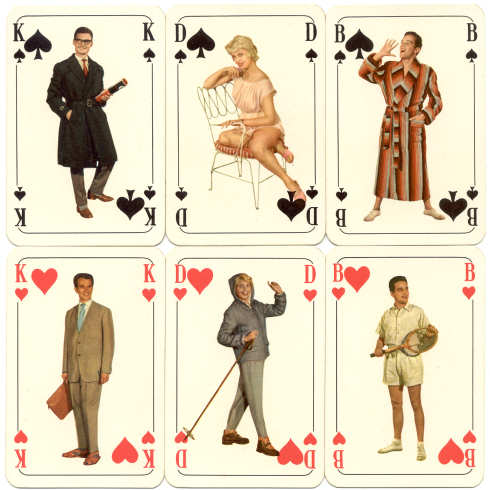 Knowing that this deck was published in former East Germany made putting a date on it at first sight a bit difficult. We both thought it would be something from the late 1950's, so we were pleasantly surprised to find out that already in 1950 it was printed by the Altenburger Spielkarten VEB from Altenburg and published for Man-made Fiber Industry "Wilhelm Pieck" VEB from Schwarza, a town in Thüringen, a region in former East Germany (Braun Vol. 2, AS 1950/2).

The deck was published in an edition of 5000 copies. It consists of 32 cards, with gold corners, and comes in a plastic holder with the company logo embossed on the flap. Only the courts and aces show models. The numbercards are regular, but don't show the name or logo of the playing card manufacturer.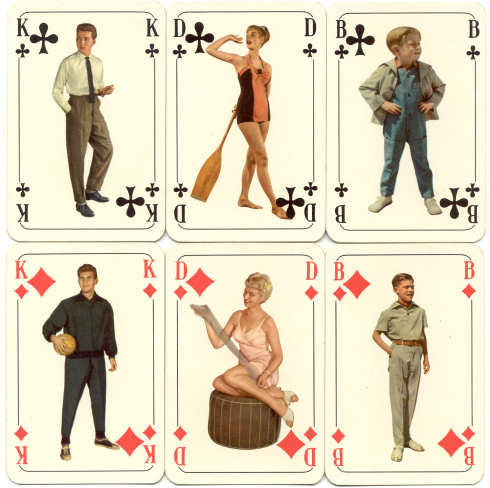 We also learned from the 2nd volume of the Braun series that the Altenburger Spielkartenfabrik VEB has also printed an almost similar designed deck for the Wiratex export company in 1957. Of course we'll keep our eyes open for that one now and when we find it, we'll add it to this xpo.