Both decks here below were printed by F.X. Schmid from Munich. The first one dates from the mid to late 1960's. The courts have the Rhineland pattern, with the makers name on the Jack of Clubs. The set of aces is illustrated with photo's of different Dutch cities. The Belgian maker Van Genechten had already tried to introduce a set of b/w photographic aces with their cards, but F.X. Schmid also found out that the Dutch players didn't appreciate b/w photographic aces. Around 1970 F.X. Schmid introduced a set of aces, with drawn versions of the photo's and in colour.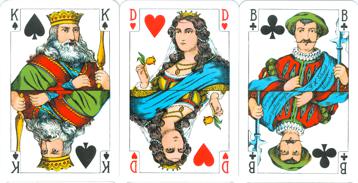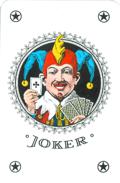 On the Kings the "K" is used as indicator. In Dutch "King" is translated as "Koning". Dutch players use the name of "koning" as well as "heer" for the Kings, but on playing cards usually the letter "H" is used as indicator for the King. The commonly used indices in Dutch packs are H (heer =gentleman), V (vrouw = woman) and B (boer = farmer). The "K" is not often used. Although we have a royal family and only a small minority of republicans in our country, our indices would suggest otherwise.
The decks above have German indices (K,D,B), which the Dutch players translated as Koning, Dame (=lady) and Boer. Because the Dutch have had to play with imported cards from Belgium and Germany during many decades, all these names or a mixture of them may be heard at a card table.