July 2023

The package came earlier than expected. It contained the 4 decks that I had won in the Dominic Winter auction of decks from the Dudley Ollis collection. I was pleased with all of them, but there was only one deck that was the reason to participate in the auction. It was a "pandoer" version, usually 33 cards, but there were 2 court cards missing. However, for me still worth buying. And... this deck will stay in my reduced, but select collection.
I've loved this deck ever since I first saw pictures of it when I began building the Dutch speelkaartenmuseum.nl site in 2011. It's not a coincidence that the chosen pictured card there for a link to the pre-1900 section is the jack of clubs from this deck. There are a few features in the deck that attracted me. Foremost...... it's a nonstandard deck.
Then there's the egalitarian character of the courts. No kings or queens, but "heer" (gentleman) and "vrouw" (woman). The jacks are called "boer" (farmer). Here they are fully spelled out, but this egalitarian idea has survived the passed centuries and today Dutch indices are still H, V and B. Contrary to the nowadays in the Netherlands predominant Cartamundi version of the Dutch pattern, in which the H's show kings, each "Heer" in this deck shows an upper- or middleclass gentleman.
The printed outline around the designs can be called simple, but certainly remarkable for those days. Four colours were used for the stenciling, of which red and black were also used for the pip cards. And the combination with the grayish blue and ochre yellow suits the eye, at least mine.
The deck was printed by woodblock and the cards were stencil coloured. From the information provided by Lex Rijnen, a long time Dutch collector and expert on antique Dutch playing cards, it's clear that it leaves room for questions. But what is known is that David Weege was active as a bookseller and publisher in Amsterdam between 1748 and 1787. So he didn't print the decks himself. From an advertisement in the Amsterdamsche Courant newspaper of December 24, 1768, it is known that David Weege had his decks printed in Belgium in those days. Weege refers there to "the main card maker in Brussels" and "for the general and lesser quality cards" to Namen. But mentions that it concerns "all kinds of Brussels playing cards", so probably standard patterned decks.
He had already set up his shop at two different addresses in Amsterdam before he moved to the Kalverstraat in 1770 and called his shop "In de Luthersche Bijbel" (In the Lutheran Bible). Playing cards were no longer mentioned after this move until they reappeared in his sales offer in 1776. After his daughter had married a Dutch playing card maker named Jan Stroek, an advertisement in the A.C. of 29-01-1771 announced that D. Weege had partnered up with J. Stroek on January 1st 1771 and that per May 1st they would sell their paper work and pencils from a shop, located at the Nieuwendijk. The name Stroek has appeared in some of the Weege decks. However, not in this deck. The cooperation with Stroek ended in 1786. So it's difficult to put an exact year on this deck. It could be from the early 1770's, but most likely from around 1780. However, I haven't finished researching, still browsing through 18th century newspapers searching for more background info on Weege as well as Stroek.
On the jack of spades the initials C.V.D.W. are printed. The D.W. refers to David Weege, but I haven't been able to find a reference for the C.V. It could refer to the card manufacturer, but also to the woodblock cutter. The shown courts and aces on the speelkaartenmuseum.nl site come from an incomplete deck of 48 cards in the collection of the Koninklijk Oudheidkundig Genootschap (Royal Society of Antiquities). I have contacted the K.O.G., but due to the holiday season will have to wait until halfway August for answers. But their deck did have the 2 courts that are missing in my deck: the Heer and Vrouw of clubs. So their pictures here below were taken from the K.O.G. deck.
Scanned at 150% to show more detail. Cards measure 57 x 88 mm.

ENJOY!

| | | |
| --- | --- | --- |
| | | |
Each ace is differently decorated.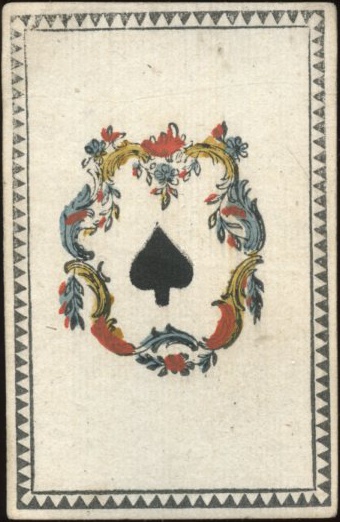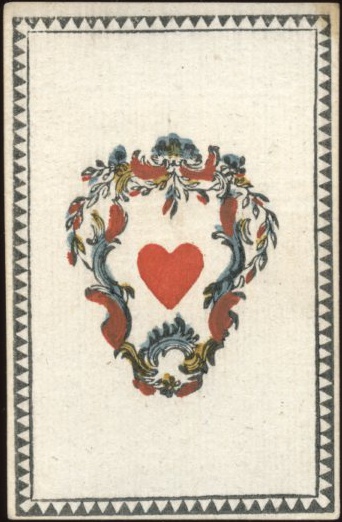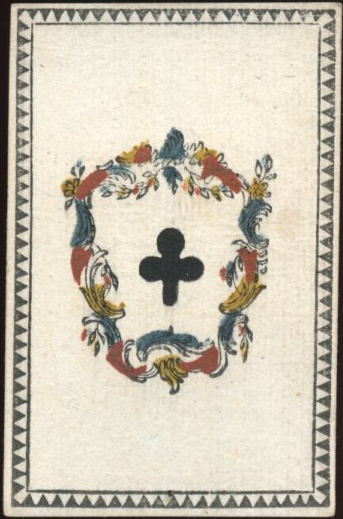 (images KC and QC are from Weege deck in K.O.G. collection)
| | | |
| --- | --- | --- |
| | | |
To play the game of "pandoer" a deck of 33 cards is used: courts, aces and 10-7 in each suit and a 6 of hearts. It's an old Dutch game, probably named after the mostly Hungarian soldiers in the Seven Year War (1756-1763), as braveness was supposed to be required in this game too. The first reference to the game dates from 1826, found in a book describing games which were played in those days. So the game could be a little older and it is possible that a Pandoer version was published by Weege too. But it's also possible, and probably more likely, that one of the previous owners (except Dudley of course) has adapted a 52 cards deck to play Pandoer. Maybe from an incomplete deck, missing a few lower pip cards, or from a complete deck by tossing the unused pip cards away.