May 2023
During the last weekend of May the football league in the Netherlands was decided and a surprisingly good Feyenoord FC ended as champion of the 2022-2023 competition. I'm not a football fan in general, only once went to an actual stadium, but I follow the league on TV during the Sunday hour with highlights of all the matches.
Anyway, it seemed fitting to show the last of the Spanish decks that I bought in Madrid during the IPCS convention.
In Spain football is even a bigger thing than here in the Netherlands, so decks with football players are highly sought and prices are accordingly. So when I found this deck at a reasonable price, I knew that I had to settle for a lesser condition. But there were 2 features that attracted me.
First was the depicted playing card on the courts, although it wasn't really necessary. All Spanish card players are well acquainted with the use of numbers to indicate the value of the courts. Here below they are shown from jack (10) to king (12), although I usually present them the other way around in this section. Aces are marked as 1's.
Secondly the way in which the players are dressed reminded me of the latest fashion in sportswear among football players in the Netherlands: shorts with long legs and socks pulled up to their knees.
The seller didn't supply much info: "Futbalista" as title, "Chocolates Amatller" as publisher and "Valencia 1930" as place and date. No mention of the printer though. The latter can be explained by the fact that the name of the printed isn't to be found on any of the cards.
These kind of cards were not sold as a deck, but had to be gathered by buying chocolate products, in this deck by the Fa. de Chocolate de A. Amatller. The title Football players seems the only possible description, as the courts and aces depict...... football players. I know that the deck is usually dated as c1930, but I couldn't understand the Valencia in the seller's description. The publisher was located in S. Martin-de-Provensals, which is a sub-district of the San Martin district in Barcelona. So it's also well possible that the cards have been printed there too. But these decks were published for different makers of chocolate products and it's possible that the seller has a deck, which was published for a manufacturer from Valencia.
Here below you'll find minimal information about each depicted player: full name, lifespan and years played for the associated club. The latter was the reason this venture. I hoped it would help in dating the deck more precisely. And as you will see, a couple of players had already finished their career in 1927 or 1928. Besides those players, there's the sad story of "Spencer", who died in 1926 at the age of 27 as the result of an infection after an appendix operation. He's on the jack of cups.
Assuming that the people who collected these cards were interested in still active players, I think that the dating can be set a bit earlier than c1930. I would rather date it as probably 1927, possibly 1926. However, I can imagine that a shockingly young death in 1926 could be honored by a presence in a deck from 1927. But no longer in one from c1930.
That being said........ ENJOY!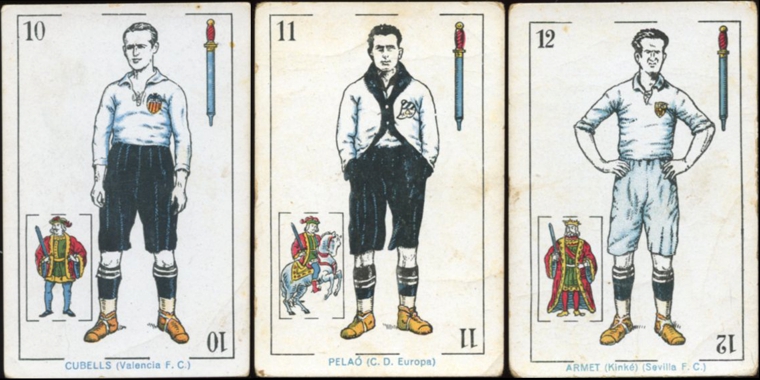 Eduardo Cubells Ridaura (1900 - 1964) played for Valencia F.C. from 1919 - 1932.
Esteve Pelaó i Gratacós (1898 - 1980) played for C.D. Europa from 1916 - 1924 and 1925 - 1928.
Juan Armet de Castellvi, nickname Kinké (1895 - 1956) played for Sevilla F.C. from 1917 - 1927.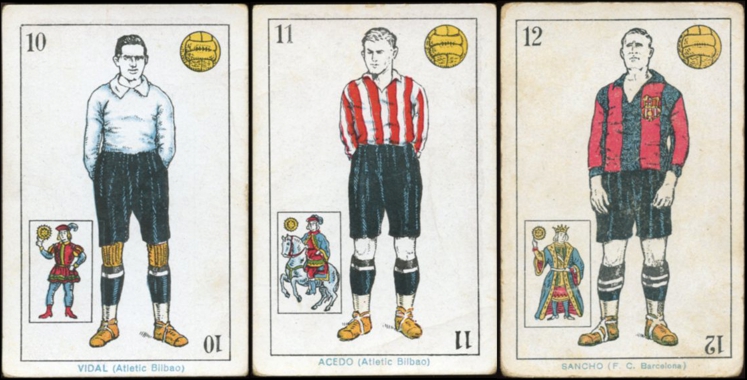 Manuel Vidal (1901 - 1965) was the goalkeeper of Atletic Bilbao from 1922 - 1928 and 1930 - 1931.
Domingo Gómez-Acedo y Villanueva (1898 - 1980) played for Atletic Bilbao from 1914 - 1929.
Agusti Sancho (1896 - 1960) played for F.C. Bacelona from 1916 - 1922 and 1923 - 1928.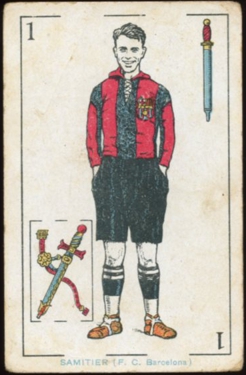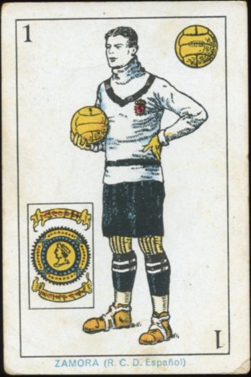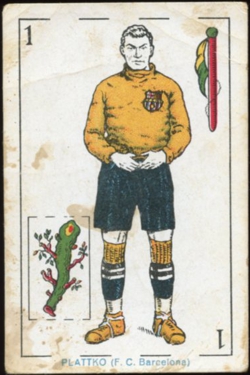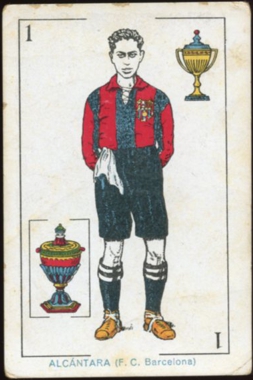 Josep Samitier (1902 - 1972) played for F.C. Barcelona from 1918 - 1933.
Ricardo Zamora Martinez (1901 - 1978) was goalkeeper for R.C. D. Espanol from 1922 - 1930.
Ferenc Plattkó (1898 - 1983) from Hungary was goalkeeper for F.C. Barcelona from 1923 - 1930.
Paulino Alcantara (1896 - 1964) played for F.C. Barcelona from 1912 - 1927.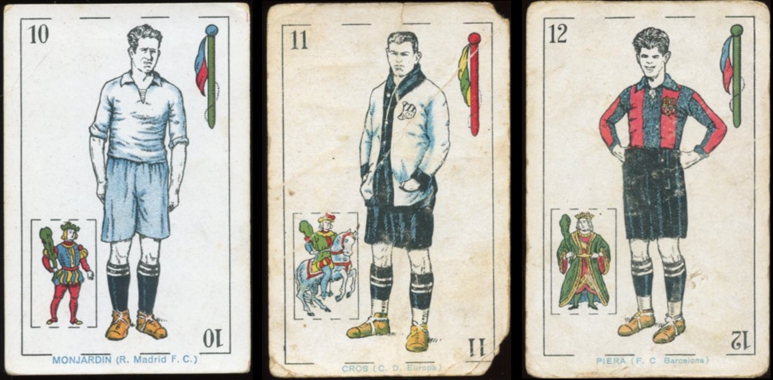 Juan Monjardin Callejón (1903 - 1950) played for Real Madrid F.C. from 1918 - 1929.
Manuel Cros Grau (1901 - 1986) played for C.D. Europa from 1922 -1931.
Vicenç Piera (1903 - 1960) played for F.C. Barcelona from 1920 - 1933.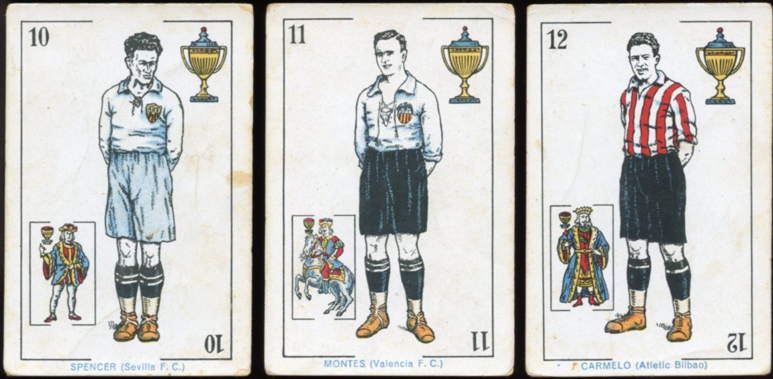 Enrique Gómez Munoz, chosen name Spencer (1898 - 1926) played for F.C. Sevilla from 1913 - 1926.
Arturo Montesinos Cebrián, nicknamed Montes (1900 - 1982) played for F.C. Valencia from 1920 - 1928.
Carmelo Goyenechea Urrusolo (1898 - 1984) played for Atletic Bilbao from 1921 - 1929.
The deck consists of 48 cards, which is not unusual for Spanish decks.
The pip cards are not illustrated, except for the 4's. Pips represent football related objects. The swords look like air-pumps for the leather ball (coins) and the clubs are represented as flags of the linesmen. And the cups are those that can be won, with the Copa del Rey presently as the highest possible.
On the 4's shinguards, football shoes and goalkeeper gloves introduced too.