September 2021
September was an intense month for me. On the first a CT-scan showed that a cancer tumor had returned in my lungs, very close to the trachea. A diagnostic CT-scan, a PET-scan, an endoscopy with biopsies and a MRI-scan later, it was clear that no other treatment than immunotherapy could be applied. As this will affect my life expectancy, I had to make some serious decisions. With no family left I don't want to burden the executors of my will with having to sell all the collections that Miriam and I have build over the years. They have no idea of their value. So I've decided to sell them myself and this means that from now on almost ALL DECKS, that are shown on this site will be for sale now too. See the homepage for details.

Of course I will not be buying decks any longer, but I will continue to choose a deck for this spot each month.
After this gloomy opening it's time to lift the mood a bit. And here's a small Italian fortune telling deck to hopefully do the trick. It does it for me.
The deck was published by Liebig S.A. in Italy in 1939. Each card shows a different scene with animals and a card in the left top corner. Each card represents a certain meaning, printed in Italian on the bottom, but I was more interested in the cute designs. They were done by Sebastiano Craveri (30/3/1899 - 25/10/1973), who was active as a painter, illustrator and journalist before he began a collaboration with the Catholic weekly "Il Vittorioso" in 1937. There he created animal comics about the inhabitants of "Zoolandia". I think that they were the inspiration for this deck as well and I hope they'll put a smile on your face again.

The box above shows the real size. The cards measure 32 x 45 mm. I've enlarged them in the scans.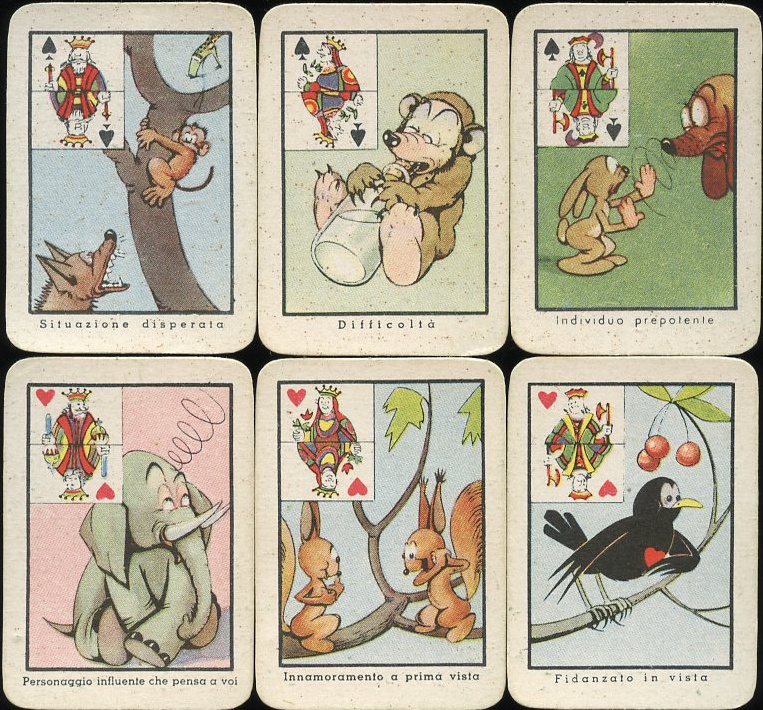 Click any ace to see the pips of all the suits.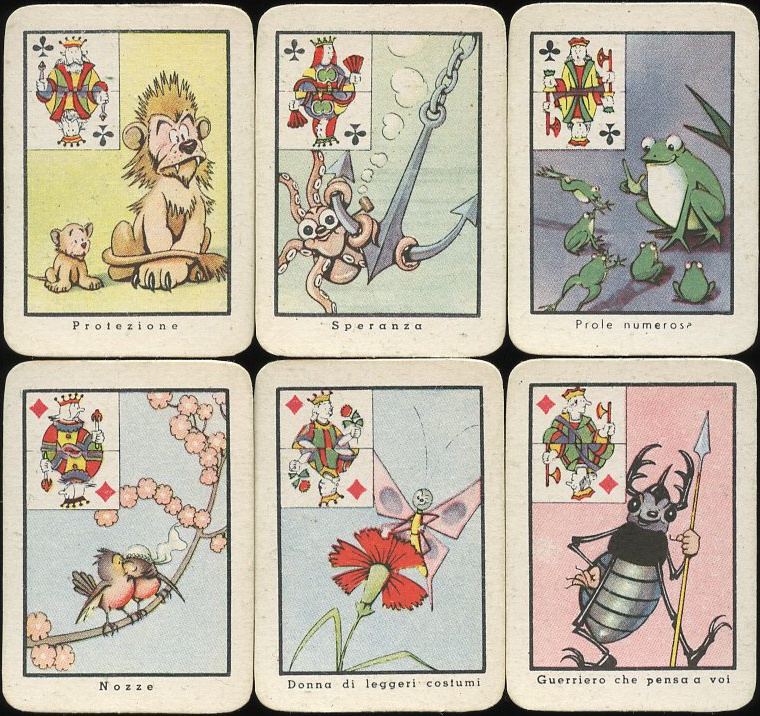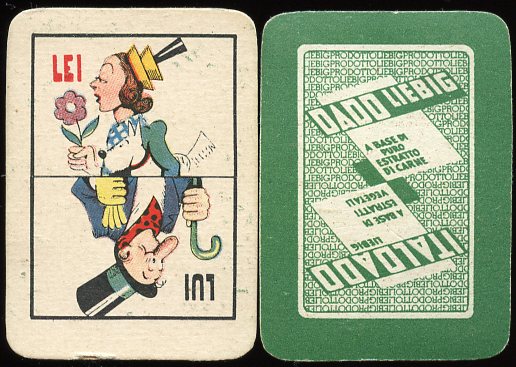 The deck consists of 52 cards and 1 card for the person whose future will be told. Of course it can be used as a joker too.
It comes in a small carton box, with "Edizione Liebig"on each of the long sides. On the bottom there's a number, maybe it was a large individually numbered edition.