November 2019
This month I went to the autumn version of the general collectors bourse in the Jaarbeurs (Utrecht, Netherlands). Officially it starts on Saturday, but on Friday the sellers have the opportunity to set up their stalls and they usually have some entry tickets to sell. I have known one of the sellers for many years now and he has always supplied me with a Friday ticket at cost price, still about € 25. It's a way to get a head start, but many other collectors have found their way to these tickets too, although this time there were no other playing card collectors.
Sadly the offer was disappointing. I only brought home 2 vintage Belgian decks and a modern deck, that would make a nice conversation piece, but lacked the quality to deserve a spot in this section.
So once again I took out the boxes with all the decks that I still have to process and glanced through them until my eye got stuck on this deck. It was published in Denmark by Emil Jensen as "Warburgs Luksus-bridgekort" around 1930. The deck was printed in offset by the Universal Playing Cards Company Ltd. which carried that name since 1925 but was in fact part of Alf Cooke, a general printer in Leeds since 1866.
The courts and joker were designed by Barbara McDonald and she has created a fine and delicate double image, with soft colors in a late Art Deco style. The courts have Danish indices, but the kings are also easily recognizable by the crown above the large pip. I found it an optimistic deck. Maybe because all the figures on the court cards have a faint smile on their face. The only demerit, in my humble opinion, is the used card/finish. It's a sort of mixture of air-cushioned and linen finished card and this leaves visible horizontal lines across the designs, especially when enlarged. Still, it's a beautiful deck, so................ ENJOY!
Plain aces with a faint Danish tax stamp on the ace of diamonds.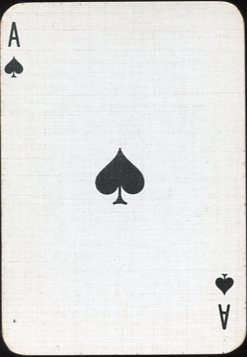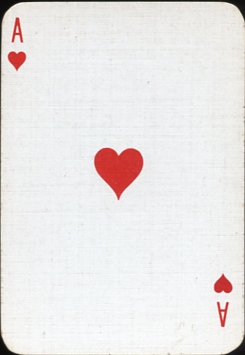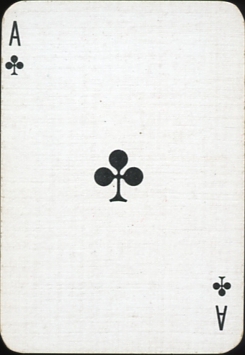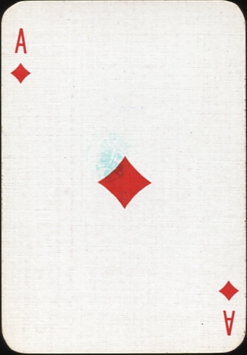 The deck consists of 52 cards and a joker.
The box is made of carton with a sort of felt finish on the outside and it folds open.