September 2019
One would expect to see a deck here, that I had brought back from the IPCS Convention in Catania (Sicily). These conventions have often brought a Deck of the Month here. But this time it was different. This time I brought a deck to the convention as a scoop and sold a good number of the copies that I had with me. I had received it from the printer on the 17th, which was just in time, as I would fly to Catania the next day.
When you have your own deck printed and published, then there's only one choice possible for this spot, especially when it's the 150th deck in this section. So I'm a bit proud to present it here. I've given it the title "A Dutch Transformation Deck" and I have dedicated the deck to my wife Miriam, who I have lost earlier this year. The deck was printed by a small local printer, Heinis & Schipper Drukkerij. The deck is based on the 52 original, hand painted cards that I had bought last November and of which I've shown a few cards on Facebook and with the Deck of the Month of November 2018.
The designs were done on thin paper, not meant to play with. Maybe it was meant to be published in a magazine or as a deck, but it never actually was. The designs are not found in the literature about playing cards, nor in the expert book by Fields about transformation cards. So my publication is not a reproduction, but in fact a first edition of these magnificent designs....... after some 200 years!
I could give you a detailed review here, but for those who have already bought the deck I had on forehand prepared several pages with information about the research and findings that have led to this publication. So follow the link at the bottom of this page, but first.........
ENJOY!
The jokers were specially designed by me.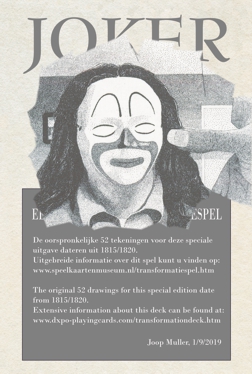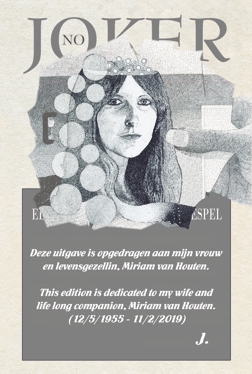 The first one refers to the links (in English and Dutch) for further information.
I have also designed the box and chose for a simple execution, without the tinseltown foils.
Inside the deck is held by a paper band in the colors of the Dutch flag with the title printed on both sides
(one in English and one in Dutch) and a paper colored oval with the repeated number of the deck on top.
The deck can be ordered here.
The price is € 25.00 and shipping by registered mail costs € 12 - € 15 within Europe, depending on where you live, and € 17 for the rest of the world.
And for collectors of complete sheets, there are 10 sets of 4 sheets (one of each color) at € 30 per set. The sheets measure 330 x 358 mm.
For more info about this publication follow this link.