March 2019
| | | |
| --- | --- | --- |
| | | |
This deck was published as "Klubams" in Lithuania around 1930. The title means "for clubs". The deck was lithographically printed by the Spindulys Printing House from Kaunas. The Spyndulis printing house, situated in Kaunas, was formed by combining 3 print shops: Svyturis, Varpas and Raides. Spyndulis started their production in 1928 and is still active at the present moment, but mainly as a book printer. The card production stopped after WW II.
Lithuania is one of the 3 small Baltic states, but has covered a much larger area in the past. Around 1400 it was one of the largest countries in Europe. Halfway the 16th century it formed a commonwealth with Poland and this lasted until the end of the 17th century, when the commonwealth was partitioned by Russia, Prussia and Austria. Most of Lithuania was occupied by the Russian empire and this lasted until the end of WW I, when Lithuania became an independent state again. Not long before WW II started it was occupied by the Russians and during WW II by the Germans. After the war had ended Lithuania became a Soviet Republic under control of the Russian Soviet Union again until independence was declared in March 1990. Since May 2004 it's a member of the European Union.
This deck could be seen as a sister-deck of the "Gedimino Stulpai" (the Columns of Gediminas), which was our deck of the month in August 2018 (click and press 08). There's an overall resemblance in the modern designs of both decks and in both decks these modern designs refer to the rich history of Lithuania, i.e. before the Russian occupation. But the modernism in design can also be seen as a way to celebrate the independence of Lithuania, however short that turned out to be.
On the WOPC site Tadas Jurys mentions that at that time the playing card designers at Spindulys were Mstislavas Dobužinskis (1875–1957) and Barbora Didžiokienė (1896 - 1976) and, although there was no name or initials to be found on any of the cards, we concluded that the deck must have been designed by one of them. In this deck the joker shows the initials J and V. They can't refer to either of these 2 designers. So it's well possible that our conclusion from August 2018 was premature. Well, whoever designed this deck, he/she did a great job!
Plain aces, Lithuanian taxstamp on the Ace of Diamonds.
Janis Metra told us that the K in Lithuanian stands for Karalius (king), the M for Mergele (maid/virgin) and the B for Berniukas (fellow). Here the aces are indicated by an A, but in Lithuanian decks a T for Tuzas (aces) can also be found.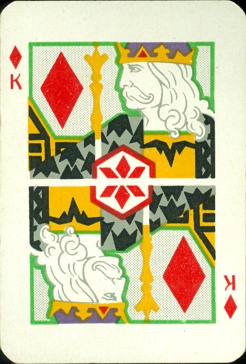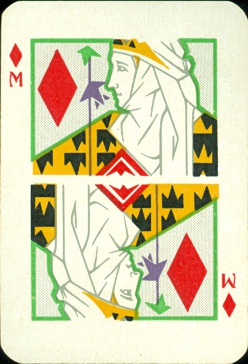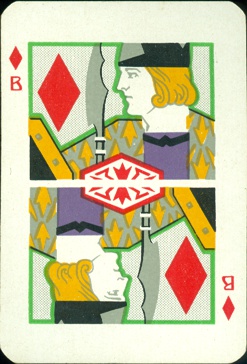 The deck consists of 52 cards and 1 joker.