March 2018
March started slow, but on the 15th we went on a 2.5 hour drive to acquire the lost collection of Louis Bausch, a renowned Dutch collector, who had died several years ago. There are some 1500+ decks, all separated between sheets with courts in folders and rest cards in boxes, wrappers or plastic bags. It will take us many months to reunited all courts with their pip cards. But we had received an Excel spreadsheet with a list of all decks per country and maker. It was not only the base for the negotiations, but also gave us a good idea of the number of new decks for our own collection. However, for this spot it created a huge problem.

This month's choice was difficult and because we will probably not be buying any spectacular decks during the coming months, we've decided to show the best decks that we come across while processing the new collection on this spot during that time. But even in the last two weeks there were just too many decks to choose from. So for this month we decided to take the first deck on the Excel list that had caught our eye, when we had a first look, and that had been on our wish list for a long time. And this is what we found as # 0045.
We both enjoy Art Deco and Jugendstil designs and not only on playing cards. I'm not sure if it's really that rare, but until now we haven't seen many on offer during collectors meetings. Maybe twice and they were beyond our budget at that moment. So the deck has been on our wish list for quite a while.
The deck is described in the book about "Playing Card Makers from Turmhout" by Autenboer/Cremer (#144, p.132) as "Vieille France" (Old France). It was printed in 9 colour lithography by Etabl. SA Brepols from Turnhout and published as a luxury piquet deck in 1919.
I'm not sure if something has gone wrong in the printing process of the deck, but I've seen these courts with a more pink complexion.
It's a bit distracting, but the complete designs are still a feast for the eye, our's at least.

The suits signs are presented as heraldic signs on shields, held by mediaeval helmets.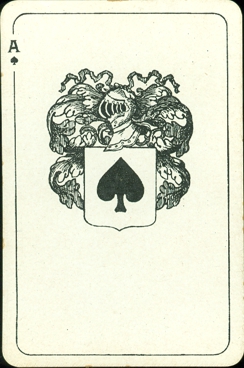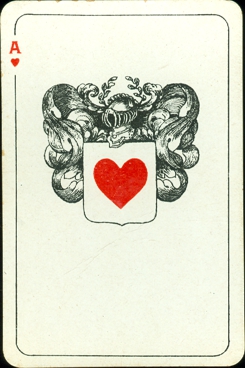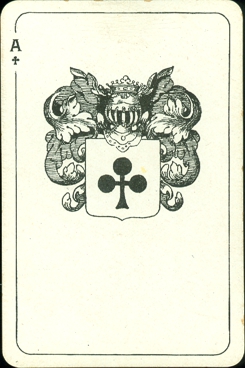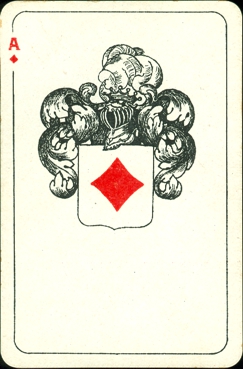 | | | |
| --- | --- | --- |
| | | |
| | | |
| --- | --- | --- |
| | | |