August 2017
| | | |
| --- | --- | --- |
| It was a month full of nice finds! An antique market in Apeldoorn brought us the second edition of Dondorf's Lenormand fortune telling cards Nr. 1 (1878), a rare single joker and a bezique box with two of these decks by the Speelkaartenfabriek Nederland. | | Ebay brought us another Dondorf deck, the Mecklenburger Karten. During his visit here, Pavel Langer gave us one of his 200 published decks with designs by Petr Novy and also worth mentioning is the Female Factory deck from Australia. |
So it was a difficult choice this time. Both Dondorf decks were new in our collection and both would be well worth showing here. However, we chose a deck, that was not new, but certainly an improvement of quality. Until now we only had the courts and aces of this deck and they were more soiled than our new found bezique version. And we thought it would be nice to use this deck to show you the different versions of this pattern as infotainment.
The deck was one of the first decks that were made by the Speelkaartenfabriek Nederland from Amsterdam. The first edition was sold from 1911 to 1916 as "Neerlandia". But in 1916 a second edition was published and in 1917 a third, both were also sold as "Neerlandia". Because there are significant differences between these editions, Dutch collectors refer to them as Neerlandia A, B and C. This Deck of the Month is the B version. Because that version was only produced for about a year, it's the rarest to find.
When you're a regular follower of these pages here, then the following images may look familiar. We have shown the Neerlandia C deck as Deck of the Month about a year ago (see 07/2016).
But first a short piece of history. In 1906 a company for the production of playing cards and games, was founded in Utrecht as "N.V. Nederlandsche Speelkaarten Fabriek"(NSF). In 1909 the company sought cooperation with Jos. Vas Dias, a lithographer from Amsterdam and the company moved to Amsterdam in 1909. It took a while before production could start and early 1911 the company's factory was destroyed by fire. In May 1912 the NSF went bankrupt. The inventory, including lithographic stones, machinery and playing card stock was sold at an auction and the main buyer of anything that was used to produce playing cards was bought by the N.V. Steen- en Boekdrukkerij en Cartonnagefabriek v/h/ Faddegon & Co.". This company founded a subsidiary company for the production of playing cards and named it "Speelkaartenfabriek Nederland" (SN). Production must have been resumed not too long after August 1912.
The first edition of the Neerlandia deck (A) was produced by the NSF and when their card stock was taken over by SN, there was probably a good number of Neerlandia decks in stock. These were sold under the SN name. Maybe because the stock ran out, maybe there was a completely different reason, but in 1916 SN decided to redraw the Queens in the Neerlandia deck. Kings and Jacks were kept as is. In fact the kings were never redrawn. The Jacks were redrawn in the C edition from 1917, that was practically sold out by the end of 1920.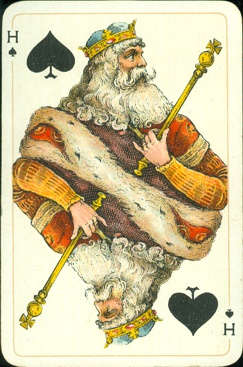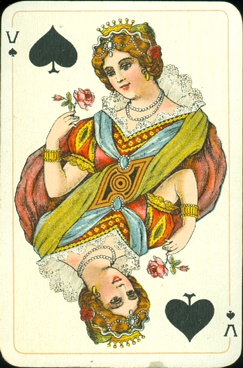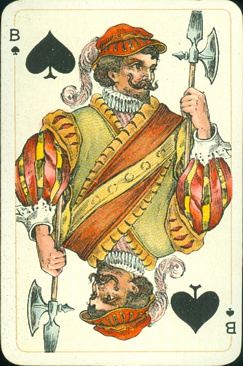 The general pose of the Queens was kept, but details in clothing and the hairdressing were changed (see below).
| | |
| --- | --- |
| | |
The Jacks from this B version are the same as in the A version. In the C version their moustaches and feathers were clipped.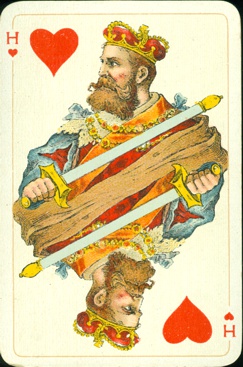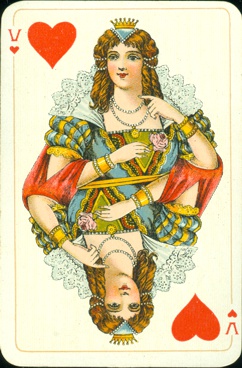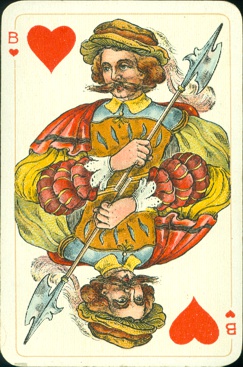 This Neerlandia B deck came with a set of aces with scenes from different Dutch cities.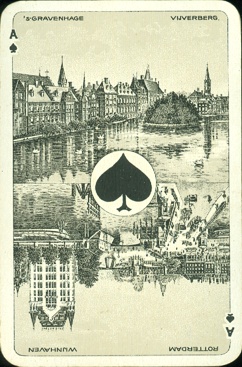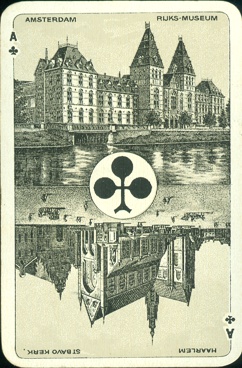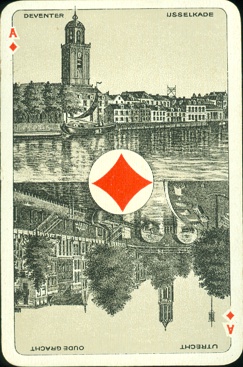 The Neerlandia decks may also be found with a set of aces with scenes from Amsterdam only.
Only the Neerlandia A deck can be found with aces with a floral embellishment in Art-Deco style.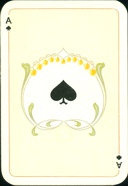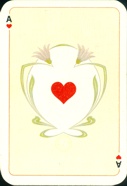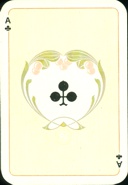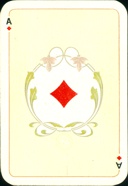 This SN logo on the QC is only found in the Neerlandia B decks.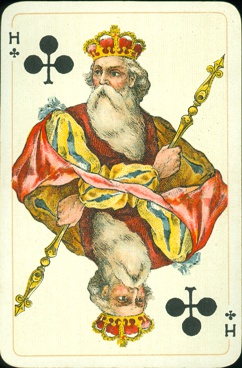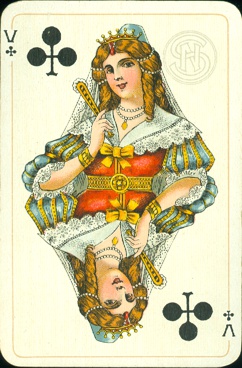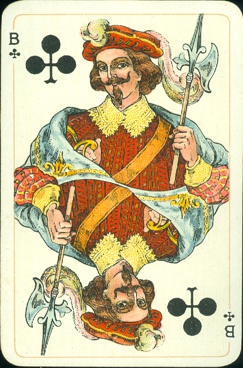 | | |
| --- | --- |
| | |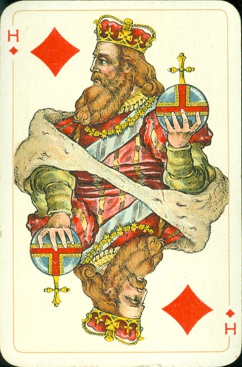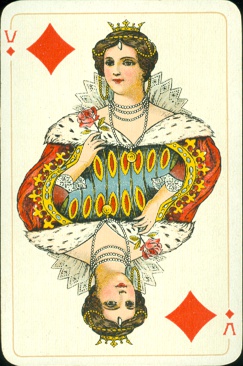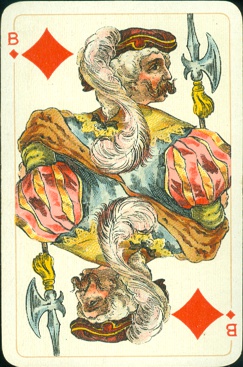 | | | |
| --- | --- | --- |
| | There are two differences between the A and B (or C) version, that are less apparent. The suit sign of the clubs has lost the small points, as seen on the right. | |
Our Neerlandia B deck came as a bezique version, so only 32 cards.
We don't have a "Box of the Month" section, but when this lovely box arrived on the 29th we were tempted.
However, we've decided to present it as a special addition.

top


sides


bottom


The box held a sort of souvenir deck, with courts in costumes from different Dutch towns and cities and Dutch scenic aces. We have the deck, but with a different original box and we had never seen this kind of box before. So when a befriended antique dealer offered us this empty box, we didn't hesitate. Under the fragment of the stamp on top, it reads "Hollandsch Fabrikaat" (made in Holland). The image of this farmer's boy was also used as factory joker by SN and is known in several (textual) variations.