July 2017
There were a lot of antique and flea markets this month, but Joop only visited 4 of them. They were in the open air and on days with superb weather. Of course he picked up a couple of decks and even a single joker, but nothing new for our own collection. So the new or old stuff had to come from elsewhere.

But it was a busy month, so there was not much time to follow the offer on the different eBay's and Dutch auctions sites. Apparently we had the wind against us there, as we were outbid on all the good decks that we were interested in. However, a very short shortlist of only three decks means an easy choice!
No oldies this month! There was an interesting non-standard, modern French deck, called l'Echauguette (a special game), and two decks that came in a new record time of 5 days all the way from New Zealand. One of them is called "Hello Tiki" and has non-standard courts in Maori style. Our Joker of the month is from that deck and will give you a good impression. The other deck is the one that we show here, the "Haere Mai" deck. Haere Mai means 'Welcome" in the Maori language. The deck was designed by Montenzi.NZ, apparently a group of young designers from Auckland, New Zealand. It was their first deck and funded through Kickstarter in 2016. We had missed the project there, but someone posted the deck in the Playing Card Collectors group on Facebook. For anyone with an interest in playing cards that's a FB group to check out.
When we contacted the Montenzi.NZ by email for our order, we asked if the artist could sign the Ace of Spades from the white Hello Tiki deck for us. We got a reply from a certain Alex that this wouldn't be a problem for him and when the decks arrived the AS was signed. However, when we asked for some more information (name of the artist, design of the decks etc.) the reply was that it was a group effort under the name Montenzi.NZ and that it was a project that couldn't have been realized without the support and input of friends and family. No names were given, nor any relevant info about the designs. So we checked out their Haere Mai project on Kickstarter and found additional info there.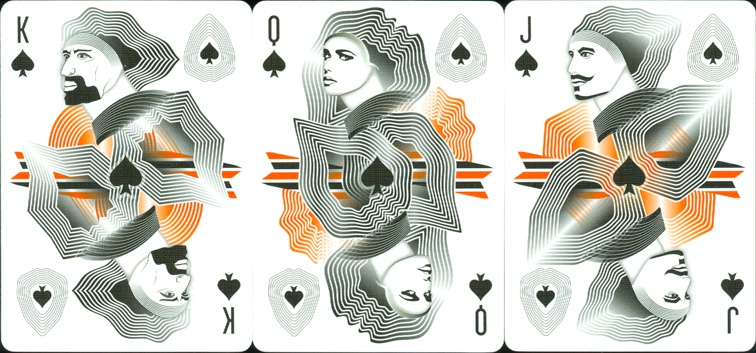 The deck is an attempt to create a high quality deck with some cultural and natural local features embedded in the design. The designs were done in black, white and red. Not only because they are New Zealand's national colors, but also because they thought this "color mix is super cool". However, in the second (gray) edition of the deck that thought was apparently forgotten, as most of the red was replaced by gray or black in the court designs and the back design is in black, gray and white. In our opinion less cool, so we chose this edition.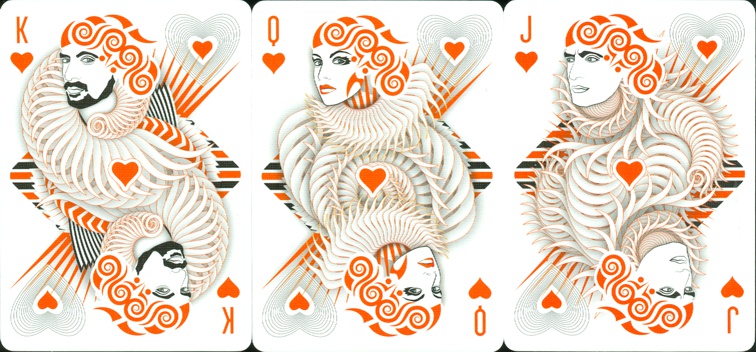 The black, white and red stripes of the back design appear as a design element on the aces and in the spades and hearts suits.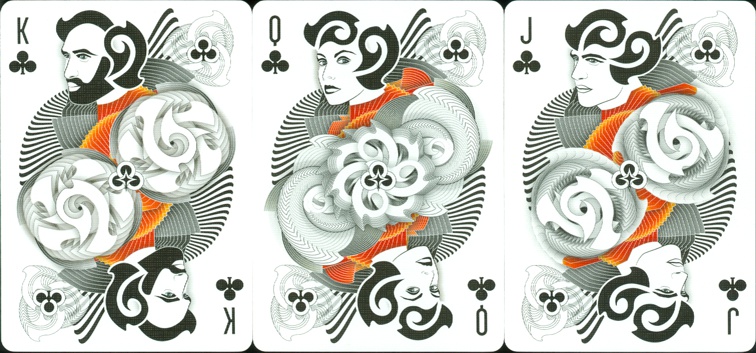 According to their statements on Kickstarter a number of symbols was used, reflecting New Zealandís natural features, such as Wind, Sand, and Ocean. And "if you take a closer look you can also see some traditional geometrical patterns used in early NZ textile designs, and common patterns representing Freedom, Growth, Harmony, and Prosperity".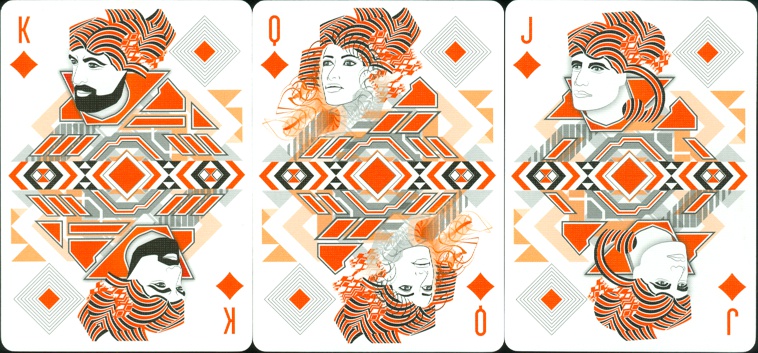 The deck comes with 2 jokers, one gray striped card and one red striped "double back" card, often used for magic tricks.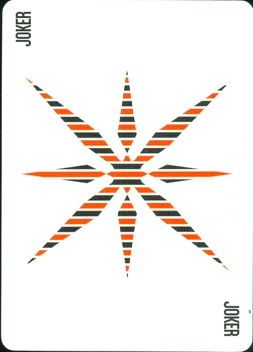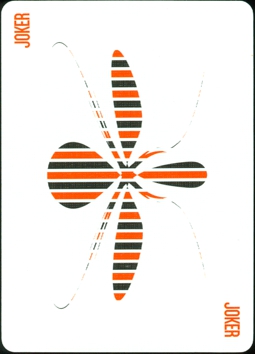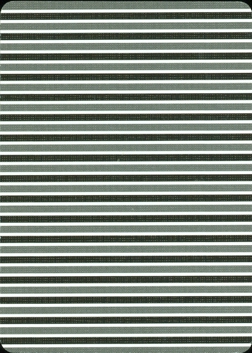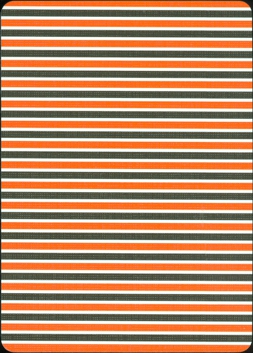 The second edition was published with the same gray back design, that was used on the extra card above. In that deck that extra card is red striped.
In the second edition the deck has a completely different designed set of jokers, but without any red of course.

There are a few special features in this deck. The placing of the suit symbols horizontally in the center is unusual, but not unseen before. Maybe because nine symbols are the max to keep them centered, the 10's all have a special design. Well, it's a repeated part of the design of the courts from each suit. But the box is a different thing. In our collection we have a good number of decks, that have a special, unusual or ingenious way to open or close, but we had never seen this way of packing before. At the top or here at the bottom there's the closed tuck box. To open it first the Haere Mai band should be removed in order to be able to remove the die cut part. It feels like an elaborate way to get to the cards. Of course if you buy a new deck, you'll have to remove the cellophane first too. The deck was printed in China on casino grade paper with black core, linen finish. Cards measure 63x88 mm.