July 2016
| | | |
| --- | --- | --- |
| | Our social life is slowly picking up pace again. Some days are better than others and her action radius is still very limited, but Miriam is well enough to go out for diner and having friends over. So there was less time to follow the offer on the different Ebay's. Of course we did find some nicely designed decks, all modern ones though. We should mention a great non-standard deck that was published by Christian Louboutin, known for his red soled designer shoes, and the Omnia Magnifica deck, which came in a series of 3 different Omnia decks that we helped funding on Kickstarter. We were also able to acquire a rare vintage drawn pin-up deck by Piatnik, titled Men Only (see our Pin-Up&Erotica xpo). A nice short list! | |
The deck here below came from the Dutch "Marktplaats" auction site. The other deck came to us through our own Dutch speelkaartenmuseum.nl site. Joop had put up a "wanted" list there and after 4 years, out of the blue, he got a reaction. "Moyen Age" is the title of a deck that we didn't have in our SN collection yet and, although it has a standard Berlin pattern on the courts, it's a rarely seen deck. It can be accessed at the bottom of this page.
The pattern of the deck here below is called "Neerlandia", but there are 3 versions. This deck is the latest version and known here as "Neerlandia C". It was printed in chromolithography and published since 1917. This version hasn't been on offer for a long time. In December 1920 only 6 decks were left in stock.

Only the Kings are the same as in the first version, here named Neerlandia A (1911-1916). They still have their impressive beards. In the second version, here known as Neerlandia B (1916), the Queens were redrawn. In the Neerlandia C version the moustages, hair and feathers of the Jacks were clipped. The name of the manufacturer is printed along the sides on the Queen of Hearts and the King of Diamonds. There's no company logo printed on any of the courts.
The deck comes with a set of aces, showing 8 Dutch cities: Amsterdam, Rotterdam, The Hague, Utrecht, Nijmegen, Zutphen, Haarlem and Deventer.
| | | | | |
| --- | --- | --- | --- | --- |
| | | | | |
The deck came in an unbroken, original band, which has the manufacturers name on one side and is dated March 1917 on the other side.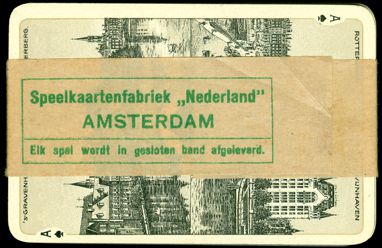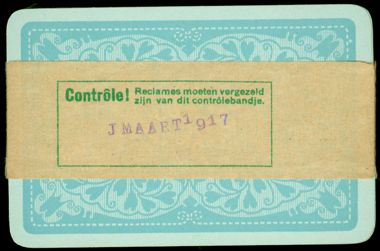 The deck came in the original box and is described as "Whist 52 cards". However.....
we were pleasantly surprised to find an early version of factory joker nr. 2 in the deck.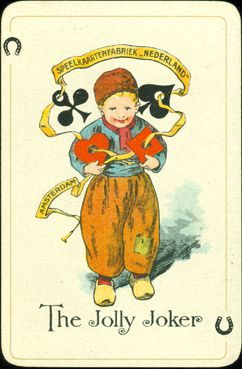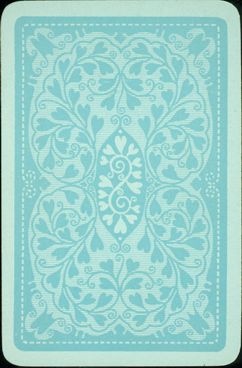 Our second SN deck of this month is titled "Moyen Age", which is French for Middle Ages.