January 2016
No, it's not the pale full moon of the 24th, but it was the spot that tipped the scale for us this month and made us choose this deck. Maybe you've already noticed that Joop has a soft spot for decks with scenic aces and when he saw this deck he recognized the courts, but not the presented scenes. And - you too can't miss it- he immediately noticed the pale intriguing spot on the Ace of Hearts.

The deck arrived early this month and since the beginning of week 2 we haven't had much spare time to spend searching for cards on the internet month. We're fully back in our social life and there was a change of pc's here this month, so Joop spent many hours getting all his preferred settings (and programs) installed on the new pc.
This month we didn't find many decks in our mailbox, but among them was a rarely seen vintage Hungarian Romikartya I drawn pin-up deck and we shouldn't forget to mention a nice modern German deck by Mantikor. Most of the decks came from Ebay, but the Dutch Marktplaats site brought us our Deck of the Month. It was lithographically printed and stencil colored by the German manufacturer Frommann & Morian around 1885.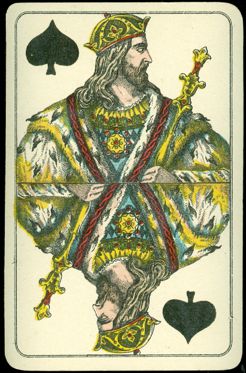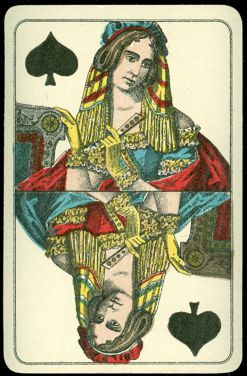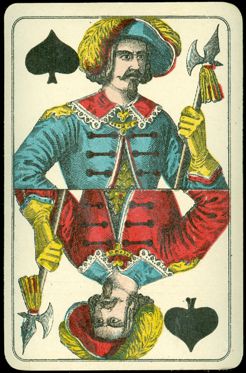 We have an exact same deck by Frommann & Morian, but with a different set of scenic aces, with views along the river Rhine (see "Old School" xpo: deck 4), so this pattern wasn't new for us. We usually refer to it as the "sofa" pattern, because the Queens of Spades and Clubs both have a chair or sofa as background. We have a few decks with a similar pattern. One of them is shown here as Deck of the Month November 2008 and was most likely made by Biermans from Turnhout. Another one can be seen in the "Old School" xpo too: deck 5 is attributed to Frommann & Bunte, but there's no company logo on any of the cards to confirm that. However it has the same court cards and there's another feature that we'll illustrate further below with another deck by Frommann & Bunte, which has aces with scenes from Wiesbaden.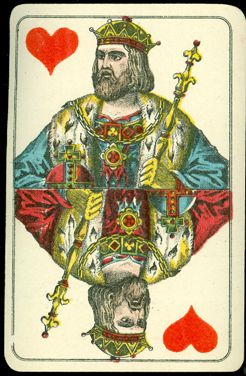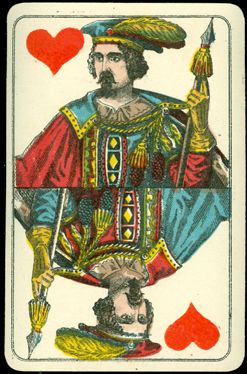 But first the reasons for acquiring this deck: firstly because we didn't have that set of aces yet, but secondly because we were intrigued by that round blank spot on the Ace of Hearts. The aces show scenes of Stuttgart. The images probably date from after 1867, as the Ace of Hearts shows the renewed Stuttgart railway station, of which the constructing was completed in that year.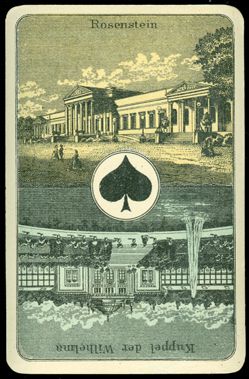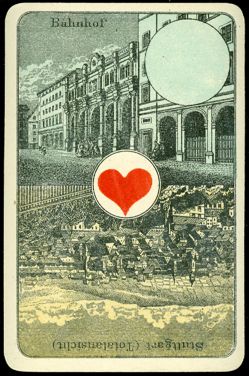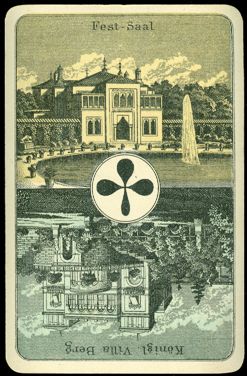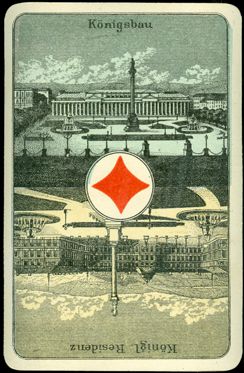 Anyone with a suggestion about that round blank spot?
We couldn't find a definite answer, but can only imagine that it was placed there as a special spot for the tax stamp.
Maybe the wrapper had a round opening on that spot too. But that's only a thought, as our deck didn't come with a wrapper.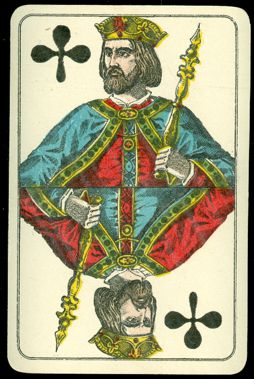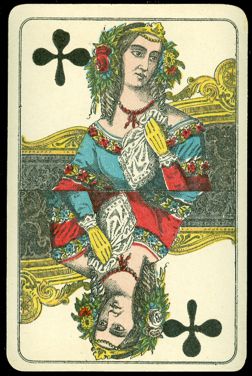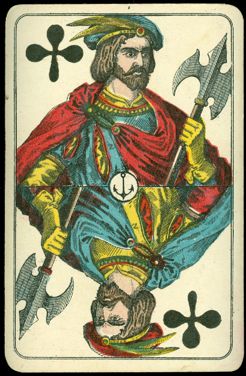 Here are two cards from a similar patterned deck, which carries the logo of Frommann & Bunte, an early version of their deers head, on the Queen of Hearts. The court cards are exactly the same as are found in deck 5 of the Old School xpo, which didn't have a company logo on any of the cards. It's attributed to Frommann & Bunte and this supports the assumption. This Queen of Hearts also reveals another interesting thing. The same design is used for the Queen of Diamonds in our Deck of the Month by Frommann & Morian. In fact the whole Hearts suit from each F&B deck is used for the Diamonds suit in F&M decks.

A noticeable difference and a handy tool to identify similar patterned decks without any company logo's. Easier than to compare all the differences in the details of the design. They are too numerous to mention. Just compare the Queens of Hearts and the Jacks of Clubs here and you'll see plenty of them, although these designs look very much alike at first glance. Also compare the Jack of Diamonds with the Jack of Hearts of our Deck of the Month November 2008. You'll see what we mean with our remarks about the lute or guitar.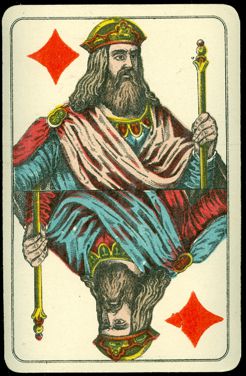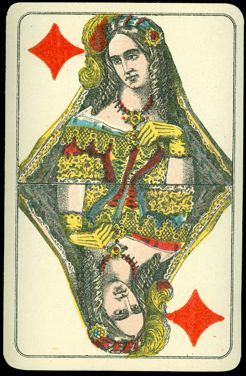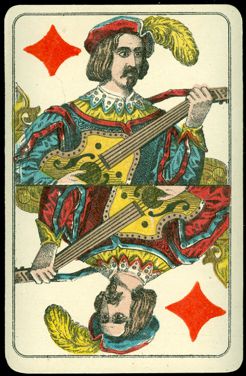 The deck was part of a Bezique set, so there are only 32 cards and no separate box or wrapper.