September 2015
We had some nice sunny days this month, but the rainy ones outnumbered them. Some renovations needed to be done in the house and finally a personal chair elevator was installed, all the way up to the attic, connecting three floors. So Miriam can go to her hobby room again without arriving there completely out of breath.
With all this going on there was little time to follow the offer on Ebay, but we did dip in every once in a while and couldn't resist buying a few decks. So few that they would fill the usual shortlist completely.

We bought a nice vintage drawn pin-up deck by Siegfried Heilmeier, a numbered deck from an edition of 150 decks. It will be shown in our Pin-Up & Erotica xpo, probably in next month's update. There also was a nice publication of a Russian anti-fascist deck, with great graphics on the front of the box. And then there was this deck. We already have it in our collection, but this deck turned out to be an improvement of quality again.
No, we didn't choose this deck because we fell for these beautiful blue eyes. But the deck comes with a short story.......
When we had just started collecting seriously, we had received the sales leaflets from Franz Braun a few times and we decided to make an appointment for a visit in Frankfurt. In those days the catalogues and sales offers were usually printed in b/w. We had seen this deck in the Dutch catalogue about the Speelkaartenfabriek Nederland, but it wasn't until Mr. Braun showed us his Dutch collection that we saw this deck in full color. It was an eye opener, we were startled and immediately taken by the soft colors, that were so typical for the 1950's as we remember them. The deck immediately went up a few places on our wish list and it didn't take long before we got our first copy. It was in excellent condition and has been in our collection for years, but now we found an almost pristine deck to take it's place.
For visitors who are 60 years or older, some of these names will still be familiar. For our younger visitors they will have become obsolete. But both may still enjoy these soft colored images here.
The deck was printed by the Speelkaartenfabriek Nederland from Amsterdam and published by the Maple Leaf company in 1958.
It was probably not published as a complete deck, but as single cards that came with Maple Leaf bubble gum. The deck has a joker, but in our collection we have an uncut sheet and that doesn't have the joker on it, only the 52 cards in 4 rows of 13. So the jokers must have been printed on separate sheets.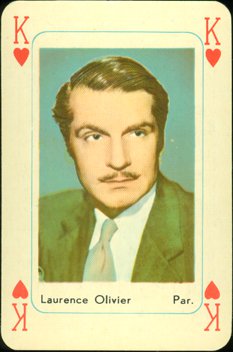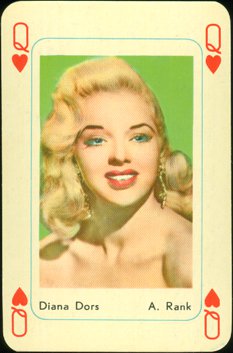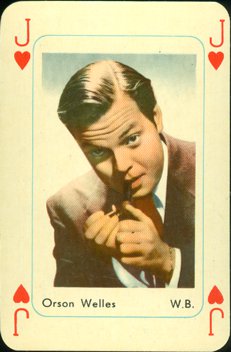 CLICK THE ACES TO SEE THE PIP CARDS FROM THAT SUIT..........
The photo's were probably the official studio photo's of their actors. They are sometimes heavily retouched and lipstick seems to have been added later too in a good number of the female actress pictures. With the name of the actor or actress most cards also show the name of the film studio that they were engaged with. The abbreviations are not always consistent. On some cards Warner Bros is referred to as "W.B.", on a few others as "W. Bros" and only once in full. Two actresses were probably not engaged with any special studio: Vivien Leigh and Mara Lane are referred to as (being from) "London".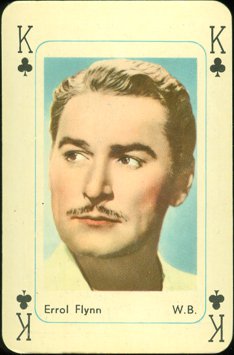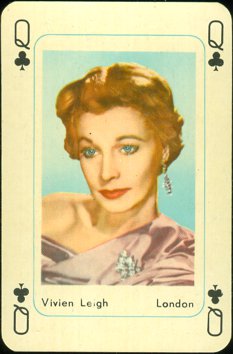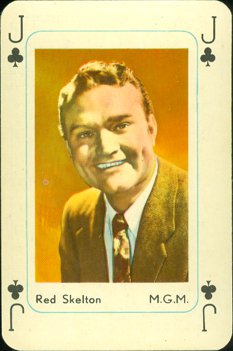 Although other decks that were published by the Maple Leaf company and that also came as single cards with bubblegum packs used Dutch indices, this courts in this deck have English indices. On all the cards the picture is surrounded by a fine blue line with rounded corners, suggesting a smaller card. Only on the joker this line is missing.
The decks are usually found with one joker only, but may have more.
However, no other joker than the Eddy Constantine one was made.
The absence of the fine blue line on the joker was likely caused
by the fact that they have been printed on separate sheets.