March 2015
It was a busy month with ups and downs in any possible sense. We lost the central heater of our heating system after 15 years on Friday, so we spent a weekend with a powerful electric heater to warm the living room, gas from the stove to ensure a warm kitchen when there and a small heater for Joop's PC room. But the cold shower was avoided. Monday a new heater was placed and everything was back to normal again. Miriam was just getting better and better, when a "flu bug" hit her and began to take her breath away again.

So she had to miss the large collectors fair in Nieuwegein this time, but Joop brought home some nice finds. There was one other event this month and that was the trading meeting of l'Accart, the French collectors club, in Paris. A good excuse to spend a long weekend there. Miriam wasn't at her best, but came along anyway. So on Friday we visited the Playing Card Museum in Issy-les-Moulinaux for the Jean Verame exhibition, on Saturday we did some of our usual routes and markets and on Sunday we visited the Accart trading bourse.

The results of all this was that this month brought us a difficult choice. There were more than 50 new decks to choose from, in many different styles and patterns, from different decades and countries. It resulted in a long shortlist, that finally boiled down to 3 possible winners: 1/ a rare French deck that was published by Régie -Presse, probably 1970's, designed by Philip Garboua, 2/ a beautifully chromolithographic printed Hombre deck by Wüst with the Salomon Pattern A, published by Holmblad around 1920, and 3/ this one........
The deck was printed by Ferdinand Piatnik & Sohn from Vienna and published on the Czechoslovakian market around 1930. The Austrian Piatnik company had bought the Czechoslovakian printer and playing card manufacturer Ritter & Cie not long after 1918, when the newly founded Czechoslovakian state had put import restrictions on foreign playing cards. These restrictions were probably lifted in the 1920's.
This deck was made by Ferd. Piatnik & Synové S.A. (Synové = Son) from "Viden", which is Czech for Vienna, and the "ochranna znamka", meaning trade mark, is on the 8 of Bells. The use of the Czech language on all cards makes it clear that this deck was made for the Czechoslovakian market only. It's printed in simple lithography. It's been called a costume deck, but we would rather call it a historic deck. The courts show existing royals and noble men, who once ruled the Kingdom of Bohemia, only the "Unters" may be seen as costume cards, representing the 4 regions.

Karl IV (1316 - 1378) was King of Bohemia from 1347 until his death as Karl I. He wasn't called Karl IV until he was also crowned as Emperor of the Holy Roman Empire in 1355.
Jan Zizka (in English: John Zizka of Trocnov and the Challice) lived from around 1360 to 1424. He was a Czech general and Hussite leader, a follower of the Christian teachings by Jan Hus. He was nicknamed "one-eyed-Zizka" and he developed tactical renovations in the Hussites Wars, one of the forerunners of the Protestant movement.
| | | |
| --- | --- | --- |
| | | The "Unter": a countryman from Silesia. |
Ottokar II is the eldest represented King of Bohemia. He lived from 1233 - 1278 and was King of Bohemia from 1253 until his death.
Budovec z Budova is from a few centuries later, which can be seen by his dress. He lived from 1551 - 1621 and was an important Czech writer, politician and diplomat.
The "Unter" shows a countryman from Moravia.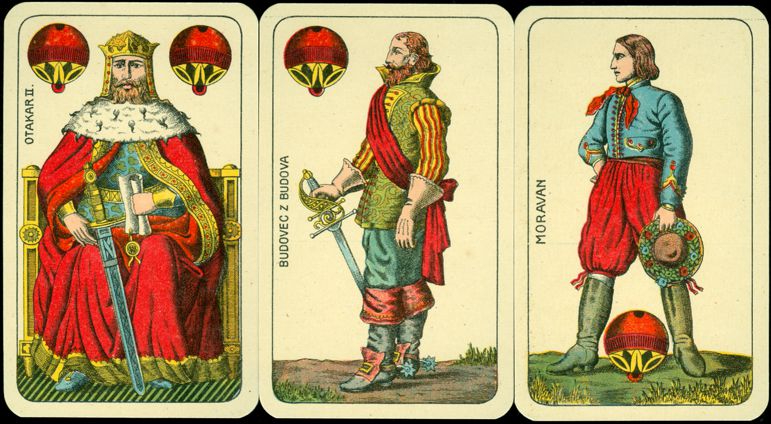 Each "Daus" (Ace) shows the coat of arms of one of the 4 regions: the acorns represent Silesia, the Bells Moravia, the Leaves Slovakia and the Hearts Bohemia.
Vaclav IV (Czech for Wenceslas) lived from 1361 - 1419 and he was King of Bohemia from 1363 until his death. He was also King of the Romans (Germany) from 1376 - 1400.
Prokop Holy (later also known as Prokop the Great) lived from 1380 until 1434. He began his career as a radical Hussite priest and later went from politician to general and the Hussite leader in Bohemia.

The "Unter" shows a countryman from Slovakia.
The "Jiri" here refers to Jiri of Podiebrad, who lived from 1420 - 1471 and who was King of Bohemia from 1458 until his death. He too was a Hussite leader.
"Jaroslav" depicts "Jaroslav ze Šternberka (1220–1287). In 1241 he saved Moravia and Christian Europe from the invasion of the Mongols". We thank Zdenek Hanus, a Czech fellow collector, for the info on Jaroslav.

The "Unter" shows a Czech countryman.
The deck consists of 32 cards and 1 extra card. Our deck came without a box or wrapper.