February 2015
This February was even slower than last month, in terms of selling as well as buying. We were outbid on some fine decks on Ebay and the Dutch auction site didn't have any interesting decks in their offer all month. But we read an ad in the local paper about a big flea market very close by. More than 300 stalls were promised, but when we got there that number turned out to be even less than 200. Fortunately the number of stalls with clothing was limited and there was a good number of stalls with decent "brocante" stuff. We dug up a few decks to trade, but we also found this old Belgian deck. It looked very familiar and we were convinced that we already had this one, but fortunately we checked that before the deck was put on the to sell stack.

The deck turned out to be a variation, so it never reached the to-sell-stack and is now part of our collection. And it is even

shown here, as there was hardly any competition this month. Worth mentioning is a here unknown vintage pin-up deck with b/w "artistic photo's". Also worth mentioning, but in a negative sense, is a Russian deck with 54 different Charlie Hebdo covers. It was sold on Ebay as a French deck, but turned out to be a full Russian product. In fact a bit of a gotzpe, as freedom of speech in Russia is only possible for supporters of the Putin regime and a Russian equivalent of the Charlie Hebdo magazine will never be possible as long as he's in power. But at the same time it is once more an example of the utter contempt for copyrights. Just "borrow" the covers from the internet (Google provides all the images in their picture service) and publish it within 2 weeks after the terrible events. Anything to make a buck! Which brings us back to our "Deck of the Month" variation: it came from that flea market and we paid exactly one euro for it!
This deck was printed and published by the N.V. Etablissementen Brepols, probably in the 1920's. It was made for export to the Netherlands, as the indices are typical for the Dutch market. The pattern belongs to the group of the "Cartes Imperiales". Typical for the pattern are the illustrated backgrounds. The pattern was produced by several manufacturers from Turnhout and can be found with different illustrated aces. Besides aces with Portuguese and Brazilian scenes, the pattern by Brepols was accompanied by Parisian aces.
The design of the courts is the same on both sides, but each of the sides has been colored differently.
The accompanying set of aces shows famous buildings or spots in Paris.
| | | | |
| --- | --- | --- | --- |
| | | | |
Here below are three cards from the earlier version that we already had in our collection. It's apparent that it has the exact same designs on the courts and aces, only the coloring of the courts is different and the aces were printed in a light pink and light yellow tone only. This deck was made by Brepols & Dierckx Zoon and is dated February 8, 1904 (Cat. no 14 in Turnhoutse Speelkaarten by Dr. E van Autenboer and Filip Cremers, 1983). It was published as "Cartes Imperiales No 40".
| | | |
| --- | --- | --- |
| | In the later version the word "déposé" had to be moved just a little bit to make place for the small indices and suit signs. | |
The orignal deck from 1904 has inspired the Dutch Speelkaartenfabriek Nederland to publish the "Rhenania"
deck, an almost exact copy of the pattern, but with a colored background and a set of German scenic aces with
views of places along the river Rhine. The SN deck is very rare and can be seen as Deck of the Month, 9/2013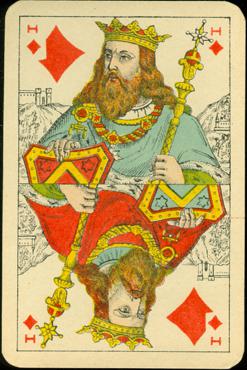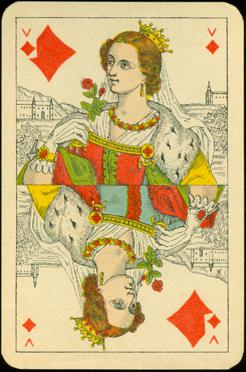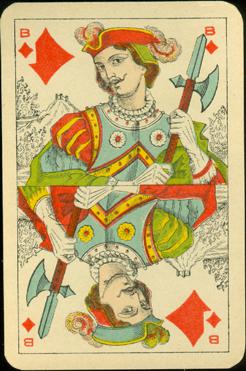 Both our decks consist of 32 cards, but editions with 33 cards (a 6 of Hearts was added) are known too.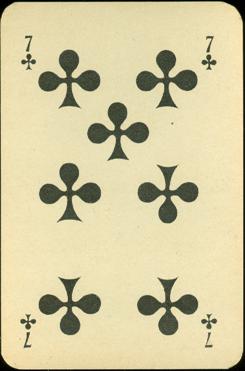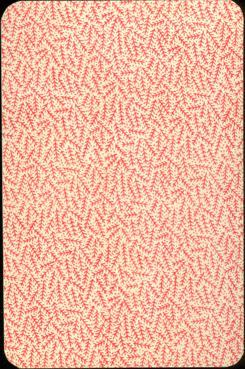 The decks used to come in a wrapper, but unfortunately neither of our decks had that original wrapper.