January 2015
This is usually a quiet month. Somehow sales always drop in January, but we can't really complain. There were no collectors meetings, so we had to rely on other sources again. Ebay brought us a few new decks for our collection, but nothing really exciting, and on the Dutch auction site we missed out on a nice antique deck. Highest bidder on screen, but the deck was sold off auction. Yes, that's all possible on Marktplaats. Even though the auction site is owned by Ebay, the rules and regulations are still "Dutch", so it's all still a bit "wild west" style and nothing is ever certain there.
But Fortuna was at our side again in the last week. We went eastwards to visit a fellow collector/dealer, where we found a good number of decks to trade and a few for our own collection. Afterwards we went to a nearby town to pick up a box full of decks. The item had been described as a "box full of decks with some antique ones too". The picture didn't show any interesting cards, but we decided to take a chance and were able to buy

the box for less than 10 euro. On the way back, in the car with the box on her lap, Miriam had already started to sort out the decks and did find a few interesting decks among a load of rubbish. At home we spend a few hours sorting out all the single cards and were very pleasantly surprised. Although in the end about 80% of the cards ended up in the dustbin, we found a few treasures. The Daveluy deck that is described as "No. 1" in the book about Daveluy, a standard pattern that was in use from 1850 to 1895, was one of them. But without any doubt the top find was this deck with caricatures of football players.
This deck may not be very interesting for non-Dutch collectors, but here it's considered a great find. It's one of those decks that are hard to find as a complete deck and when all the cards are in excellent condition too it's even harder. The deck was printed by Rhoon B.V. from Heerjansdam and published in 1963 by the Monty company from Leiden. Single cards could be collected by buying Monty bubble gum, as there was one card to be found in each pack of gum. So in order to get a complete deck a huge amount of bubble gum had to be chewed away or clever trading and swapping had to be applied. Because of this and because the cards were interesting for playing card collectors as well as collectors of football paraphernalia or collectors of work by this artist, these decks are scarce and still make high prices here in the Netherlands. But I doubt that they would bring the same high revenues elsewhere. The artist is "world famous" ..... in the Netherlands!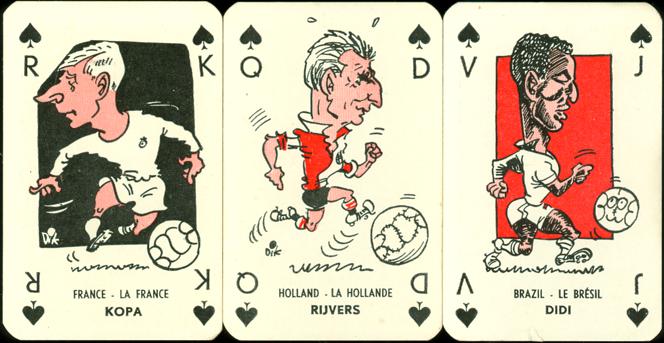 Each card shows a caricature of a different football player. The deck is known as the "international
football players deck" and depicts leading players in that era from all over the world. Most of them
have probably been forgotten but some names will bring back memories, happy or less happy ones.
The (court) cards are international too with indices and all the country names in English and French.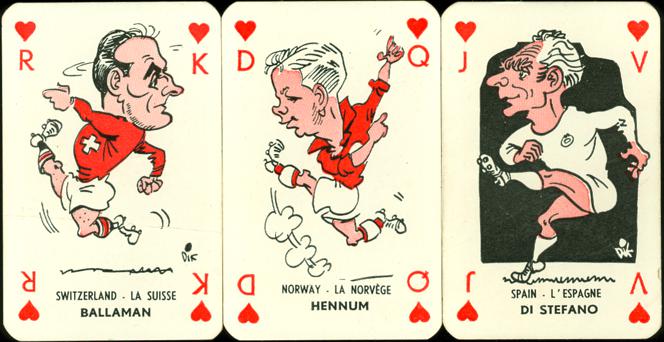 The artist signs all his work as "Dik" and presented himself as Dik Bruynesteyn, although his actual name was Dick Bruijnesteijn. He was born in Rotterdam in July 1927 and died in Hoorn in April 2012. He drew comic books as well as cartoons and his work was published in several newspapers. His first drawing was published in 1947 in the "Nieuwsblad van het Noorden" and a year later he became the sports cartoonist of the "Haagse Courant" and "Het Vrije Volk".
CLICK THE ACES TO SEE THE PIP CARDS PER SUIT

He was -without doubt- the KING
OF FOOTBALL in his generation
In the 1970's and 80's Dik had a daily comic in a good number of Dutch newspapers and his creation of "Appie Happie" (and Appie's football team) brought him fame throughout the Netherlands. His cartoons were also published in the German football magazine "Der Kicker" and for a while he was on Dutch television, drawing caricatures of Dutch sportsmen and women while they were interviewed in the weekly "Studio Sport" show on Sunday.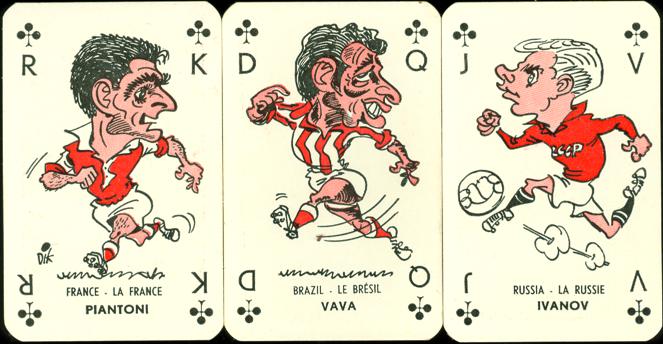 Here are some statistics: 5 countries are represented by 4 players each (France, Brazil, Spain, Italy
and Belgium), there are 10 countries with 3 players each (Holland, Switzerland, Norway, Argentina,
Czechoslovakia, Germany, Sweden, Austria, Russia and Hungary) and 3 countries are represented
by 2 players only (Denmark, (former) Yugoslavia and Great Britain). It's still a good representation
of the present "strong" countries, with the exception of Belgium, but they are working on it.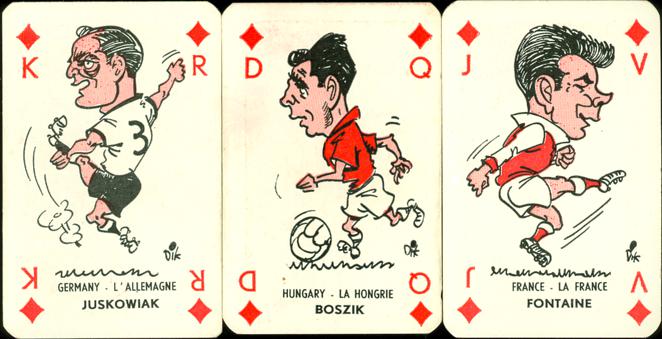 The jokers may be considered as rare ones too and there are 4 of them in this deck.