July 2014
The past month was a hot one. High temperatures and lots of sun for most of the days, but with an occasional thunder storm with heavy rain. The global warming is said to cause a slow change in our summers here, but we shouldn't complain. Easy for us to say though, as our house hasn't been flooded (yet) during stormy days, while we could enjoy the fine weather in our garden for many days. Joop's room is on the second floor and temperatures there are always a few degrees higher, so during the extremely warm days he didn't spend much time at the pc there.
We had spotted several interesting vintage and antique decks on Ebay, but were outbid on all of them. So this month there's no super find or otherwise amazing deck to show here.

Still there are a few decks that are worth mentioning. We received a fairly unknown American deck from 1975 with Afro-American courts, designed by Ollie Thompson, and a modern designed deck with characters from the Icelandic saga's, which was published in Iceland, but printed in Poland. But we chose this one. We noticed that until now no deck that was illustrated by James Hodges had ever made it as Deck of the Month, although we like his work enough to slowly collect the complete series of about 50 decks of "our kind of cards", that he has designed for various companies, organizations and even playing card manufacturers.
So for this month we'll show you the one that arrived here about halfway July. We hope you'll enjoy it.
It's a good example of the humorous, modern style of design, that James Hodges has used in many of his decks. James Hodges is not only a popular illustrator in France, but his decks are a popular collectible among Belgian and Dutch playing card collectors too. So it's no surprise that one of them made an effort to combine information from several previous publications and add decks and information from different collectors. As a result Yvette Laurent from Brussels published an excellent catalogue in 2004, in which all the known work of James Hodges on playing cards is gathered. It's a very useful source of information for all the collectors of these decks. There's a chronological sequence in the presentation of some 65 decks in total, which starts with his first deck in 1965, a drawn pin-up deck for Grimaud, and ends in 1995, when he finished a deck for J.-C. Dusserre with 48 illustrations of patron saints of guilds.
This deck was printed by Grimaud and published by Système D in 1972. Système D is the name of a DIY (Do It Yourself) magazine, that has had a leading role in the DIY field (home and garden) in France since its foundation in 1924. Today the name of Système D is still used for the magazine, but the company is nowadays -as PGV Maison- part of the Groupe Media Participations. The name of the magazine is only mentioned on the backs and the jokers. Our deck came without a box, but it was probably published in a carton box with the Système D name somewhere on it too.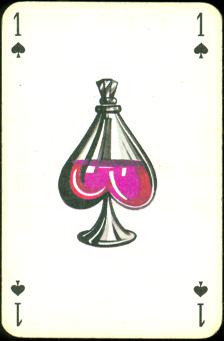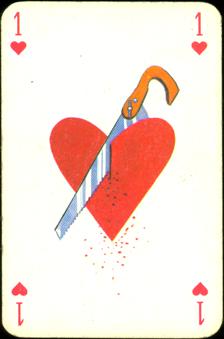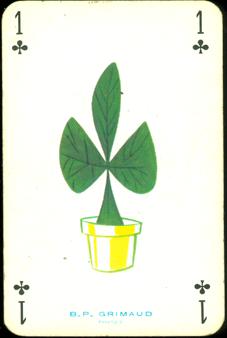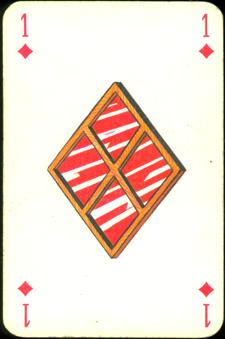 All kinds of DIY-ers are depicted on the courts cards, using different tools for different jobs.
James Hodges was born in France in 1928. He had his artistic education at the workshop of Paul Colin, a famous French artist and poster designer. In the 1960's and 70's Hodges often used this humoristic style in design on playing cards for advertising purposes. Special attention should be given to the way he draws his women: always slightly erotic or with a sexy touch. Suggestive, but never nude. There's always a lock of hair, a piece of clothing or, like here on the jokers, some advertising signs in the right spot.
But as any good illustrator he mastered other styles too. Among them is an attractive modern, neo-romantic style, which he used in a few decks, like the Playtex or the Billman deck. He has worked for playing card manufacturers like Grimaud, Heron and La Ducale, often through the Paris publisher J.-C. Dusserre. He didn't only design advertising decks, but he has also designed 3 "new" French portraits.
| | | |
| --- | --- | --- |
| | | |