April 2014
Miriam had spend 12 days in hospital when she returned home on April 4. So the largest collectors fair in the Netherlands on the 12th and 13th came too soon for her and Joop had to go there by himself. But even a playing card collector is never alone there. Five other collectors were roaming around there too. There are always some special decks to be found, but this time Joop didn't bring home any treasures.
So once again the internet had to provide that special deck, worth to be shown here. There's a Russian collector selling off his complete Dondorf collection and we bid on several decks. We were outbid on the double headed English patterned deck by $ 5 and on the all others too.

We did win other decks on Ebay though, so we were not completely without a shortlist. Worth mentioning are a Hohner Skat deck with vintage advertising posters, a very rarely seen first version of the Noord Braband deck by the Speelkaartenfabriek Nederland and a beautiful modern French deck that was designed by Eduard Pastor and published in a limited edition. But we chose this mystery deck.
We found it on Ebay, where it was advertised as "Rare Early Playing Cards late 1800's". It was offered by a Canadian seller and he didn't give much more information than that it was "a 52 playing cards set from the late 1800's or early 1900's". For us it was an intriguing deck when we first saw it. Although the pips were numbered 2 - 10 they didn't look like they would be suitable to play with, but there were enough other characteristics to justify looking at it as a deck of "our kind" of cards. It wouldn't be the first deck with unusual suit colors and in each of the four suits the ranking of the courts is easily recognizable, just like the aces.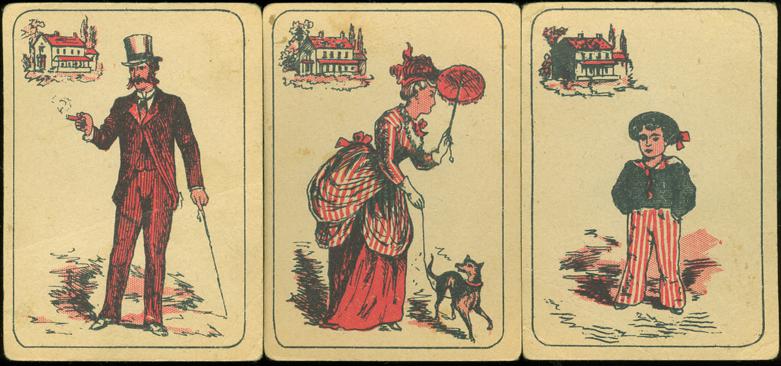 The deck could even be seen as a "4 continents" deck, of which there are many examples to be found in regular suited decks.
Here the continents are shown on the aces and the suit colors present the typical housing of each continent.
A Victorian country house for Europe, a tipi for America, a hut for Africa and a pagoda like structure for Asia.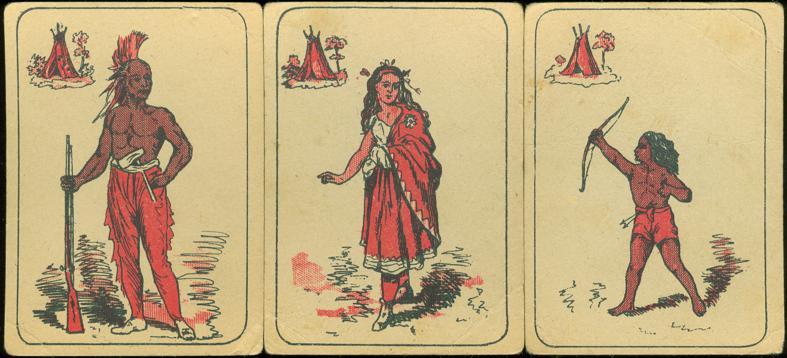 | | |
| --- | --- |
| The continents are roughly drawn, not always exact or correctly presented. | |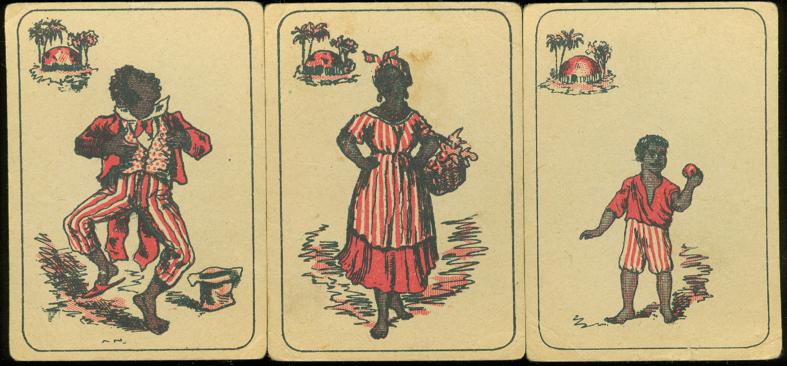 The deck probably comes from the days that political correctness wasn't an issue. We doubt that an African man would still be depicted in this way. And indeed...... in a later version of this deck he is presented as a tribesman with spear and shield.
How do we know this?
Our deck came without a box, so there was no further information. While it was on its way from Canada to the Netherlands, we accidentally came across an Ebay auction where a "Game of Nations" was on offer. We took the liberty to download the images, so we could offer a comparison. The deck has a similar lay-out, the suit colors are the same, just like the aces, and the designs of the courts show some similarity and are in full color. So our cards are probably made for this game too.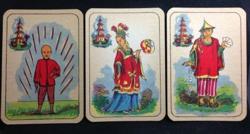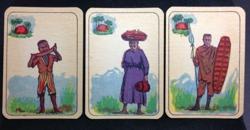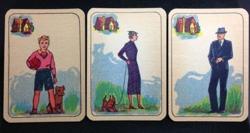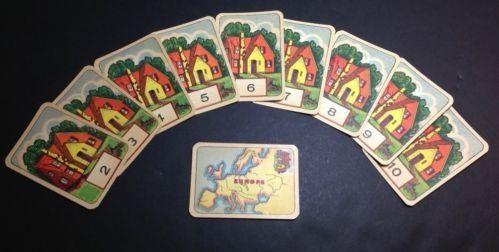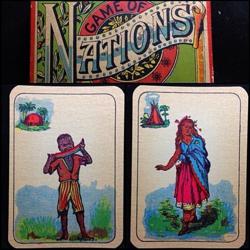 The seller of the game dated his deck as from around 1890. However, when you look at the fashion of the European courts, it's more likely to date from the 1920's or 30's. In that respect our deck appears to be a little older. The fashion style is rather Victorian, so the deck probably dates from sometime in the last two decades of the 19th century.
The tipi, hut and pagoda have kept the same design, only the European house has been redesigned in the later version.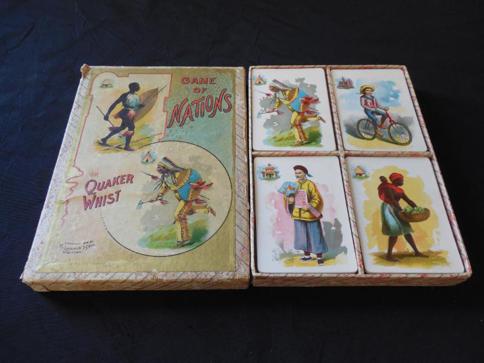 When researching a bit further, we found out that the "Game of Nations, as published by the McLoughlin Brothers from New York in 1898, was subtitled "Quaker Whist". An earlier version -from about 1890- by the same publisher was described as a trick taking game, similar to whist or euchre. So we hadn't been too far off when we first qualified the deck as being of "our kind". It's just that the place of the numbers on the pips makes it hard to arrange the cards in your hand in a way that you can still see the numbers. Otherwise the deck could easily be used for playing bridge too.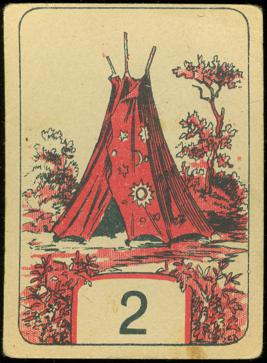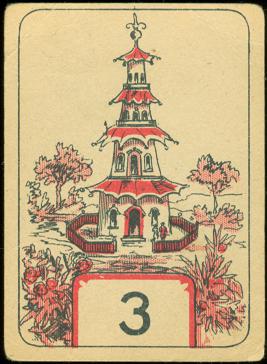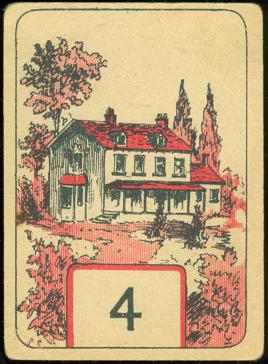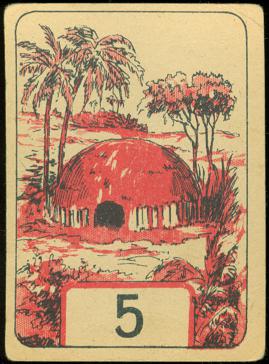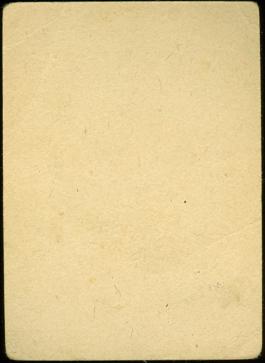 Besides the fact that our deck was printed in an early off-set like technique (bookprint?) on unfinished thick paper and has blank backs, there's nothing more to tell. No indication to the name of the maker or publisher could be found. We did find a picture of cards from the 1898 McLoughlin Bros. game set -see above- and those designs are thus different, that we don't think that our deck could be an earlier (or later) version of the McLoughlin publications. It's hard to judge the quality by a picture, but we feel that our deck is from a cheaper edition. As the deck was offered from Canada, there might even be a Canadian origin.
Maybe one of our visitors can add some information about this deck. We'll keep our fingers crossed.