November 2012
We don't come across a special card often enough to have a "Card of the Month" section, but we'll keep using the intro space of the "Deck of the Month" xpo every time we find a special one. This card came in an incomplete deck by the Vereinigte Stralsunder Spielkartenfabriken from around 1890.

It was found at the Jaarbeurs during the largest collectors fair in the Netherlands, that is held there twice a year. Usually we don't buy partial decks, but this one had a set of illustrated aces, that is not often seen with the standard Frankfurt pattern by this company. And it also held this 7 of Hearts. It was this card that tipped the scale and we bought the pack, just because we had never seen a stamp like this before. The deck was apparently made for export to the Netherlands (or the Flemish part of Belgium), as the text is clearly in Dutch.

"Waterdicht" means waterproof and underneath is the company logo of the VSS, so it can be seen as a company quality mark. And a remarkable one, as it's hard to imagine in relation to playing cards. Second to fire, water is disastrous for any paper or card. So naturally we were tempted to put this claim to the test. As the deck was incomplete anyway, we used one of the other pips for this.
The result? When the card had been in a spot of water for 2 minutes, it would curl up and -after drying it with a tissue and pressing it by hand- that curl didn't completely disappear. Although almost mint, we "cleaned" an other card with a soaking wet cloth, but that hardly left any visible distortion. So the "waterdicht" here is a waterproof statement!
So far this month's unusual card, now for the regular intro.......
Just like October, it was a busy month. Joop turned 61 and we celebrated our 28th wedding anniversary on that same date. The next day we had to get up early for the first day at the Jaarbeurs, so no big party, just an intimate dinner à deux in a nice nearby restaurant.
The first weekend there was the Van Spee collectors bourse, for the first time at its new location in Nieuwegein. We found some good decks to trade, but nothing really special for our own collection. The main event however was the largest collectors fair at the Jaarbeurs in Utrecht from the 23th to 25th. Always a source of some unexpected finds and this time wasn't any different. Besides some very interesting decks to trade we picked up the Schwerterkarte by Wüst from around 1900 and the first edition of Dondorf's Rhineland pattern from 1870, both in excellent condition. We should also mention the cute vintage miniature advertising deck with a never seen fantasy pattern, probably from the 1930's. French or maybe German, we still have to research that.
Of course Ebay was a good source too this month. We could finally add the original "Surrealist" deck by Leonor Fini from around 1950 to our collection, just like the 1896 Stage 65 X deck (thanks again, Larry!).

And to complete this month's very interesting short list we shouldn't forget to mention the "Boston No.47" deck by Müller, probably from the 1920's, nor the early version of the Cartes Hollandaises by Grimaud from around 1890. But none of them held this sharp portrait of a Jack in its Spades suit.
The portrait didn't tip the scale, but the fact that we had a hard time finding any reference to the deck did. We had thought that we would find it in the Cary collection or at least in John Berry's Playing Cards of the World, describing the Guildhall collection, but it wasn't in either. So we checked all the Cartorama catalogues that we have here, but it also wasn't in any of them. The only reference that we found was in the Fournier catalogue and it wasn't a very elaborate one: British Isles # 310 (page 226) "Fantasy deck of 52 cards with French suit markings and continental-type reversible court cards for export to Paris. Made by THOMAS DE LA RUE, London 1890." There's not much else that we can add to the Fournier description, except that the cards were printed in chromolithography.
The deck must be a rarely seen one, as this was the only description we could find. So a good reason to share it here with you.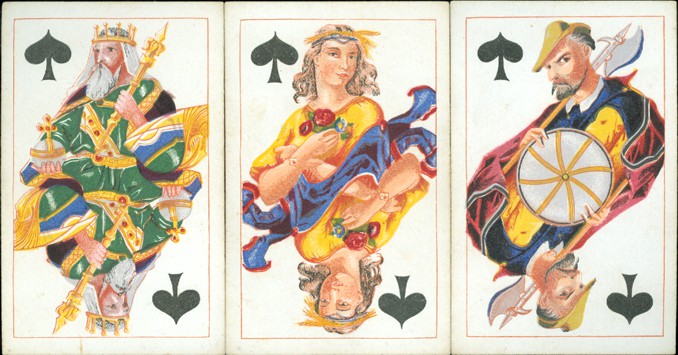 But of course there's something to say about the artwork. Almost all the robes and dresses are all well drawn, but looking at the faces there's a significant difference in quality. The Jacks all have a well drawn, natural look. Taking that quality as a standard, then the Kings overall seem to lack that the most. Unnatural red cheeks (KH) or a bit artificial facial hair don't help. In the Queens there's a great difference in quality. Where the QS has fine detailed facial expressions and a natural pose, the QC looks flat and -maybe because of her darker tone, together with that feather- reminded us more of a dressed-up Indian squaw than royalty. For us she's the worst drawn figure in the deck.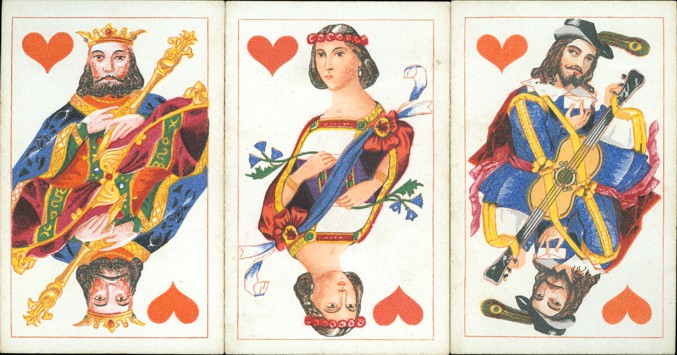 It's hard to imagine that one artist can produce such vivid Jacks and such a flat Queen. Sometimes it helps to look at the hands. These are one of the most difficult body parts to capture and sometimes they reveal a different approach. In these drawings there are thin, pale, bony fingers as well as rich full ones. But we don't want to jump to conclusions, solely based on fingers. There's just one more detail that struck us. In the Spades suit the faces of the Queen and Jack have about the same proportions, but the head of the King is a bit smaller and this gives the impression that the whole figure somewhat in the background, when the cards are placed together, as above.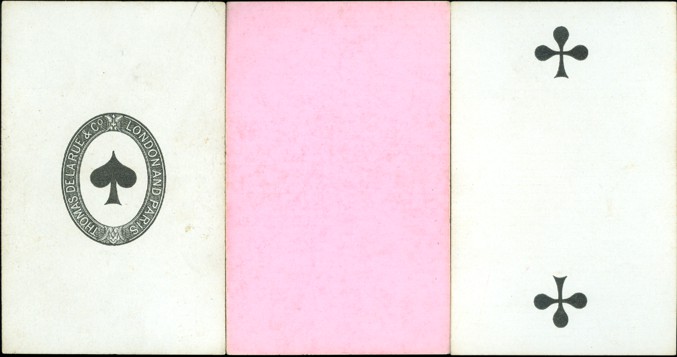 It's the first Ace of Spades by De La Rue, that we've seen, which carries the name of Paris too.
They probably had a sales office there, but it's unlikely that they had a production plant in Paris.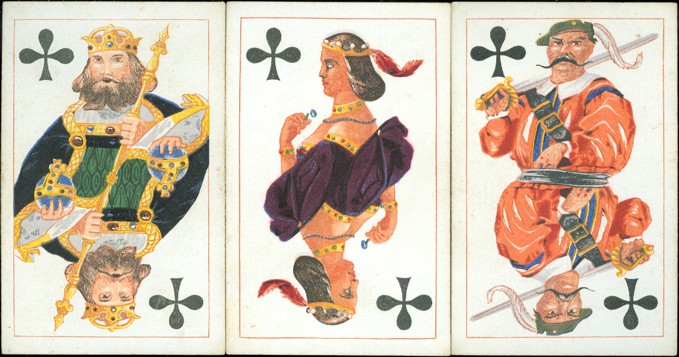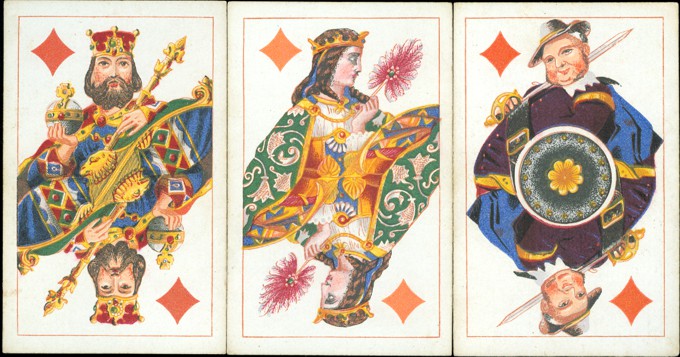 We joined in on Facebook in October 2016 and soon were invited to become a member of the Playing Card Collectors group. It has proven itself as a source of information and in March 2017 the following information about this deck turned up: in the IPCS Journal Vol. 34 nr. 1 (July/Sept. 2005) Michael Cooper wrote an interesting article about this pack and its successor. This deck here was mentioned in an article from "The Stationer and Fancy Trades Register" of September 1867. In De La Rue's trade catalogue for 1868/69 these decks were advertised as "French Moguls" and "Harrys" at a trade price of 16 shillings for the Moguls and 13 shilling for the Harrys. So we can conclude that the Fournier catalogue was a bit off in their dating and that this deck was published in 1868.