October 2012
Some months go by so quickly and this was one of them. A full social agenda together with the household chores and there's hardly any time left for anything else. Still we managed to keep our eyes on the usual auction sites and visited the exchange bourse of the Dutch collectors. No table this time, just socializing with the familiar collectors and of course we brought home some decks too.
So, notwithstanding the little available time, we managed to get an interesting shortlist again. This time we chose a deck, just to illustrate how we improve the quality of our collection. We had a similar deck in our collection, but a later edition, which was printed in offset. By the end of September we spotted a double deck on Ebay, which was an early version, printed in chromolithography. We won it and have exchanged the offset version for this one.

REGENT KORT (No 365A)
The deck was printed by J.O. Oberg & Son from Eskilstuna, Sweden, and first published as "Regent Kort" with factory number 365A in 1909. According to Ali Jerremalm's fine catalogue the first edition was secretly delivered to a mail-order firm. This edition didn't have the word Knekt on the Jacks. Since 1911 the deck was listed in the assortment, but now with the Knekt on the Jacks. It seems that these figures were already used in a patience sized deck, that was published as "Swedish pictures from four Epochs" in 1904.
According to the tax stamp our deck dates from 1928. It was printed in chromolithography, but later editions were printed in offset. Ali doesn't mention or picture a joker with this deck and neither of the two decks from our double deck had one, nor is the number of cards mentioned on the outer box, so we must assume that no joker was originally issued with this deck. The later offset editions did have jokers.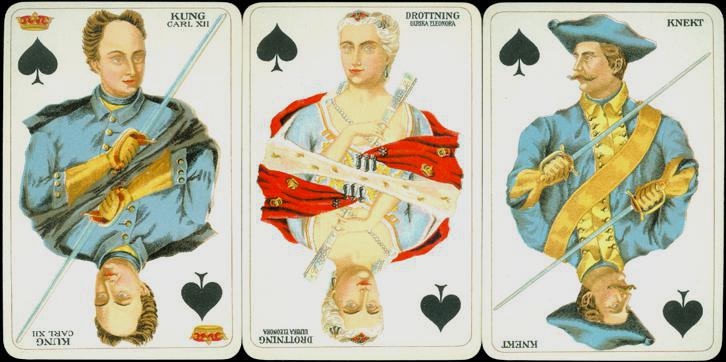 The courts show actual Swedish royalty. The King of Spades depicts Carl XII, who began his reign in April 1697 at the age of fifteen and died in November 1718. He is depicted with a sword in his hand and this symbolizes his reign very well. He had to defend Sweden in the Great Northern War from 1700 to 1721 and was so pre-occupied by the war, that he didn't marry and have children. He was succeeded by his sister, Ulrika Eleonora, who reigned shortly until she was forced to give the throne to her husband Frederik.
Gustav Vasa was born as Gustav Eriksson of the Vasa noble family. He reigned Sweden from 1523 until his death in September 1560. Margareta Leijonhufvud, his second wife, is depicted on the Queen of Hearts.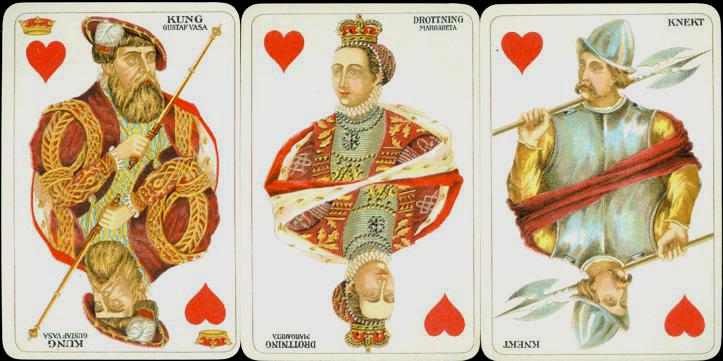 The back design shows the Three Crowns, a national emblem of Sweden (and Denmark too) and present in the Swedish coat of arms.
The aces are plain, in the later offset version they are embellished with a circular wrath of flowers and have an "E" as indicator.
Here the Ace of Hearts has the tax stamp and the manufacturers stamp. No indicator and there are no numbers on the pips either.
The King of Clubs depicts Gustav III, who reigned Sweden from February 1771 to April 1792. He was married to Sofia Magdalena of Denmark, who is depicted as Queen on this suit.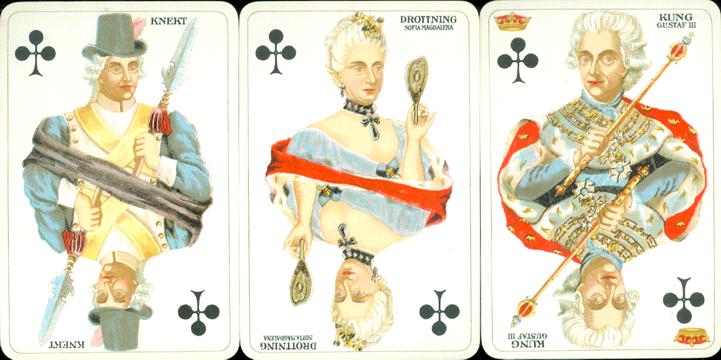 King Gustav II Adolf is in Englsh also know by his Latinized name Gustavus Adolphus Magnus. His reign lasted from December 1594 to November 1632. His wife, Maria Eleonora of Brandenburg is depicted on the Queen of Diamonds.
The Jacks (Knekt) are all depicted in fashion, contemporary with the depicted reign in each suit.
The deck consists of 52 cards.
The two inner boxes contain decks with a blue and red back design.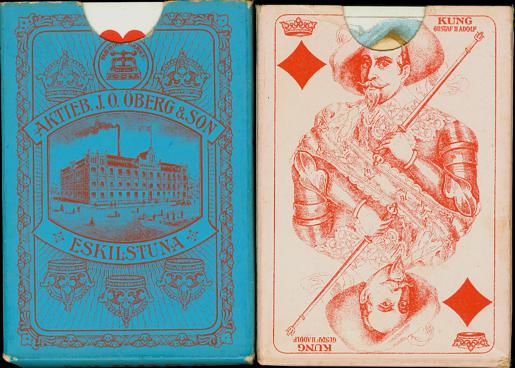 and to end with.... a nice advertising on the sides of the double box.