July 2012
It was a busy month! A superfluous social life, aided by a good number of sunny days, kept us captive until the 26th. Then we managed to escape and spent that long weekend in Paris. It had been in the planning for a while, but twice the trip was canceled because Miriam's health didn't allow it. Now we finally could stroll along the stands at the Porte de Vanves again, wonder around some interesting "quartiers", visit the antique and flea market at the Porte de Clignancourt and enjoy some fine food with our Parisian friend Santa on Saturday night.

We're glad that even collectors have a summer recess and that there are no meetings scheduled for this month and the next. They usually take up much time, before and afterwards. But that doesn't mean that we've discarded our hobby completely. We visited a few open air flea markets and of course Joop kept a keen eye on Ebay and the Dutch auction site.
So even this month quite a few decks were added to our collection and we had a hard time deciding which deck should be shown here. In Paris we found a deck that was designed by Rosina Wachtmeister and has her famous cats pictured on the courts and jokers. Miriam has a small collection of her porcelain cats at home, so this was immediately her favourite deck, but unfortunately it has gold details. They make the deck very attractive, but our scanner must hate gold, as these details show up black on the scanned images. That takes away much of the attraction and it doesn't any longer reflect the intention of the designer for her creation. So that deck was not suitable to show here. Then there were two vintage "standard" decks. A Catalan deck by Grimaud from the 1920's and a Spanish patterned deck by Fournier from that same era. Both were as new and came in their original box. There were also two artist decks on our short list. One was the Celtic Journey deck by a Portugese female artist, who had married an Irish man and lives in Ireland for quite a while now. She studied the Celtic Mythology and published her own deck, illustrated with heroic figures on the courts. The other is called Blue Blood and was designed by an American artistic couple. We decided to show that deck in our Art&Cards Xpo.
So there were a good number of new and mint decks, but after a long discussion we agreed on a well used and even incomplete deck: the Muir & Moodie Pictorial Playing Cards from c1903. It was the odd layout that at the end tipped the scale for this deck. And of course we hope that -just like us- you'll appreciate the antique pictures of New Zealand scenery and Maori people.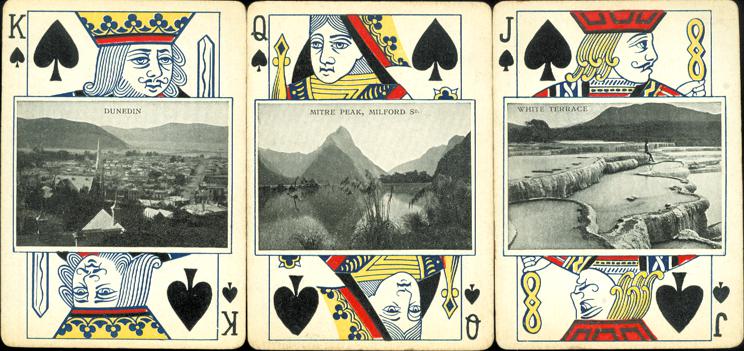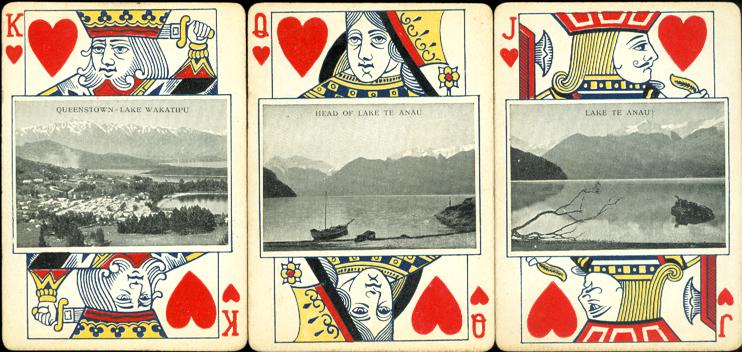 Muir & Moodie was a company that originated from the Burton Brothers, New Zealand's most important photographic studio in the 19th century. The studio was founded by Walter and Alfred Burton in 1866 and was situated at Princess Street in Dunedin. The Burton Brothers pioneered in the use of traveling darkrooms. They ordered a special photographic van in 1869, which served both as a mobile darkroom and as a safe method for transporting their heavy and delicate equipment.
Both brothers worked outside of the studio during their partnership,

which was dissolved by mutual agreement in 1876, with Alfred buying his brother's share in the business, and taking on Thomas Mintaro Baily Muir (c.1852-1945) as a partner. After 1880, when Alfred Burton and Thomas Muir were partners, they also took on George Moodie as a photographer. Thomas Muir and George Moodie officially took over Burton Bros when Alfred retired in 1898. They continued to reissue popular Burton images as prints and postcards, but under their name.

The sign above their shop said it

was the 'The Great Postcard Emporium'. The Muir & Moodie firm had agencies all over the country and provided the tourist market with books, cards and publications that were rich in their use of scenic photographs.
They kept on photographing scenes across New Zealand and prospering from the enormous postcard boom of the early 1900s. The firm eventually closed in 1916, bringing an end to an historic era of New Zealand photography. They became legendary, mainly because of their use of photographs on different objects like serviette rings.

And of course among our kind of collectors for these playing cards. The layout of the cards is a bit remarkable, when compared with other souvenir decks. Those courts usually have a complete picture too and are only distinguished by the indices. Here the original courts are saved and pictures were placed in the center, leaving the faces still recognizable. The pips all have a picture too, but they too have been placed in the center. The pips have the most interesting layout, with a numeral card in two corners. The aces are plain, but CLICK them to see the pips per suit.
Left handed players always complain that they can't play with cards, where the indices are placed on the left only.
The courts and aces of this deck will be a problem for them. The pips shouldn't, with the numeral card on the right.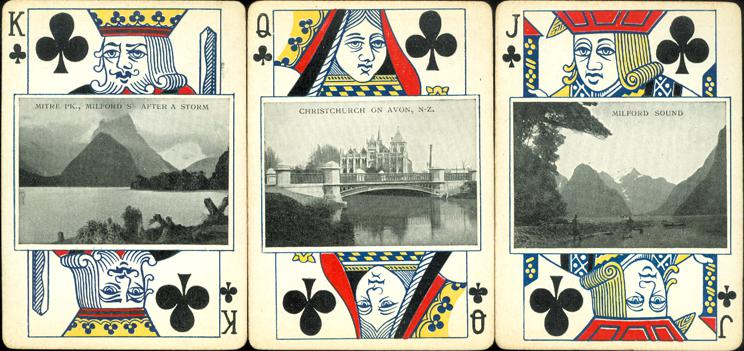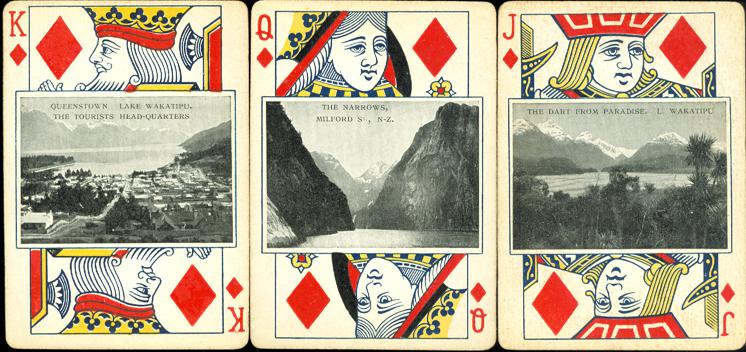 Our deck consists of 52 cards only. It's not complete as there should be a joker and an extra card with the deck.
And to top our misfortune, there's no box either.
But the internet not only provided information about the publisher, but also pictures of our missing parts. We took the liberty to use them here as further illustration of this deck. And of course, if there are any visitors who have the single joker for sale or a complete deck with box, we're always interested to buy!

with thanks to Ray Nilsson for the photo's from http://newzealand-playingcards.wikispaces.com/Pictorial

On the World Of Playing Cards site we read that the deck was made in Bavaria. That struck us as odd. Why would a New Zealand company have their cards made in Germany? That's on the other end of the globe and in 1900 a journey of many.... many moons away. Nowadays -with email, internet, and designer programs- that's not a problem, but for those days it doesn't make any sense, in terms of logistics. The photo's from the original negatives would have to be shipped to Germany, together with a proposed design of cards, box and extra card. And then one could do nothing else than to wait for months to see the result??? Any misspelling or other error would have been irreversible.
But then we saw the 2 of Diamonds on Ray Nilsson's site and, as far as we can make out, "made in bavaria" is stamped on the bottom of the card. Although our 2 of Diamonds doesn't have it, we can't just discard that stamp. After Ray had confirmed the text of the stamp and had explained that it wasn't unusual in the early 1900's that playing cards for New Zealand were commissioned in Great Britain or other parts of Europe, we must assume that the deck was really made in Bavaria and in that case the manufacturer will probably be F.X. Schmid from Munich. However, as far as we know, there's no record of that in any of the books or articles about that company.