March 2012
March went by even quicker than February. A whole week of sunny and agreeable spring weather brought the garden back to our attention again. Although winter only lasted for 10 days in February, there were a few really cold nights then and those have done quite a bit of damage to the green population there. So there was some work outside to be done, but it helps when the sun is out. There was some indoor work to do too: the preparations for the general collectors fair. At the last moment we decided to reserve a stall again, so we had only a few days for sorting out the cards, jokers and other card related stuff, that we wanted to take along. But we didn't only sell there, we also managed to find some nice decks. And although the usual monthly flea market, which was held for the last time (sob), brought us some nice finds too, our best finds came from eBay.... again. There was an interesting short list this month and this didn't make the choice easier. Among the decks that didn't make it were the latest Elaine Lewis transformation deck, a nice luxury patterned Swedish deck by Oberg from 1921 and a Hawaiian artist deck from 1984. But that last one made such an impression here that it is now shown in the Art&Cards xpo.
| | | |
| --- | --- | --- |
| | This month's deck was made by Dondorf and published around 1865 as No. 230 Whist Karten. Among collectors this version is know as "Schnapsnasen-Spiel". Schnaps is a German alcoholic drink, a bit similar to gin, and the nickname originates from the slightly red noses of some of the court figures, obviously caused by a little too much schnapps. There's a (rarer) version, in which the courts all have regular pink noses, the Jack of Clubs has a green vest and there's no curved line to divide the designs. It's not clear which edition is the first and oldest. | |
We always enjoy the fine chromolithographic printing by Dondorf and hope you will enjoy these images too.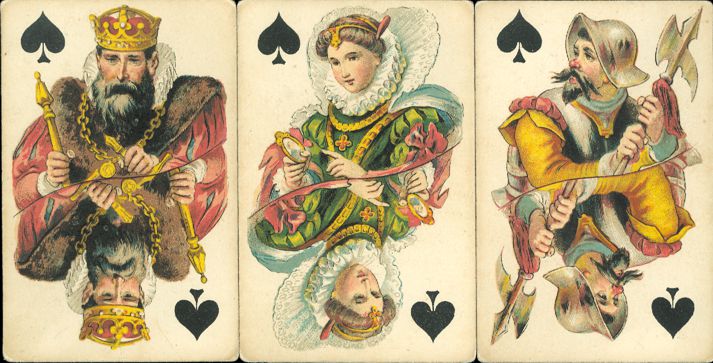 The Kings all have long, rough beards and the Jacks are not without abundant facial hair either. Except for the Jack of Hearts, all the Jacks have a red nose. The Jack of Spades has a distinct red one and is rather hanging on to his halberd than holding it. The other two just seem to be in the enjoyable state.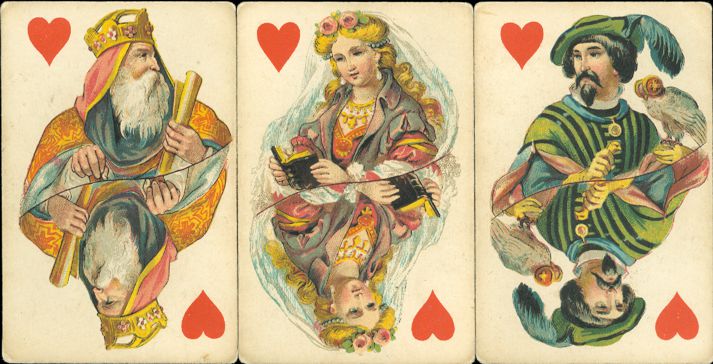 The portraits on the aces are all different and show philosophers, poets and musicians.

The King of Clubs is the only king with a slightly red nose and cheeks.
Maybe his mild intoxication is the reason why he doesn't hold his imperial ball upright, but slightly tilted.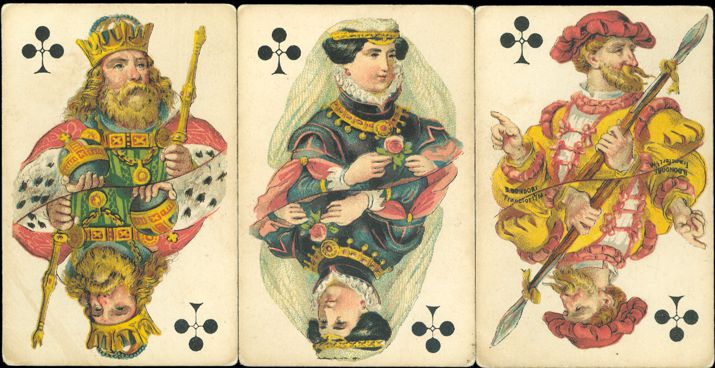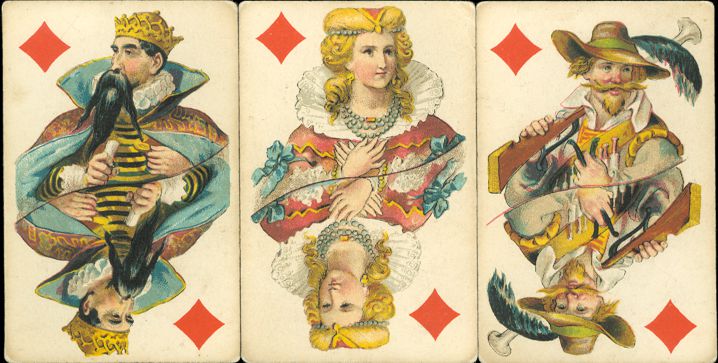 The deck consists of 52 cards. The back design shows a mother with two children.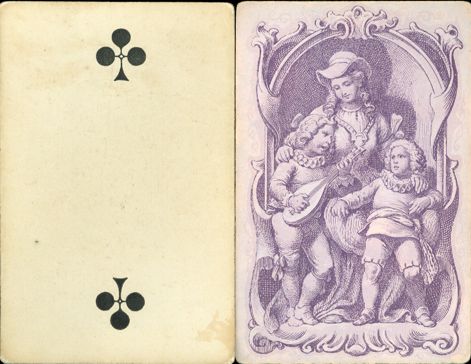 The box.........