February 2012
We knew that February would be a short month, but this time it went by even faster than expected. Our agenda was filled with appointments and dinners with friends. Because of that we had to skip the first "winter meeting" of the Belgian collectors and Joop only had a few hours of sleep before going to Utrecht for the monthly flea market. He brought home several decks and a cute vintage Russian perfume box, which held an unused square bottle with playing cards embossed on the sides. But this month brought some other playing card parafanelia too, among them a cute little antique porcelain tray for matches.
We had a good month buying and selling on eBay. So we could add a good number of new decks to our collection again. Still we had a hard time choosing our deck of the month, as there were different qualities to be compared. Finally we decided in favor of this deck............
The deck was printed and published by Aktieb. J.O. Oberg & Son from Eskiltuna, Sweden, as "Prima Spelkort Nr. 365" in 1915.
The cards have a pattern, which was created by Oberg in 1902 and is considered to be the Swedish standard pattern since then.
Each of the suits has it's own colour in the court's garments. Red was the obvious choice for the Hearts suit.
The Kings have a crown in the left corner to emphasize their royal status.
Both the Kings and Queens in all suits have the suit signs on their chest. This feature does not appear on any of the Jacks.
The Ace of Hearts has a stamp with the name of the manufacturer and the date of publishing.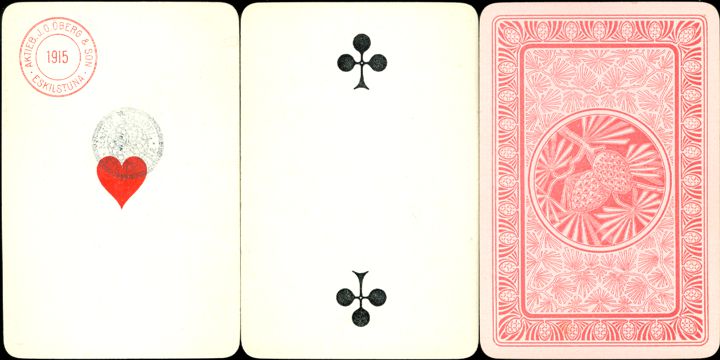 The second stamp is a Swedish tax stamp, which says "Manuf. Stampel" accompanied by the name of the town where the deck was produced.
Although this pattern is relatively young, just like any other standard pattern, variations exist in printing technique and size. We have some in our collection.

But we also have some other examples of how the pattern has been used as inspiration for a design. Interested?
The Diamond suit is the most Swedish one, with the basic blue with yellow accents. The Swedish flag is blue with a yellow cross.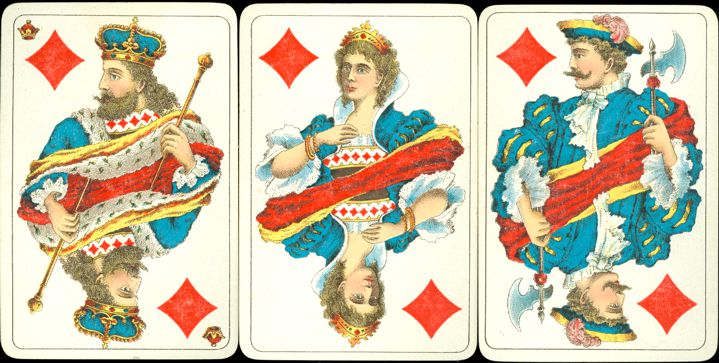 Our box lacks the top lid.

(with lacquered back)
And to end with........
The Oberg lithographic printing is not of the Dondorf quality, but still we like it better than the offset result. For a comparison: