March 2011
This month there was the Collectors Bourse in Utrecht again and we had booked a stall there, but Miriam's health didn't allow her to attend and we gave the stall away to one of the neighbors there. Together with the monthly flea market it was the only major event in the past month, but neither brought us any spectacular finds. There were 2 small local flea markets, but those were very disappointing this time, with lots of clothes and toys on the stalls. Although Miriam is still not well enough, we hope that she will be when the outdoor markets will start again here in the Netherlands. We've already had a whiff of spring here, but can't wait to have some more.

Ebay brought us some nice modern decks and one of their jokers made it to Joker of the Month. On the Dutch auction site we found a complete deck by the Speelkaartenfabriek Nederland, with pictures of Dutch sportsmen and women. All the cards were in excellent condition, so we changed it for the deck, that we already had in our collection. It's always nice if you can improve the quality in your collection. But there was an addition to the SN collection as well: a Württemburg pattern, made for export to Germany during WWII. Other decks on the shortlist were a Tarock deck by C.L. Wüst and an obscure American "Renaissance" deck. So there was a good number of decks to choose from again.

But this month's deck was already announced here last month and our prediction there was correct: the deck arrived on March 2.
It's a lovely illustrated, small sized deck, that was made by Daveluy from Bruges, Belgium, between 1860 and 1885. It is mentioned in the book, that was published in 2004 by the BEJC (Brussels Euro Joker Club) about the Daveluy family and their enterprises. The book was written by Luc Biebouw, Alex Claes, Filip Cremers, Jan d'Hondt and Yvette Smet. The deck here below is described in their book as "double figured patience deck with historical characters". The cards measure 44 x 63 mm (the back above is shown at actual size) but we'll present them here enlarged so you can enjoy the fine details.
| | | |
| --- | --- | --- |
| Philip the Good | | |
The name of Daveluy is on the Ace of Clubs. The Daveluy aces are often, like in this deck, embellished with decorative elements and flowers.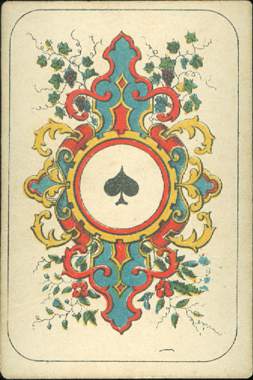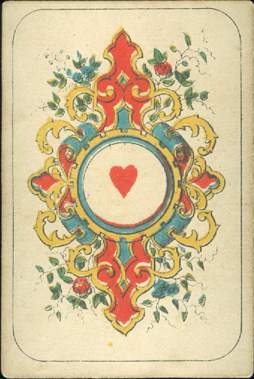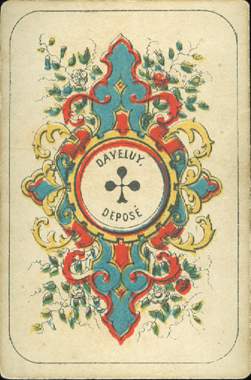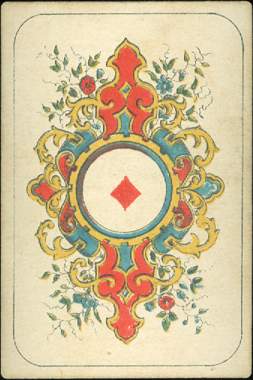 | | | |
| --- | --- | --- |
| Charles the Great | | |
We may have expressed our preference for fine detailed designs in the past and even enlarged here these designs remain a feast for the eye. It's one of the qualities of the Daveluy company and we hope that in future we'll be able to show you other decks by this manufacturer here.