March 2010
We can't complain about the number of decks to choose from this month. Problem this month was that they were hard to compare. Not only because there was a great variety in topic and layout, but also because in some of them we had a special interest. On the Dutch auction site we found a deck from the series of pictorial decks that were printed and published by Fournier between 1955 and 1962 as souvenir decks for: Spain, Kenya, Egypt, Paris, Italy, Denmark and Lebanon. We have the first four decks and had seen the last and somewhat harder to find deck a few times on Ebay. But even though we had bid generously, we were outbid every time. So it was somewhat special to find it at a bargain price only 10 miles away.
The other interesting deck was found during the general collectors fair in Utrecht. It was a curious publication, as it had the dimension and looks of a pocketbook. Inside however was a sliding box with large cards. The deck was printed and published in the Czech Republic as "Hraci Karty Karetny Hry" in 1969. Translated it means "Playing Cards Card Games". But the surprise was that it didn't only look like a book, but actually was one too. On the courts there were images of antique playing cards and text, the pips only had text on them. But there was a different text on each of the backs too and when put in the right order, the deck makes a 108 paged book, written by Vojtech Omasta and Slavomir Ravik. The 2 jokers carry the title sheet and the preface. We translated a few of the chapter titles and it seems to be about the history of playing cards and certain card games. On the title card it says "1. dil", so there might be a second volume too. Although the content is in Czech and we'll probably never know what it says, it's the most original book about playing cards that we've ever seen.
| | |
| --- | --- |
| | Both these decks had a good reason to be put in the spotlight here. But we've chosen another one. First of all because it shows a highly authentic way to present a classic among the classics. But secondly because, although we don't know when the deck was published, it might be one of the last editions by Naipes Comas from Spain. Last month this playing card manufacturer, who had been in business for over 2 centuries, was taken over by Carta Mundi from Belgium. The production of playing cards will be transferred to Turnhout and 15 employees of Naipes Comas will be fired. In its long history the company has published many beautiful decks, among which the Dali Tarot deck was one of the latest. So, as an homage to Naipes Comas here, we're happy to present this "art" deck......... |
The deck consists of 52 cards and 2 cards, which can be used as jokers, but are named "El AutÚntico". The authentic one here is the Mona Lisa by Leonardo da Vinci. And although there will only be a few people who won't recognize the original Mona Lisa, it's a nice introduction to the non-standard courts in the deck.
Each of the courts shows the Mona Lisa as it could have been painted by an other famous artist. We thought it was a very original way to address a classic painting like the Mona Lisa and we had fun putting names of artists to the different versions. We haven't been able to recognize all of them, so if anyone could fill the blanks we'll add their names here.
George MONET
Pablo PICASSO
unknown EGYPTIAN

Salvador DALI
Utagawa HIROSHIGE

Paul GAUGUIN
Amadeo MODIGLIANI

Fernando BOTERO
The deck was published to promote Velmonit, a brand name used by Bayer in Spain for ciprofloxacin. This chemotherapeutic antibiotic kills bacteria such as anthrax.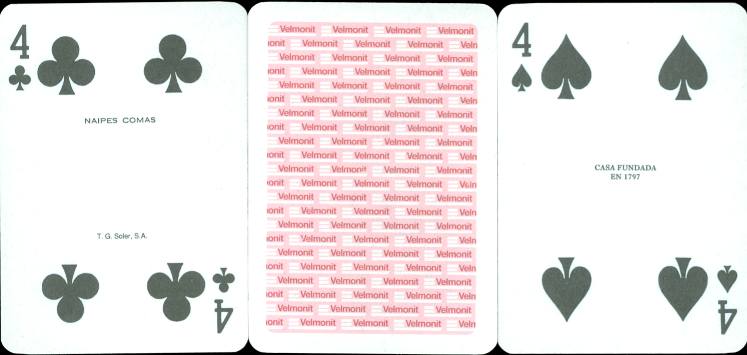 The deck has plain aces, so we only show the two 4's here. It's a nice Spanish tradition to put the name of the manufacturer on one of the 4's, but we're afraid that after 213 years the name of Comas won't be printed on playing cards anymore. Another major playing card manufacturer that has been eaten up by Carta Mundi ! It's probably Carta Mundi's main course for 2010......... an Indian manufacturer will be served as dessert later this year. After a few years of major takeovers Carta Mundi is beginning to live up to it's name: "Cards of the World". So.... here's a farewell to another "autÚntico"!
It seems that the deck was published in 1995. However, that doesn't change the fact that we like to salute this Spanish manufacturer and his rich history in playing cards.