September 2009
We always try to spend the first weekend of September in Lille, France. During the famous "Moules / Frites" festival there, a good part of the city transforms into a giant flea market. We were lucky that the sun was out and enjoyed strolling along the stalls throughout the center and of course had some mussels and French fries along the way too. As usual, it was a very enjoyable day, although we returned with only 6 decks, of which 2 went into our collection.
We've done some of the local flea and antique markets this month too, but, although we did find some nice trading decks, only two new decks could be added to our collection. So there were not that many new decks to choose from and they were not really interesting enough to earn a place here. Fortunately help came from Australia in the shape of a very interesting deck.
The Melbourne Playing Cards Collectors Inc. is a small club, but it has published a deck that shows the work of William H. Barribal.
It was published in June 2009 in a limited edition of 100 numbered decks only.
| | |
| --- | --- |
| William H. Barribal (1873 - 1956) was a London artist who began his career as a lithographer before going on to study at the Paris Academie Julien. Becoming an accomplished painter and illustrator by the first quarter of the 20th century, Barribal created such memorable images as posters for the Schweppes advertising campaign and the Waddingtons playing cards series, which are avidly collected today. | |
A Barribal deck has been published before, in the 1990's we believe, but that was printed by Waddington and only showed the typical Barribal women on the courts, aces and jokers, but the MPCC Inc. is now the first to publish a Barribal deck with 54 different images.
So you can imagine that when Heather Greaves contacted us about this new Barribal deck, we were looking forward to add it to our collection. But upon arrival we found that in our excitement we had slightly misunderstood the given information. The 54 different Barribal portraits were printed on the backs. On the face cards of the deck we found a traditional international pattern and regular pips. The deck was printed in Hong Kong by ARTSCOW and consists of 52 cards, 2 jokers and an extra joker with the portrait of Barribal on the back that is shown above. It comes in a plastic box with a separate paper with the number of the deck.
Although strictly taken this is not the kind of deck that we collect, we do like the artwork of Barribal. And we appreciate the efforts of small and larger clubs to publish decks, so this was enough reason to present the deck "backwards" as Deck of the Month.
The deck can be ordered through Heather Greaves: agre3224@bigpond.net.au
At this moment some 80 % of the decks has been sold, so it won't be long until the deck will be sold out. Don't miss it!
And now: ENJOY the fine painting of these typical British soldier's portraits.......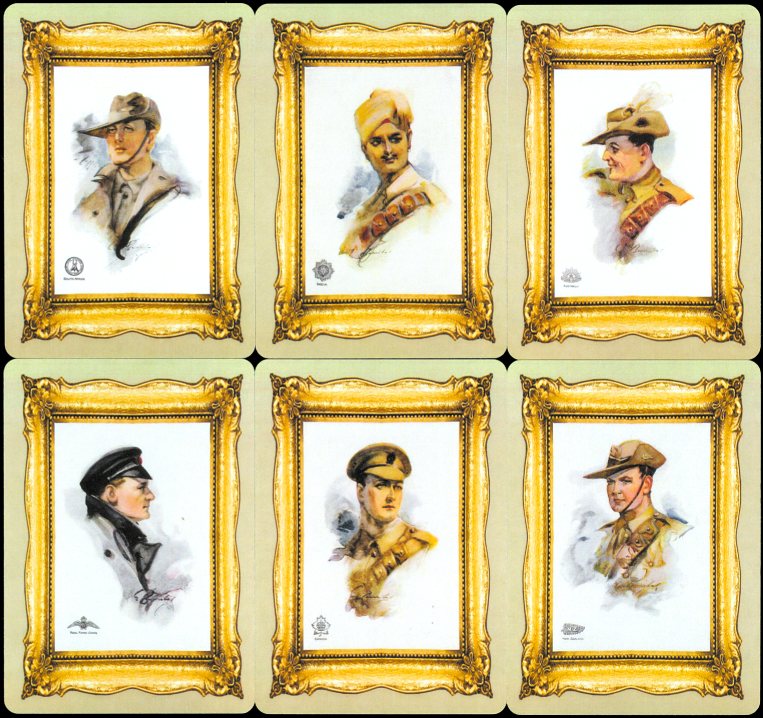 (Spades 5 - 10)
These two look very much like General Eisenhower and Field Marshal Montgomery.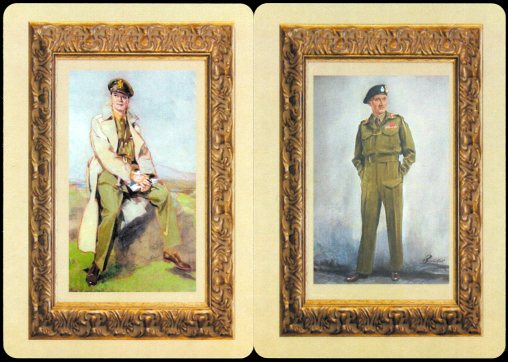 (Hearts 2 and 3)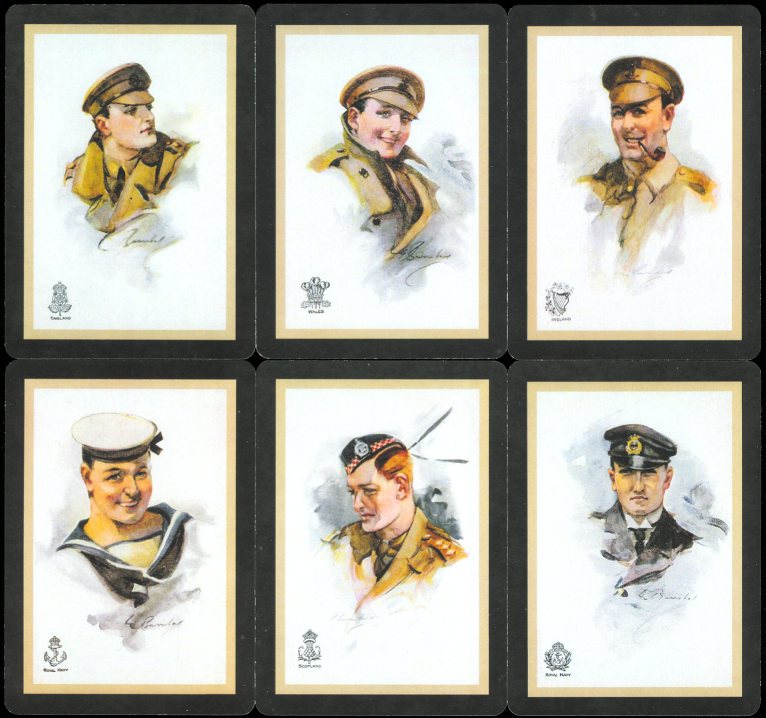 (Hearts 8 - K)
But wasn't Barribal was famous for his paintings of women? So........ where are they? Try the next pages.....