August 2009
It's vacation time and that's noticeable when you're selling on the internet. As sales drop, buying has to be limited too here. Of course there are plenty of car booth sales and flea markets and with the weather here it wasn't a punishment to visit a lot of them, but one has to be very lucky to find a decent enough deck there for this xpo. Last month it worked, this month it didn't. So our deck came from Ebay.
It was supposed to have arrived in the beginning of June, but wasn't delivered until the beginning of August. The reason for this was that the Dutch customs seem to have kept it in their care for 6 weeks and after that period presented us the package, together with a bill for import duties and administrative fees. In the mean time we had worried about its whereabouts and had complained about the delay and this resulted in a refund through PayPal (yes, their buyers protection program works!) a day before the package arrived. So a new payment was made. It's a pity that we can't send a bill for all these hassles to the Dutch customs.
Still, for us the deck was worth waiting for. It was printed through Ad Magic and published by Home of Happiness in the US in 2008 for the convention of Rocky Horror Picture Show fans in Atlantic City, New Jersey, at the Showboat Hotel and the House of Blues. It's not an official Rocky Horror deck, but fan art. The courts show characters from the Rocky Horror Show with "Brad Majors" and "Janet Weiss" on the jokers. The clear line artwork was done by Karly Dytrych. Only 500 decks were made.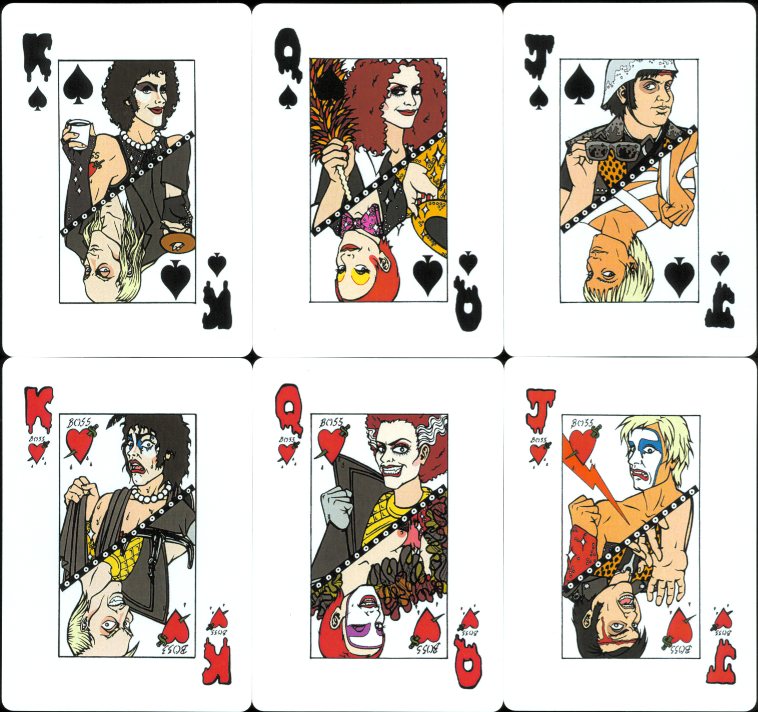 The design on the backs is very dark. It's better seen on the scan below than in real. The design shows a fishnet stocking with two rips in it, but as it placed on a very dark "leg", it's hard to distinguish.
The aces and pips have regular suit symbols, except for the Hearts, which are specially designed. All the larger letters and numbers in the two corners have been made to look as if they are bleeding.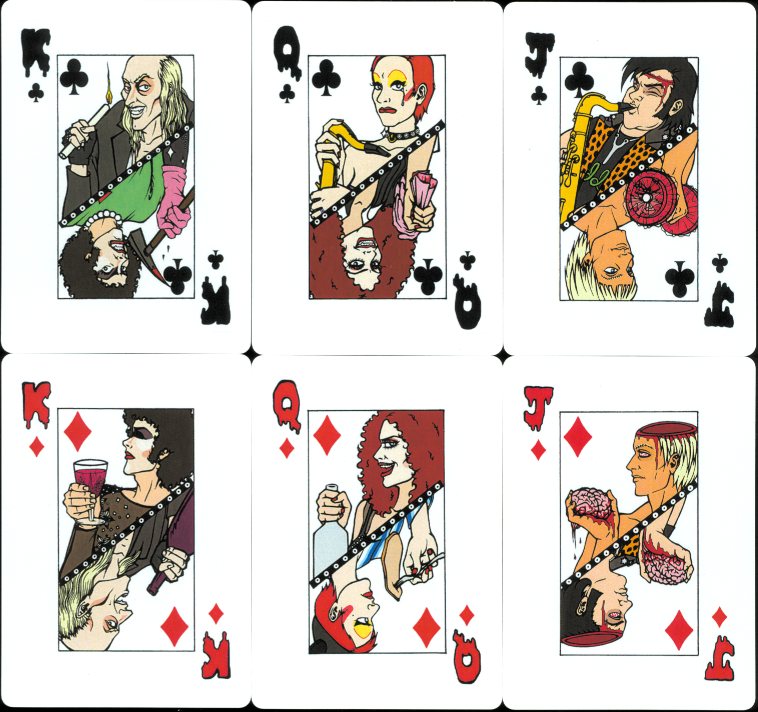 The deck consists of 52 cards, 2 jokers and 4 extra cards, of which 2 are calendar cards (of 2008 and 2009). The other two have rules for Poker and Texas Hold'm.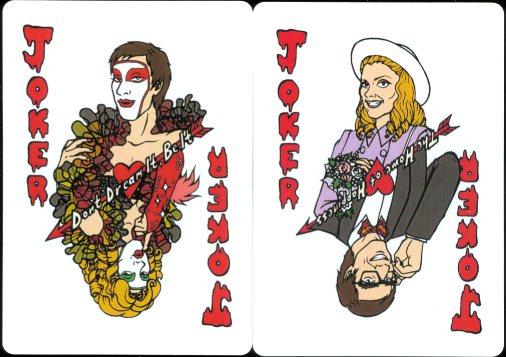 The deck comes in a plain white box with window.