November 2007
The Jaarbeurs in Utrecht hosts an international collectors fair twice a year. Somehow we always come home with good finds. This year's spring edition already brought us a Deck of the Month in April and now the fall edition has done the same. And it even wasn't our best find! That was the "Bloemen Kwartet" ("Flowers" quartet game), that was printed in chromolithography by the Speelkaartenfabriek Nederland from Amsterdam in 1923 . We had been looking for that game for almost 10 years and now -on the first day of the fair- we could finally add it to our SN collection. Too bad, that this site is about playing cards and not about quartet games. So a "best find" doesn't automatically qualify as "best deck".
But when a befriended collector handed us this large carton box on the second day, we were pleasantly surprised. It contained two identical decks that are probably just as hard to find as the SN quartet game.

The box has 4 carton compartments: 2 for the decks, one for scorecards and one for additional papers. The way in which the box is made reflects the hand of a small manufacturer in an era of thriftiness.
We only knew the deck from a picture in a Dutch book about private or small printers editions in the Netherlands that was published by Jelle Sietsma and Willem Hogenes in 1988. The makers date the deck as ca. 1946, which seems consistent with "poor" looks of the box.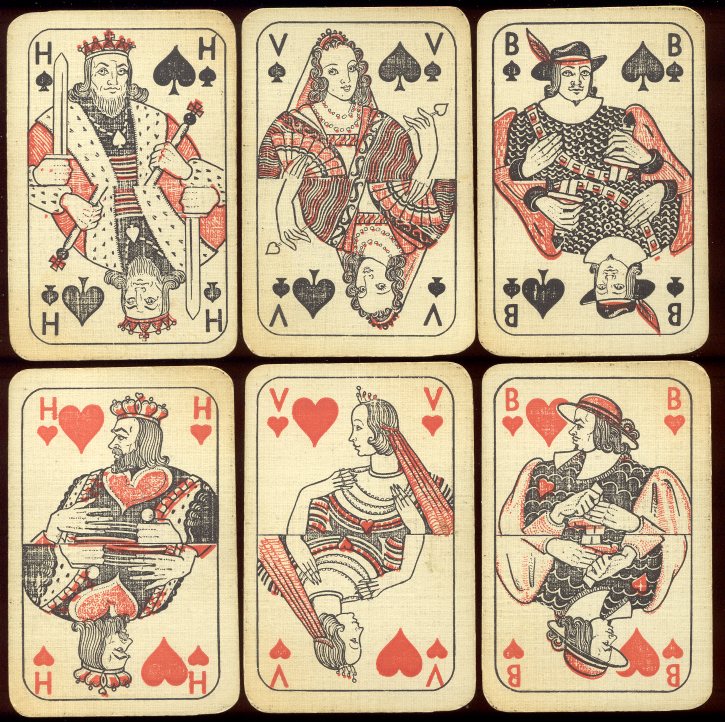 The deck consists of 52 cards and a joker. The joker is signed G.W. and those are probably the initials of the designer of the deck. There are only 2 colors -red and black- used for the front of the cards. The backdesign was printed in red or blue. The aces are plain and the indices are Dutch. The deck is printed in offset.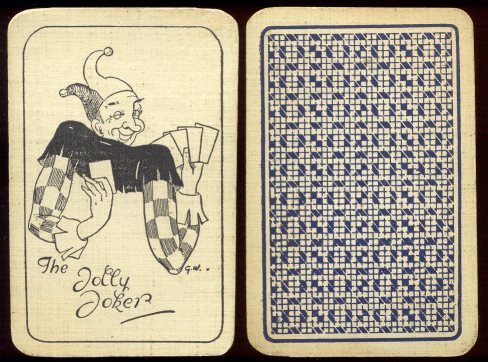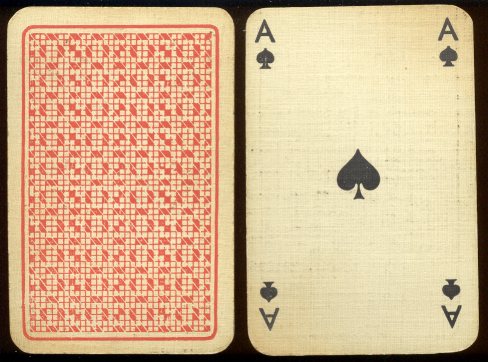 The design of the courts is non-standard, yet with a classic look. In each suit the faces of the courts are positioned in the same direction. They either all look to the right (clubs) or to the left (hearts) or face the beholder. Each of the courts holds a suitsign or their garments or arms are embellished with them. The design of the courts shows a black border that is not repeated on any of the numbercards.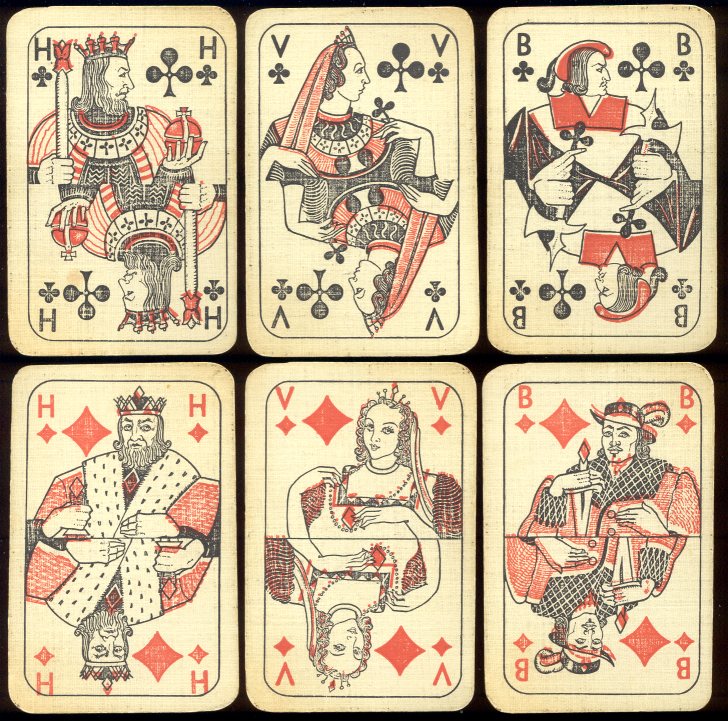 The manufacturer of these cards is unknown, but it's almost certainly a small printing firm, not experienced in the making of playing cards. The cards are cut in an irregular way, just like the corners. But that amateurism is often the charm of these small editions. There's no indication about the number of copies that was made, but as the deck is hardly ever seen, it can't have been published in large numbers.