TOM SAMEK

Tom Samek was born in Prague on the 11th of March 1950. He left his home in Czechoslovakia in 1969 and has lived in Germany, Switzerland and Austria before he moved to Australia in 1971. A year later he returned to Bregenz, Austria, to study printmaking and in 1973 he settled in Australia for good.

He's a painter, mural artist, printmaker, sculptor, theatre set designer, film animator and.... chef! And if he's just as imaginative and creative in his kitchen as in his studio, then we'll be in for a real treat at his table.

Tom Samek lives in Hobart, Tasmania and this deck describes the life of the first British inhabitants of the island: convicts, who were deported from England. This process is illustrated very nicely on the backs of the cards.
The title of the deck also refers to these convicts: "A Pack of Thieves". It was published for the Port Arthur Historic Site about ten years ago. The cards were designed to match their Interpretation Gallery and each visitor to the site receives one card on entry. The lives of 52 convicts can be located in the Interpretation Gallery, each convict being assigned a playing card to follow through the gallery.
Port Arthur functioned as a penal settlement between 1830 and 1877. It started as a limber station, that was literally hacked from the bush, and has expanded throughout the following decades, when manufactories, such as ship building, smithing, shoemaking and timber and brick making, were established. All this work can be found on the cards, but we also get a view on the convicts' off-work doings. Fishing was obviously one of them, as shown so beautifully on the Jack of Spades, but drinking and playing cards were apparently also favorite pass-times. In the 1840's there were some 1100 convicts in Port Arthur.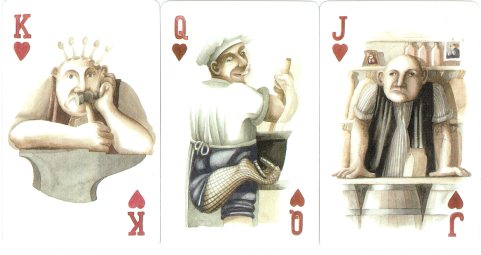 CLICK THE ACES TO SEE THE NUMBERCARDS PER SUIT
The images of the numbercards have been enlarged, because their illustrations are smaller. On each of these cards -just like on the courts- the suit colors and numbers have been hand-painted and on some they are integrated in the complete drawing. It's not a true transformation deck, but could be called semi-transformational, if that's an official name for these decks.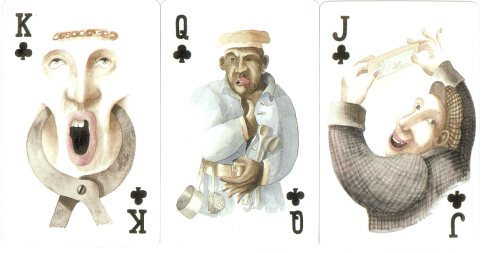 Tom Samek's has a very recognizable style. He works in soft tones, his figures are always round and well-filled and he has a good eye for detail. There's also often a wonderful wit in his work and a touch of the absurdity, that can be found in artwork by Roland Topor too. Tom's work can be found in several Australian museums and corporate and private collections. He has had exhibitions in the USA, Czech Republic, Switzerland, Japan and Singapore.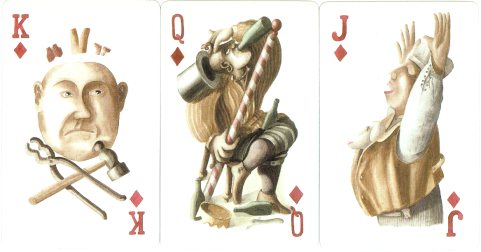 If you're interested in Tom Samek's art, there are some free screensavers with his work at: http://www.service.tas.gov.au/stsaver/
A "Pack of Thieves" deck can be obtained through the Port Arthur Historic Site website.