The teddy bears
of
PETER WOOD
Peter Wood is a UK artist who celebrates 15 years of designing playing cards this year!
Peter's first deck was The Teddy Bear Pack Of Playing Cards which was published by Andrew Jones Art and was still selling until 2007.
Since that time Peter has created many decks.
The teddy bear idea came after Peter had seen the original exhibition and auction for the Art of the Eart deck. He hatched the idea of a teddy version. approached Andrew Jones and the rest is history. The bears were inspired by Peter's wife -who collects them!
Here we present his latest deck: THE JOURNEY: a limited edition of just 100 full colour packs, signed and numbered. This lovely pictorial deck has subtle references to earlier work via pictures crammed with detail and lots of hidden items!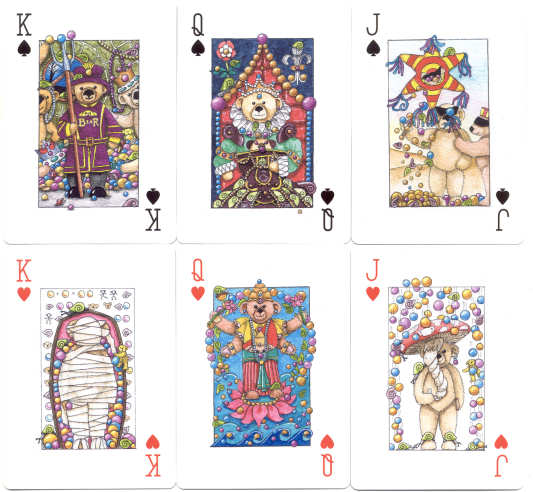 Peter's inspiration comes from anywhere and everywhere and he finds himself looking at everything as a potential 'Transformation', his favourite style of card. And he's a nice guy too, at least nice enough to immediately agree when asked to sign the Ace of Spades for us.

CLICK THE ACES TO SEE THE NUMBERCARDS PER SUIT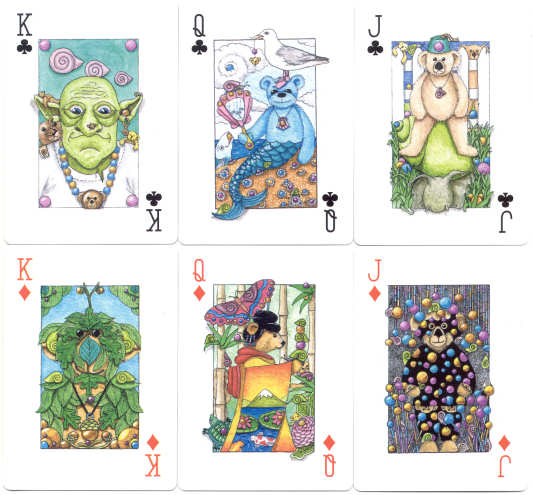 Peter paints in watercolour & line, but Peter doesn't just do loose washes but finely detailed pictures crammed with colour and hidden detail and not just Pips!
He loves the idea of a box holding 54 little pieces of art and really enjoys trying to find new ways of 'transforming'the pips and detail.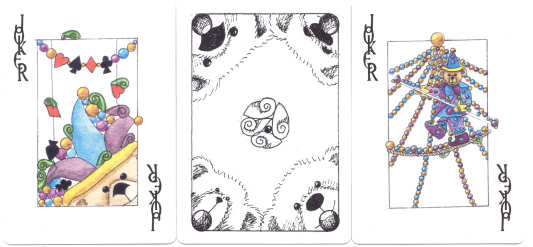 With a title like THE JOURNEY, it's not a surprise that the box is designed as a suitcase.
Peter Wood has an impressive out-put that includes decks for Carta Mundi, Piatnik, Newts (USA) as well as self published decks and many hand-made decks for collectors. Some of his self published decks have been hand-coloured which represents many months of work! Decks include:
THE PACK OF PEARLS
2000PIPS
HIDDENMICKEYS
JEST JOKERS
LITTLE TED
GOBLINS AND....
WILD!
BUSY BEARS
PIPS-N-PAWS
THE JOURNEY
Peter has almost finished his latest self published deck: AROUND THE WORLD IN 54 CARDS which will be full transformation in an edition of just 50 hand-coloured decks. And he has already quite a few reservations for this new edition!
He's also waiting for new decks to be published by Newts and a Japanese company and already has plans for two new semi-transformation decks for late 2008 and early 2009.
Peter has decks for sale. Email him at pwood16103@aol.com if you're interested in purchasing a deck or make the reservation for his transformation deck AROUND THE WORLD IN 54 CARDS.