THE SURREAL DECK
of
DOMINIC MURPHY
One of our collector friends from Australia brought this artist to our attention. She had just acquired his "Alice in Wonderland" deck, thought we would like it too and send us an Ebay number. She was absolutely right: we immediately liked the deck and the style and technique of the artist, Dominic Murphy. Getting on Ebay there were two surprises. Not only did we find that the deck was offered there by the artist himself, but also that it was not the only deck with his artwork.
So we bought two decks and of course we asked Dominic to sign our decks. Less than a week later we could add them to that still growing sub-collection of artist signed decks.
The second deck was called "Surreal" and when we received it, we decided that it should get some attention and exposure on our site. So we contacted Dominic again and asked for some background information. Usually we mold that into an accompanying article, but Dominic send us such a fine description in the third person, that we'll let him introduce himself here............
"Dominic Murphy British artist born in Sheffield England in 1963. He studied fine art painting in London at St.Martin's School of Art. He exhibits internationally mainly small watercolours in an unconventional English style. He is often quoted as saying "Francis Bacon ruined my life" because after he saw Bacon's portrait of pope Innocent he knew immediately that he wanted to be an artist with all the joy and misery that brings!
His major obsession is Alice in Wonderland because of the quintessential Victorian madness and surreal quality of Carroll's writing. The idea of creating a pack of cards followed that theme very nicely. His main influences other than Bacon have been Hieronymus Bosch - Salvador Dali - and all the German expressionists.
Dominic now works in Hertfordshire England where he lives with his wife, three daughters and his bull terrier called Diamond!"
When asked about the surreal deck, again Dominic came up with such a concise description........"As the Alice pack represents the exterior appearance of madness in others so the Surreal pack represents the interior madness of the artist. A madness that is kept at bay by externalizing it and manifesting it as works of art."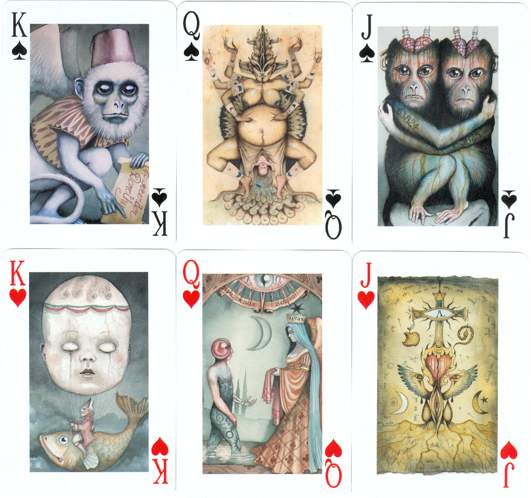 According to Dominic the Surreal deck can be seen as a self portrait in 54 episodes. He has pointed out some of the cards and we'll mention them, where appropriate. Here above the Jack of Hearts represents Dominic's spiritual awakening and the death of his father has inspired Dominic to this portrait with Dali moustage on the Ace of Spades, where "the end" is not only verbally there, but also represented by a dress held open like the final curtain. The Ace of Hearts shows the artist's battle with addiction.
CLICK THE ACES TO SEE THE PIPS PER SUIT.

And Dominic explains further......."In amongst all this I have recurring themes...Baron Münchausen who represents my journey of internal discovery. There are some deadly sins gluttony and pride which reflect my Roman Catholic upbringing by Salesian monks. Punch and Judy reflecting a violent youth. You will find some of my heroes in there: Dali, Darwin, Marx and Napoleon".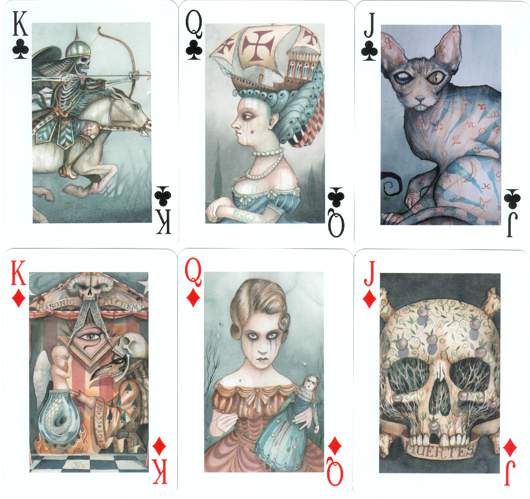 The deck was printed in the Far East (probably China) and it consists of 52 cards and 2 jokers.
The back design shows a self portrait with the Latin text "Ars Gratia Artis" (Art for Art's Sake).
The deck can be ordered through Dominic's website: www.dominicmurphyart.com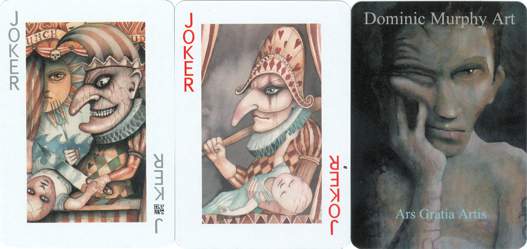 The final words are for Dominic again....."I hope this inspires people to look for their own interpretations of my cards, many thanks"