The Art of Inge Clayton

Inge Clayton has lived and worked in London since arriving from Austria in the sixties. She studied life drawing, collage and printmaking at the Camden Arts Center and soon developed her individual style, though traditional concepts of beauty do not interest her.
She was active as a painter, etcher and sculptor. After a short illness Inge died in July 2010.

Two hundred and eighty double decks have been printed by Richard Edward (UK) and were published in December 2006 by the artist. She had already sold very well, when a friend suggested she should make it a limited and numbered edition too. By that time she had only 150 double decks left. They come in a transparent, plastic double box. Only 10 sets came as a special edition in a Luxury Presentation box, with silk lining.

But we think that the artist must also be an active participant in the party scene. Only a frequent visitor of (private) clubs and parties can distinguish the poses from the unveiled emotional expressions that go with the territory. Artists are often keen observers and Inge brings this combination to the canvas in a brilliant way.
Some notes about her work, taken from her website:

It is naturally assumed that works of art that exalt the eroticism of the female body must have originated in the eyes of a man, but Inge Clayton and her passion for the human form prove this assumption wrong.

The eroticism of her work, however, is not simply contained in her subject matter. The contrast between the pale flesh of the veiled and exposed bodies and the darker potent space which envelopes them is ambiguous, yet seductive: in those tensions lies their enigmatic allure.

Her figures may look at you, unabashed, a little startled, or may prefer to contemplate some dark corners of their soul, amused, pensive, or even with genuine ennui. When they abandon themselves, they surrender as much to the richness of the paint as to the viewer's eye.
Despite their (partial) nudity, the women in Inge's paintings or etchings hardly ever look vulnerable. They always seem to be in control and seem to use their pose, their partial or full disclothing, and their expressions as a seductive asset in the game that's being played.
Another note from Inge's website:
In 1992 Dr Peter Marginter, the Austrian Cultural Attaché, observed when opening the exhibition at the Anna Mei Chadwick Gallery: "Inge's women in particular, invariably sensual or erotic, sometimes sinister or humorous, came from the same background as Schiele's nudes, born as victims of male oppression... but her powerful naked or scantily dressed figures seem to be quite independent, free to choose or refuse."
There are hardly any men in Inge's paintings, when we look at the numbercards. Except for the 6 of Clubs, the few depicted men always seem to play a minor role.
We've set this xpo against a simple black background to emphasize the "darker potent space" in which the characters on these cards seem to move. The dimmed lights in which they play the game of looking and being looked at, the art of flirting. This is the ambiance in which the King of Clubs (literally) feels at home. Like a modern sphinx he plays his role.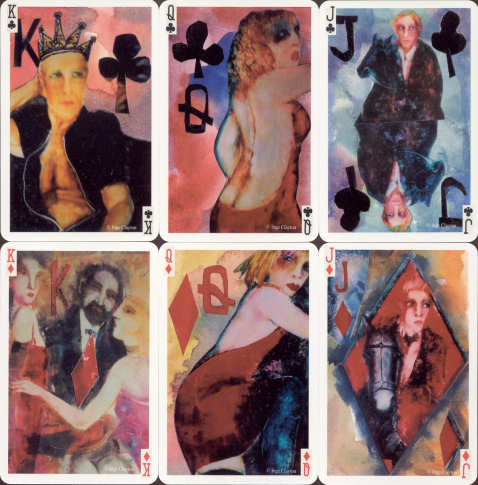 Inge Clayton has had frequent exhibitions at the Royal Academy, but other notable exhibitions include the Royal Society of Art, the Camden Arts Center, Lumley Cazalet, Art for Equality at the ICA and exhibitions at Kunsthaus Schaller in Stuttgart, Germany, and Galerie Mozart-Salzburg, Austria. Inge Clayton has turned to sculpting too: human figures and horses. She died in 2010.