THE HYDE PARK MOULDING COMPANY DECK
After their series of 6 decks, the Uusi Studio has published some Tarot decks, all based on themes from regular decks. Brut, Hot Cakes and Pagan got their Tarot versions. But the Uusi Studio, by now experienced in the design of playing cards, has also been invited to complete an advertising deck for the Hyde Park Mouldings Co. The deck was printed by the USPC and the edition consisted of 2500 decks, that will probably be presented to business relations and customers of the company. However, Linnea and Peter have insisted on making 250 decks available to the general public through the Uusi Studio. These have been on sale on the Uusi website, but were sold out rather quickly.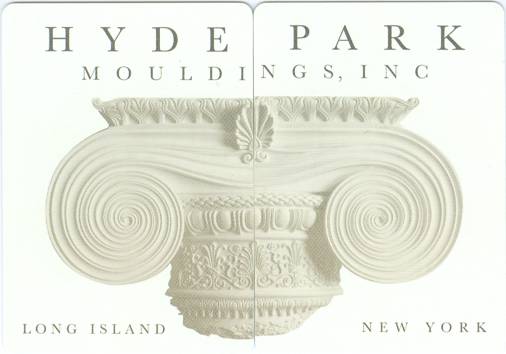 The Uusi Studio was the first to use the 2 extra cards that come with USPC decks as a diptych, so this one can be seen as a sort of studio signature.
The designs were done by Hyde Park craftsman Vincent Kallenbaum.
The Uusi Studio converted Kallenbaums designs into an attractive deck and they probably designed the box too.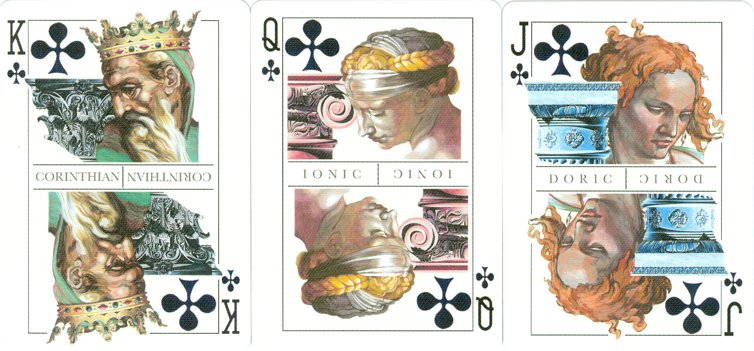 In the background of the courts are examples of 4 classic styles in antique pillars.
The richly ornamented capital of the Corinthian style on the Kings.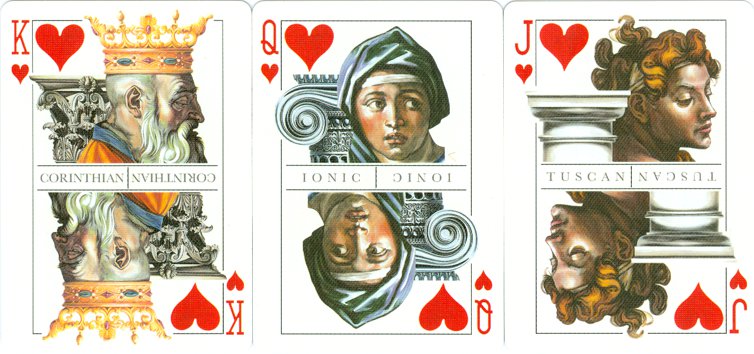 The lesser ornamented Ionic style, with the typical scroll like shapes on the capital, fits the Queens well.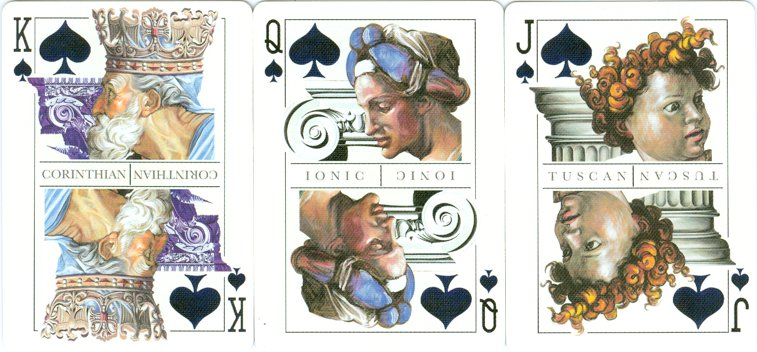 The Doric style is the oldest and simplest, a capital without ornaments.
The Tuscan style is also known as Roman Doric, so rather simple too.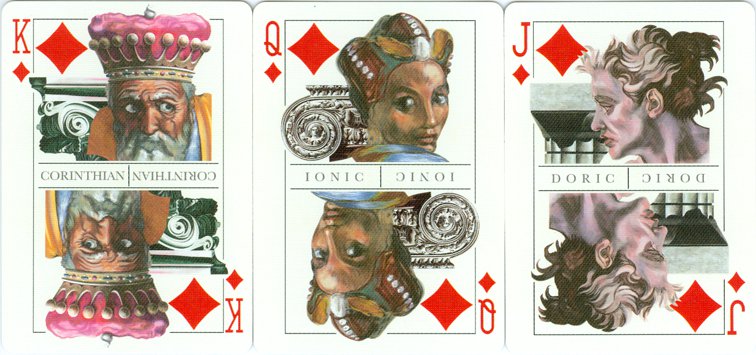 The aces and jokers probably show examples of the available capitals that are produced by Hyde Park Mouldings Inc.
The red joker probably shows a satyr or faun, the black one shows the mythological Greek King Midas.