-2-
When you look at this deck carefully, it becomes obvious that the maker has put great thought to the concept. Not only the courts, but also every other card denomination has a certain characteristic topic, set in the context of each of the 4 continents. The Aces show one large leaf, accompanied by the suit's animal, set against a background that shows a building, typical for the continent. E.g. for Asia, the gingko leaf and Burmese cat are set against a Tibetan stupa in the background.
The 2's all show a hand, holding a second leaf. The other numbercards have been given topics, like.....boats (3's), children's games (4's), musical instruments (6's), birds (7's), flowers (8's), or insects (9's). The 5's show the animals that are a prey to the animals that represent the suit. On the 10's the leaves themselves are brought together, sometimes literally, like in the complete green palm tree.
All numbercards of each suit can be seen by clicking the Ace!
The jokers represent the "5th continent"....Australia.
The luminescent Blue Fish, the Emu and Kangaroo
against a background of Aboriginal-like sand and cliff drawings.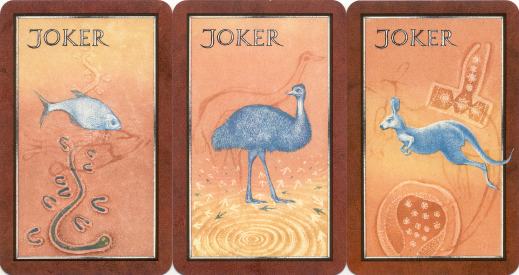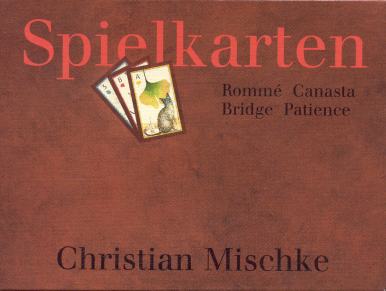 The deck comes in a set of 2 in this doublebox.
---
-1- -2-
---