The ROYAL PALACE on DAM Square
On the western side of the Dam square we find the Royal palace. It is the most depicted spot in Amsterdam on Dutch scenic aces.
| | |
| --- | --- |
| | |
| Ace of Spades by F.A. Lattmann from Goslar, Germany, around 1870. Above on the right right: same maker, around 1890. | Hearts Playing Cards, Dordrecht, Netherlands, 2002 |
This ace of spades comes from a set of scenic aces from one of the first "souvenir" decks, made for export to the Netherlands by F.A. Lattmann from Goslar, Germany. This deck, with queens and jacks in local Dutch costumes, is often dated as being from around 1870 or even 1860. But the depicted scene is at least a few years earlier, from before 1856. We see this same scene in another Lattmann deck, published as No 9, that is dated around 1890. And in a digitally upgraded version of Lattmann's "souvenir" deck by Hearts Playing Cards from Dordrecht from 2003.
The Royal palace, by far the most depicted building on Dutch scenic aces, was build between 1648 and 1655 and originally served as a town hall. It was consigned to become a palace for the French Louis Napoleon, yes the brother of, in 1808. As he fancied addressing large crowds, he wanted a large open square at the east-side of the palace. A weighing house that had been on the Dam for centuries was destroyed for that reason. But the square didn't remain empty.
What all the aces here below have in common is the statue on the square. This statue was officially called "Eendracht" (Unity), but was commonly known as "Naatje". It was erected in 1856 to commemorate the 25th anniversary of a short, but military successful raid against rebellious Belgians in 1831, that nevertheless lead to the sovereignty of Belgium. Maybe it was because the artist who designed the statue was Flemish, but his chosen material was of such poor quality that the statue had to be removed from the square in 1914. Parts came loose, a whole arm fell off and it was considered a danger to the public by that time.
| | |
| --- | --- |
| These Aces of Clubs are from a set of Dutch scenic aces that comes with decks by Frommann & Morian from Germany. Both were probably made around 1885. The coloured version comes with fancy designed courts, the b/w version comes with a standard Frankfurt pattern. | |
The ace on the left is from the Wilhelmina Cards deck by C.L. Wüst from 1890.

The ace without a caption comes from a set of Dutch scenic aces that was originally printed and published by Bernard Dondorf from Frankfurt, Germany, with a Club card in 1872. Between 1927 and 1933 this same set was published by Dondorf with a Rhineland pattern as Nr.424.
"Naatje" is also depicted on this ace here below, that comes from de Kroonkaart (Crown card) deck, which was printed and published by the Speelkaartenfabriek Nederland from Amsterdam around 1913.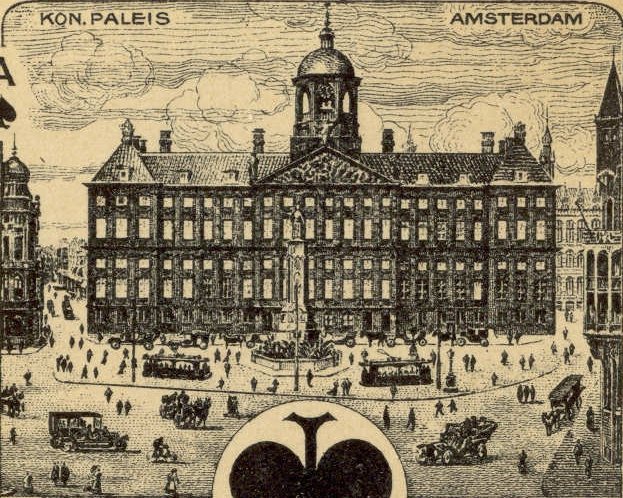 But the presence of this statue on scenic aces gives us at least a timeframe of some 60 years and the shown German and Dutch aces all fit that frame.
However, on all the Belgian aces in our collection….. See page -2-