"Sit.....and show me a card"
---
This well-known joker was made by Goodall & Son and has been around since the 1930's, maybe even a bit earlier. The position and the card that he's holding up are not unique. The card shows all the suitcolours, united into one symbol. The design of the joker seems to have been popular, as it was copied or has inspired other manufacturers to a similar design on the joker.

The first one above is probably from the Far East, the second one is by Schmid from Germany. The last one is by Richard Edwards and was published since the mid 1990's. We show the mirrored version. It also exists in the original position. Here below some more variations or anomalies.
UK 1960's Germany? Argentina, 1950's

Porterprint, UK, ca. 1995 Van Genechten, 1960's Germany, 1970's
Waddington, UK 1930's
copy, India ?
Mardon, Son & Hall,
UK, 1930's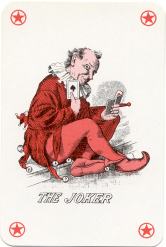 Here are some variations of a well-known joker that has been made by Piatnik & Sons for a long time. There are more to be found: different colours and number of stars, different lettering of the word "joker", different lettering of the company's name.
And of course there's always a copy-cat: this one is from India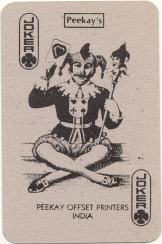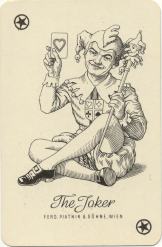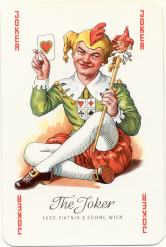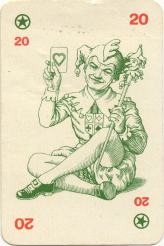 And some times you have to stretch your leg a bit: Piatnik & Sons, Vienna, Austria
---
JOKER EXPO'S

---
last update: 1/12/2006